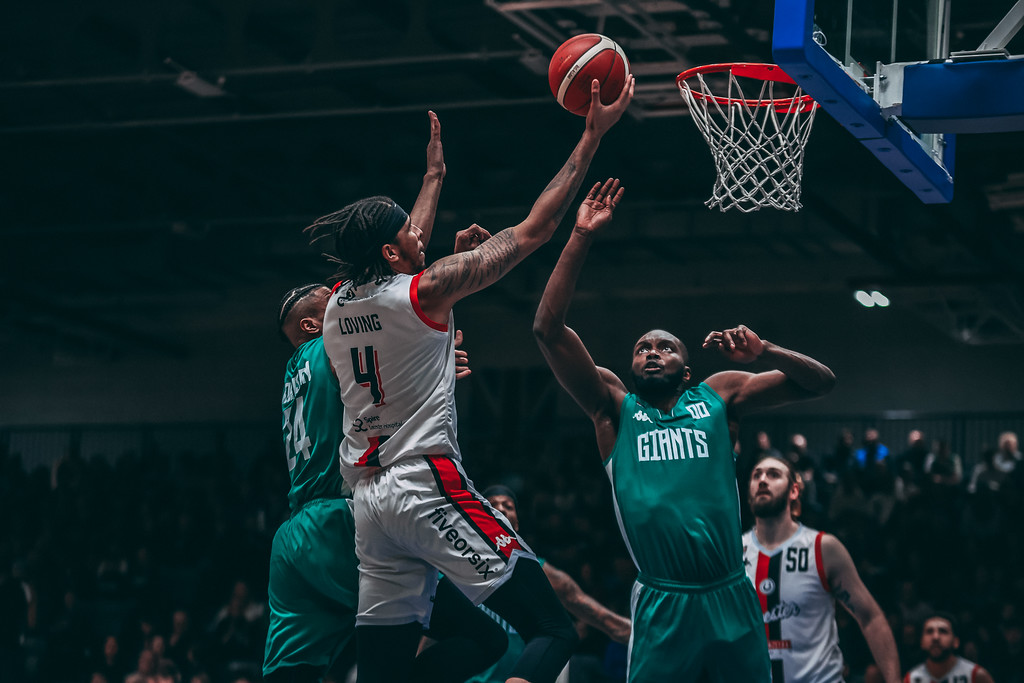 Riders Media - 14th January 2023
BBL Trophy Preview: Riders at Giants
The Riders are set to compete in the first round of the BBL Trophy, taking on the Manchester Giants on the road. It's win or go home for the Riders in this knockout competition, which they last won in 2018.
Tip-off is at 5 pm at the National Basketball Performance Centre. It will be available to stream free on the BBL official Youtube channel, with coverage starting 15 minutes before tip-off.
Riders season so far
The Riders enter this game off the back of their sixth loss of the season, making their league record 12-6. It was a 91-84 road loss to the Bristol Flyers, which was closely contested until late.
Leicester had a chance to tie with seconds remaining, but could not find the net. Marc Loving and Zach Jackson combined for 55 points, Loving leading the way with 25.
The Riders can bounce back with a third win against the Giants this season. They last played them on December 23, resulting in an 89-82 overtime win. Jackson led the team with 21 points, going 7-14 from the field.
Jackson leads Leicester on the season, averaging 15.6 points. The Riders have three scorers putting up 15 points per game this season, as Loving and Patrick Whelan closely follow Jackson, scoring 15.2 and 15, respectively.
Since the previous game, the Riders made an exciting addition to their roster: 6'3″ sharpshooting point guard Devonte Bandoo!
He is set to make his debut in Manchester, as he sets foot in European basketball for the first time.
In addition, Victor Ndoukou returns to Riders red in this game, having signed his first professional contract earlier in the week.
A win in Manchester would be a perfect response to the Riders' recent loss, as they look to challenge for the fourth BBL Trophy in their history.
Close battles in Manchester
The Manchester Giants' last six fixtures have finished within single digits, and two of the last three games have been decided by a single score. They are 3-3 over this period but fell 103-95 to the Bristol Flyers in their previous fixture.
Dirk Williams' free throws made it a six-point Giants' deficit with just over a minute remaining, but Manchester was unable to complete a comeback late.
Williams put up a monster 36 point performance in the game, making four threes on his way to his season-high points tally.
The Giants' are 8-8 in the league this season, putting them fifth in the table. 6'8" American Tajh Green leads the team with 19.6 points per game in his first professional season, making him the BBL's third-ranked scorer.
Green's play has helped the Giants to become the best offence in the BBL, putting up 91.2 points per game.
Should they go on to win the competition, it would be Manchester's first BBL Trophy since 1999.
Key matchup
Former Rider William Lee will suit up in Manchester green in this one, following his signing to the Giants in the offseason.
Lee played Leicester basketball during the 2020/21 season, helping bring the BBL Championship title to the Morningside Arena.
The "Alabama slammer" is a high-flying phenom, rising high above the rim for explosive plays to take the roof off arenas.
On the defensive end, he is the University of Alabama's all-time leader in blocked shots and has proved a force at the rim this season, averaging two blocks per game.
Lee is averaging a near double-double this season, putting up 16.6 points and 9.1 rebounds.
He's getting it done from all over the court, shooting 48.3% from the field and 38.5% from three, putting up a season-high of 23 points on two occasions earlier in the year.
Charged with the tough task of guarding Lee will be Ohio forward Loving, who like Lee, is playing to an elite standard on both ends this season.
He complimented his 25 points in his last game with a block and a steal, knocking down four of his six three-point attempts also.
Former G-Leager Loving is a second-year Rider, where he signed after a successful college career at Ohio State.
He averaged 13 points and five rebounds per game across his junior and senior years, and 12 points for the Riders last season to make his name in Leicester.
Loving has the physical and technical ability to trouble Lee. He's shooting 35% from deep this season, which can force Lee to guard him on the perimeter, and he has the size and length to contest him in close.
Get set for an intense battle between the two power forwards!