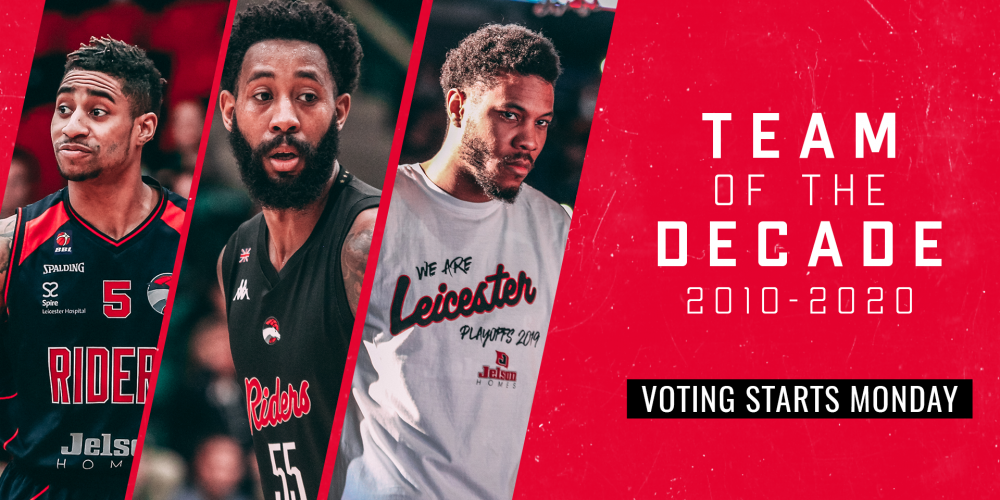 Riders Media - 4th August 2020
Team of The Decade
This week on Twitter we are polling the 2010-2020 Team of the Decade!
We have five spots available, one for each position. We have narrowed the players down to just four for each spot and need your help in voting for which players you'd like to see in the Team of the Decade.
We'll leave the deciding factors up to you whether its the ten trophies for Conner Washington, 2685 points from Drew Sullivan or 172 blocks in 117 games from Trayvonn Wright! It's now in your hands!
Monday we are starting with the point guards so keep an out on our twitter feed!
📣 Calling all Riders fans!

We need your help to pick our Team of the Decade – first up the point guard spot… Vote on the thread below 👇 pic.twitter.com/4fmzTaAZLY

— Leicester Riders (@RidersBball) March 30, 2020
📣 Calling all Riders fans!

We need your help to pick our Team of the Decade – next up the shooting guard spot… Vote on the thread below 👇 pic.twitter.com/7u2Xaj0hc1

— Leicester Riders (@RidersBball) March 31, 2020
📣 Calling all Riders fans!

We need your help to pick our Team of the Decade – next up is the three spot… Vote on the thread below 👇 pic.twitter.com/U88qWS9ZyE

— Leicester Riders (@RidersBball) April 1, 2020
📣 Calling all Riders fans!

We need your help to pick our Team of the Decade – next up is the four spot… Vote on the thread below 👇 pic.twitter.com/lOmLAz2YCk

— Leicester Riders (@RidersBball) April 2, 2020
📣 Calling all Riders fans!

We need your help to pick our Team of the Decade – completing the starting five is the center… Vote on the thread below 👇 pic.twitter.com/3JtGQIyovW

— Leicester Riders (@RidersBball) April 3, 2020