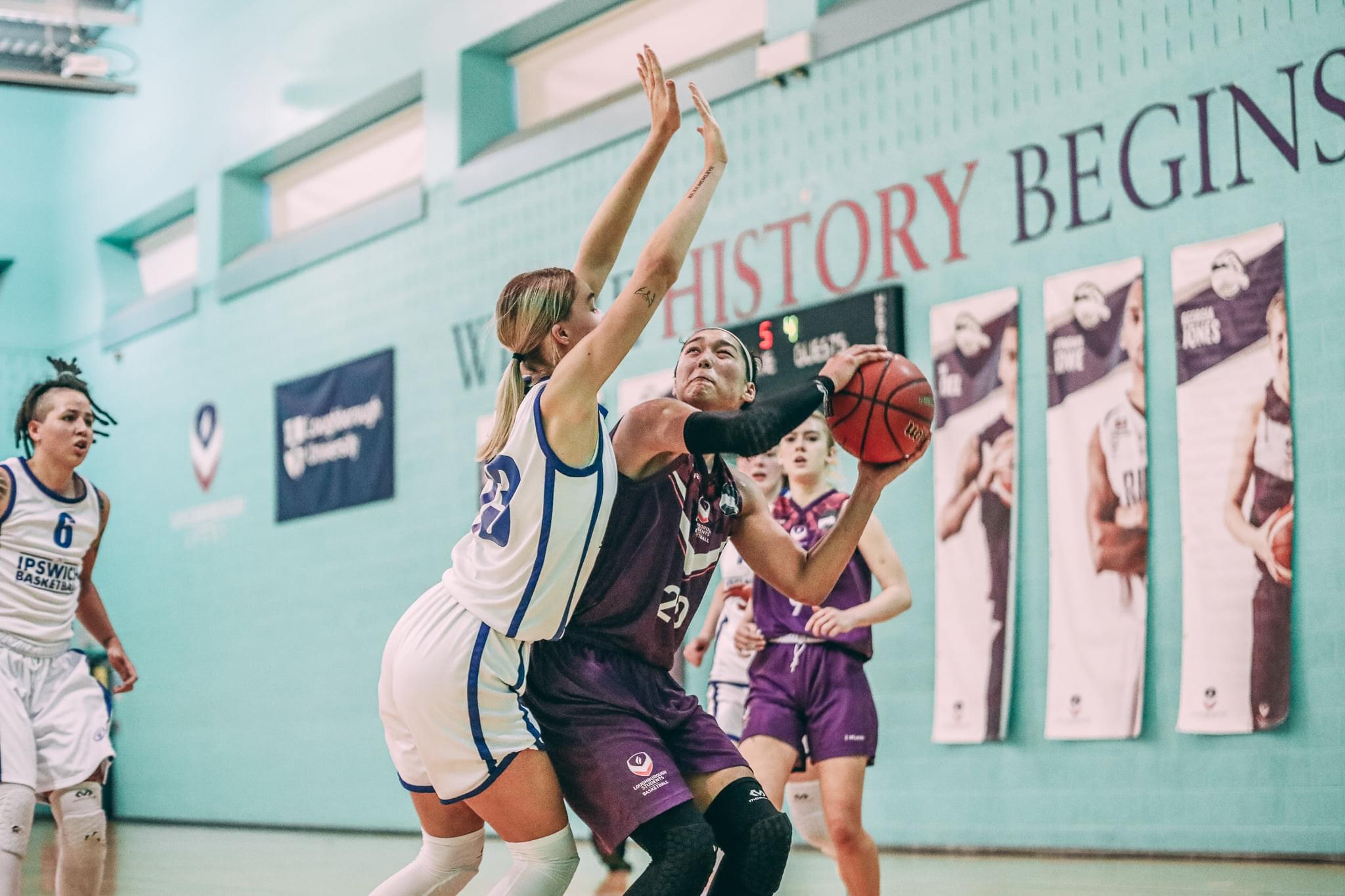 Riders Media - 14th December 2020
Riders win with 2 seconds to go
Loughborough Riders defeated top of the league Ipswich 77 – 76 with a big bucket by Makana Stone with 2 seconds left on the clock.
Ipswich started the better of the two teams opening an early 10-0 lead, their biggest scoring run of the game. Molly James got the Riders going with a 3-point shot which got the Riders into their flow, ending the first quarter 19 – 19. Once again Ipswich looked to get away from the Riders, creating an 8-point lead but a 3-point shot from Robyn Ainge and two lay-ups followed by a brilliant 2 point turn around jump shot from Makana Stone put the Riders in front by 1 point. Ipswich replied with a lay-up from Esther Little, followed by a free throw shot from Harriet Welham giving them a 30 – 32 lead going into the half-time break.
The Riders came out for the third quarter with unmatched energy from Ipswich, creating a 14-point lead (their biggest of the game) with Molly James hitting three 3-point shots. Harriet Welham kept Ipswich in the game and left them trailing by 4 points heading into final quarter. The final quarter turned into a 3-point shootout with Ipswich's Susannah Rafiu getting hot and connecting with three 3-point shots giving her team a 1-point lead with 60 seconds left on the clock. Both teams failed to make shots and a foul on Robyn Ainge, forced Riders Head Coach Antonio Quintero into a timeout with 5 seconds left to play. Makana Stone put Riders up by 1 point after a successful lay-up with 2 seconds to go which gave the Riders a win in this exciting game.
Head Coach Antonio Quintero was delighted with the performance commentating "We believed from the start we could win the game; it was an incredible win. Ipswich are for sure the toughest team in the league, so to win against them in manner we did will give the team a great confidence boost.
He added "Everyone is adapting to the league well and we are building a good base to be a strong side for the season."  
Loughborough Riders now prepare to play away to Nottingham Trent University on Saturday 19th December. 
Scorers:
Riders: M.James 24, M.Stone 20, R.Ainge 16, H.Bird 7, K.Januszewska 7, S.Lecuyer 3
Ipswich: H.Welham 18, E.Little 15, S.Rafiu 15, C.Ka Yin Leung 9, C.Redhead 6, E.Pearson 6, D.Cazey 3, C.Taylor-Willis 2, B.Hardwood-Bellis 2