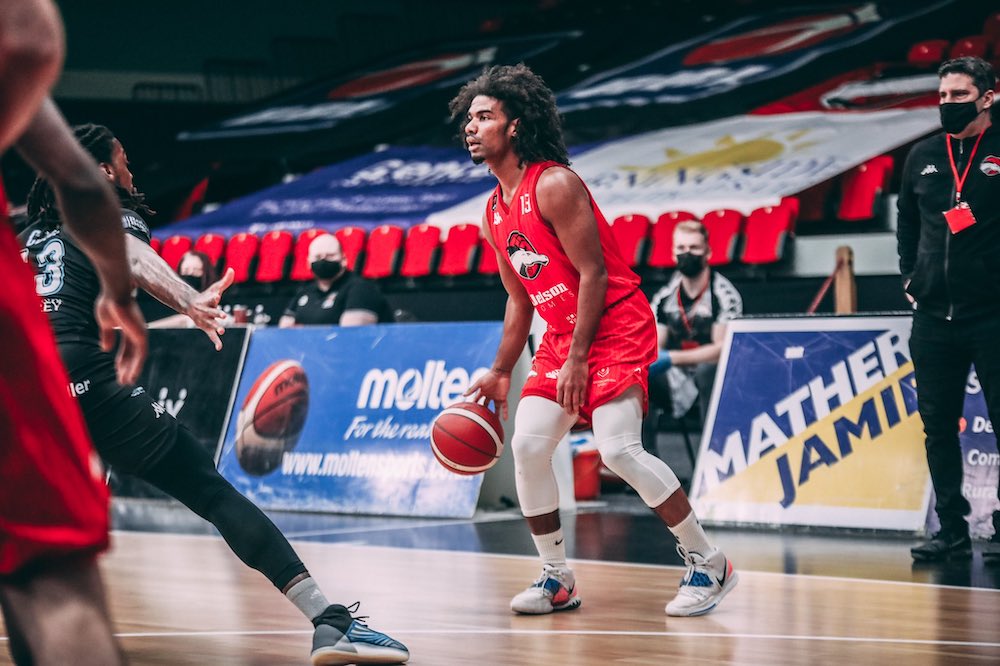 Riders Media - 31st January 2021
Riders blow out Scorchers to complete double win weekend
Leicester Riders moved to joint top of the BBL Championship with an emphatic 103-76 win over Surrey Scorchers on Sunday. The Scorchers kept the game tight in the first quarter, even building small leads, but Riders started to assert their authority in the second period, and then took over in the second half.
Riders won it with exceptional shooting, including 15 three pointers at 48%. They also outrebounded the Scorchers by 41 to 24 and they moved the ball extremely well, totalling 27 assists to just 16 for Surrey.
Surrey was coming off a morale boosting victory on Friday night in Glasgow and started off in confident style with their talisman, Point Guard Tony Hicks, pulling the strings. He hit an open jump shot followed by a three pointer and the visitors had an early 7-4 lead. The Scorchers captain Tayo Ogedengbe followed that with a long range three, which Geno Crandall immediately matched. Both teams were exceptional shooting from beyond the arc as the points piled up, and Leicester were forced to a zone defence, to try and stem the tide.
Ex-NBA player 7 foot Ryan Richards came off the bench to make an immediate impact forcing himself inside for a bucket against two Riders defenders, and then following that up with a three pointer. Aaron Falzon came off the bench to also hit a three, and Conner Washington followed that up with two of his own, as the first quarter shootout finished with the Scorchers just ahead 25-23.
Jamell Anderson got Riders going in the second period with a powerful move to the basket, which drew a foul. Riders were more aggressive offensively in the second period and the Scorchers were starting to pick up fouls. Crandall missed on the second free throw from one of his trips to the line, but used extraordinary athleticism to fly over the other players to tip in his own missed shot.
Consecutive threes by Washington and Anderson forced Surrey to a timeout trailing 38-33, with six minutes left in the half. But Riders kept coming with another three from Crandall and some good footwork inside by Darien Nelson Henry and Riders were steadily pulling away. William Lee got into the act with a three of his own and Riders closed out the first half leading 55-43.
If Surrey were going to get back into the game the start of the third quarter was critical but after a Hicks three pointer, Riders took over. Corey Johnson finally got going with a three, Crandall followed that with a driving lay-up and Zach Jackson a twenty foot jumper to push Riders lead to 62-46 and the Scorchers were reeling. Lee then hit a three followed by a dunk and by another Johnson three to cap a 10 nil Riders run. When Johnson penetrating the restricted area for a twelve foot fadeaway jumper Surrey were forced to a timeout trailing 74-51. But Riders were not letting up and the long range shots kept dropping, and by the end of the third the match was effectively over Riders leading 85-59.
The fourth quarter was all about managing the minutes and Riders did it very well never giving the Scorchers a sniff. Head Coach Rob Paternostro was able to run his bench without giving Surrey any chance of a comeback and the century of points came up with ease.
Once again Geno Crandall was mesmerising, finishing up with 19 points, 7 rebounds and 10 assists. His back court partner Conner Washington was also in exceptional form with 15 points, 3 rebounds and 5 assists.
Lee was exceptional efficient, with his 15 points coming from 6 of 7 shots, and he added 8 rebounds, and Ali Fraser had one of his best games yet for the Riders with 11 points and 5 rebounds.
Riders
Crandall 19, Lee 15, Washington 15, Anderson 13, Fraser 11, Jackson 9, Nelson-Henry 8, Johnson 8, Falzon 3, Ndoukou 2
Scorchers
Ogedengbe 19, Hicks 14, Cashew 12, Richards 9, Walshe 8, Cook 6, Raftopoulos 5, Wanliss 2, Rickman 1