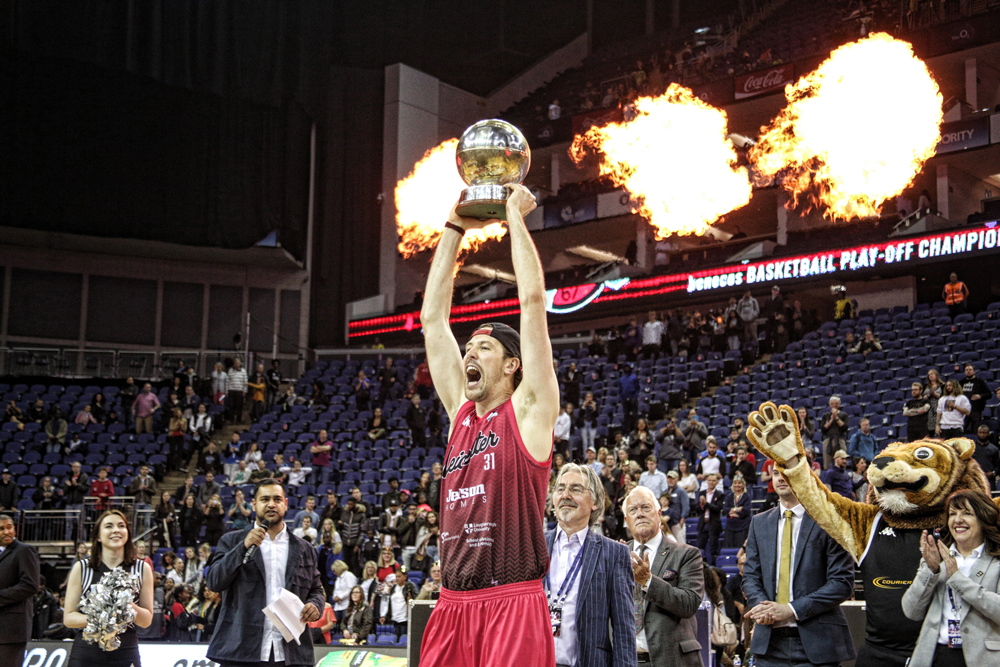 Riders Media - 8th September 2020
Leicester Riders Captain Andy Thomson Calls Time
Leicester Riders England international Andy Thomson has decided to call time on his career, as Riders restart full scale training for the new season.
36 years old Thomson has been Riders captain for the last two seasons and is one of the most successful players ever to grace the BBL.
Manchester born Thomson has accumulated 20 BBL trophies in a storied career, that included stops with Newcastle Eagles and Mersey Tigers, as well as in France and Spain.
The 6 foot 9 inch forward led Riders into Europe in the 2018/19 season for the first time in nearly two decades, and played his best basketball in European competitions, averaging nearly 11 points and over 3 rebounds a game, while shooting an excellent 53% from the floor and 39% from the three point line.
Thomson missed a big chunk of that season with injury, and with the England team at the Commonwealth Games in Australia, where he picked up another injury, but still had some big moments for the Riders, including in the decisive last moments in the BBL Trophy Final.
That season he missed 16 Championship games, but still averaged over 7.5 points and nearly 4.3 rebounds a game, while shooting 44% from the floor.
Last season he averaged 6.3 points and 4.3 rebounds while shooting 43% from the floor, and 35% from the three point line, in a season truncated early by the Covid-19 pandemic
Thomson said it was a difficult but inevitable decision,
"To step away from such a long career, in anything, is a tough, life changing decision, however with sport you're fully aware it's got to come to an end."
"Going in to the 2019/2020 season, as my 14th year in professional basketball, I had the mindset that this season was likely to be my last one."
"I may not have been able to complete this final season and finish on that high due to the impact of the Covid-19 pandemic, but I still reflect on my career with pride."
"I've achieved 20 trophies across my 9 seasons in the BBL, having represented 3 different clubs and captaining my final 2 seasons."
"This decision did not come easy to me."
"I'd put these thoughts off for years as I could never bring myself to visualise hanging up my shoes, however over the last few I'd put my efforts into training and launching my business, Solvere Therapies, specialising in holistic, complementary treatments as my transition."
"This gave me the confidence to see that there was another path out there for me."
"Having also recently explored other opportunities which may still come in to fruition, I will always pursue this as a side line to satisfy my passion for helping people."
"When I look back to starting out my career, I can see how much basketball, as a sport has grown."
"The league is definitely trending in the right direction; its more competitive, there are more supporters, teams now have their own arenas and clubs are venturing into European Competitions."
"Whilst Covid-19 has us hanging in suspense, I'm positive it won't be long before the growth continues."
"I would like to say a huge thanks to the Leicester Riders club and fans for welcoming myself and my wife to their community."
"The support and loyalty from the fans during the highs and lows have made it an honour to represent them and their city."
"I hope you enjoyed this part of my journey as much as I did."
"A great thing about basketball is that it has its own network, you play with and against players who over the years of playing in the BBL, many have turned in to life-long friends."
"You also get the privilege to meet with fans and sponsors, and through this I've made some great friendships."
"I'd like to say a further thanks to coach Rob Paternostro for signing me up to his ball club."
"He and Russell Levenston put together some very talented teams which I was lucky to be a part of, culminating in 7 trophies throughout my time here."
"Whilst Rob's a very emotive and animated coach on the side lines, he's very supportive and understanding in the needs of his players on and off the court which I appreciated greatly."
"The arena and the club are in good hands with Kevin Routledge at the helm and I wish them the best of luck in their future and I'm sure there will be plenty more trophies to line those cabinets."
"I'm still residing in Leicestershire so will ensure I get down to the games to continue my support."