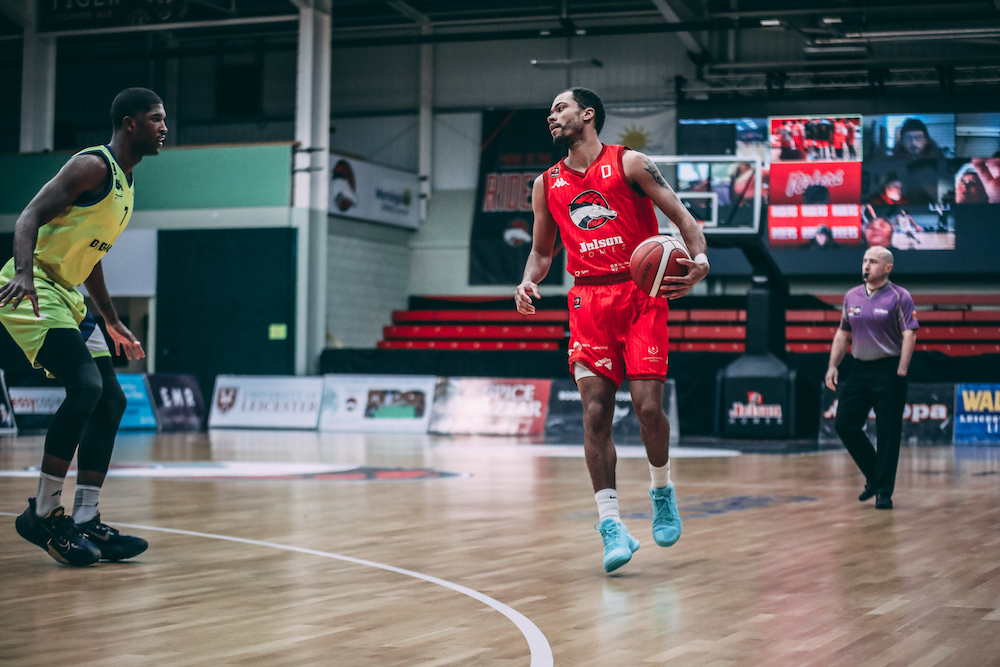 Riders Media - 30th January 2021
Crandall floater seals win for Riders
Leicester Riders held on to win a superb contest at the Morningside Arena against the Sheffield Sharks, 75-73, to retain their bright start to the BBL Championship, and maintain the pressure on the league leaders London Lions. There was nothing in the game for three quarters when a burst from Riders gave them a ten point lead in the final period. But this experienced Sharks side then went on a 9 to nil run and it took a penetrating drive by Geno Crandall and an eight foot floating jump shot to seal the victory, with one second left.
It was the Sharks that started the game the better, with a three from new signing Jordan Ratinho, and with veteran Mike Tuck cleaning up after a missed Sharks shot, the visitors took an early 7-2 lead. Geno Crandall then hit a jumper, and that was followed by a trademark three from Corey Johnson. Zach Jackson hit a jumper of his own and Riders were back on level pegging with the scores tied on 9 points after 5 minutes. 
William Lee edged Riders in front with a put back, but the teams were trading blow for blow giving nothing away defensively. Some sloppy passing by Riders helped to keep the Sharks in touch, in spite of another Johnson three, and the Sharks were just ahead 17-16 after the first quarter.
A Bennett Koch strong move to the basket pushed Sheffield's lead out, to start the second period but that was cancelled by an Aaron Falzon three. Koch was causing Riders problems inside on offence and Ali Fraser was picking up fouls trying to contain the Sheffield big man, and with Kipper Nicholls hitting 5 points in succession, Riders were forced to a timeout trailing 29-24.
That steadied the ship and Johnson hit another three out of the break, and Lee followed that up with one of his own.  Nick Lewis was becoming more influential for the Sheffield and he hit a couple of mid range jumpers to give the Sharks the edge at half-time 39-38.   
The game stayed tight at the start of the third quarter, but Zack Jackson was starting to impose himself offensively. He hit a three, opening up the Sharks defence, and Crandall followed with a driving layup and Riders edged in front 45-43. Crandall continued to step up offensively and after a huge Conner Washington three pointer, Crandall drove to the basket and slammed a huge dunk that forced Sheffield to a timeout, Riders leading 54-48. Lewis hit back with another score, but Washington hit another huge three, to give Riders a 57-50 lead at the third quarter break.
A dunk from Jamell Anderson opened the fourth quarter for Riders, but Koch hit back for the Sharks. An Antwon Lillard three was cancelled out by a Lee dunk, but yet another three from Washington gave Riders breathing space, as they were leading 68-58 with four and a half minutes left. Another Crandall dunk gave Riders a ten point lead with 4 minutes left, but the Sharks battled back. 
Lillard hit a pair of free throws, Ratinho a twenty foot jump shot and a Hemsley three pointer dragged the score back to 70-69 in Riders favour with one minute 48 seconds left, and Riders Head Coach Rob Paternostro was forced to a timeout. Crandall scored again but a huge three from Ratinho in the corner tied the scores on 73, with 9 seconds left. Crandall then hit the decisive score although Sheffield had one second left to force a shot that fell short.
Crandall top scored with 18 points and added 7 assists but had a few too many turnovers for comfort. William Lee had a solid game with 11 points and 10 rebounds while Corey Johnson and Conner Washington hit 3 three pointers apiece. But it was Riders defence that once again proved the difference, holding the Sharks to just 5 three pointers from 19 attempts.
Riders
Crandall 18, Lee 11, Jackson 11, Washington 10, Johnson 9, Anderson 5, Nelson-Henry 4, Fraser 4, Falzon 3
Sharks
Ratinho 14, Nichols 12, Hemsley 10, Lewis 9, Tuck 9, Koch 8, Lillard 8, Jones 3