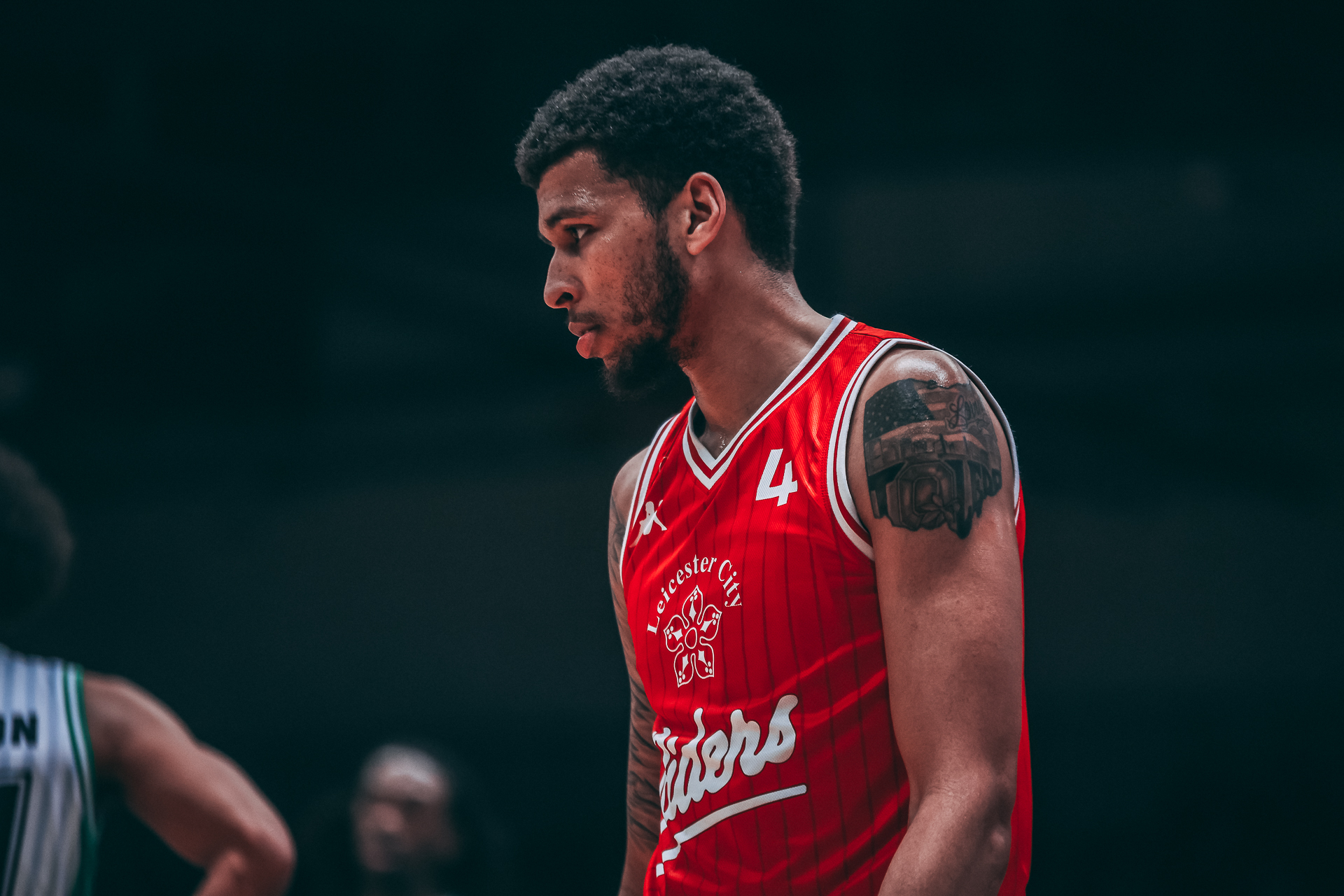 Riders Media - 20th April 2023
BBL Championship Preview: Riders vs Sharks
The Riders will begin the final weekend of the BBL regular season on Friday when they host the B. Braun Sheffield Sharks.
Victory for Leicester should wrap up a second-place finish in the championship standings and will taste even sweeter after the 72-64 loss to Sheffield on March 24.
Riders' Season So Far
The Riders currently sit in second place in the BBL standings on 48 points, just two points ahead of a Bristol Flyers squad they have battled with all season.
The narrow lead over Bristol came after Leicester willed their way to an 83-82 triumph in Manchester last Sunday.
The enthralling contest boiled down to one last play for Manchester, but Rahmon Fletcher's drive to the basket was thwarted by a number of tireless Riders defenders, and he missed his shot.
Defeat to the Giants seemed entirely possible at half-time, Rob Paternostro's men staring down a 12-point deficit, having only scored 31 in the first 20 minutes.
But with their coach's impassioned words ringing in their ears, the Riders turned things around to claim a famous road win.
Point guard Carrington Love was ever-present (as he has been so often in recent weeks) dropping 17 points, snagging six rebounds and dishing out just as many assists.
His do-it-all display was backed up by the starting trio of Patrick Whelan, Zach Jackson and Darien Nelson-Henry, scoring 15, 13 and 10 points respectively.
Nelson-Henry, the Riders' captain, bagged himself a double-double, matching his points haul with 10 rebounds.
The clutch victory was Leicester's 24th on the season, taking their winning record to an impressive 24-10.
Sharks' Season So Far
Much like the Riders' last opponents, the Sharks are embroiled in a tight mid-table battle, tussling for playoff seedings with a 17-17 record.
Their form, however, has been good since the short winter break as they have manufactured an 11-6 record in all competitions.
One of the wins came against the runaway leaders in London and two came against the Riders, including a BBL Trophy quarter-final win at the Morningside Arena.
Sheffield pride themselves on a formidable defence that concedes 74.73 PPG, second only to the London Lions.
The Sharks' smart defensive play sees them rarely get into foul trouble, and players like Devearl Ramsey pressure the opposition into mistakes. Since his arrival in Sheffield, Ramsey has been one of the most tenacious on-ball defenders in the league.
The Riders will need to keep things clean on offense if they are to defeat a team that has gotten the best of them more than once this season.
Key Players
Sheffield are a team that likes to play slowly and methodically on offense, backed up by their stifling play on the opposite end of the court.
One player that has broken that mould this season, especially when facing off against the Riders, is forward, Kipper Nichols.
The American has dropped double-digits on Leicester every time they have played this season, including 19 points in the BBL Trophy QF back in February.
The Ohio native is somewhat of a fan favourite up in Sheffield, having plied his trade there for three seasons.
Nichols is averaging 12.1 PPG, 3.9 rebounds and 2.5 assists. His ability to score inside will likely keep Zach Jackson and Marc Loving busy all night.
Sheffield's defensive hustle makes it tough to see any clean looks at the basket, but they do slip to middle of the pack when it comes to giving up the deep ball.
Enter Patrick Whelan.
Whelan's abilities from beyond the arc are well known, so look for them to be on show again come Friday night.
The Warrington-born guard is currently second in three-pointers made with 72. The Sharks only need to give him a glimpse of the basket and Whelan is likely to take the shot.
Whelan is averaging 13.7 PPG and shooting nearly 44% from deep.
There aren't many chinks in Sheffield's armour, but it's a strong possibility that Patrick Whelan will find them.
Where to watch
Tip-off is at 7:45 pm at the Morningside Arena Leicester.
The game will also be shown live on Sky Sports and streamed live on Sky Sports youtube, starting at 7:30 pm.