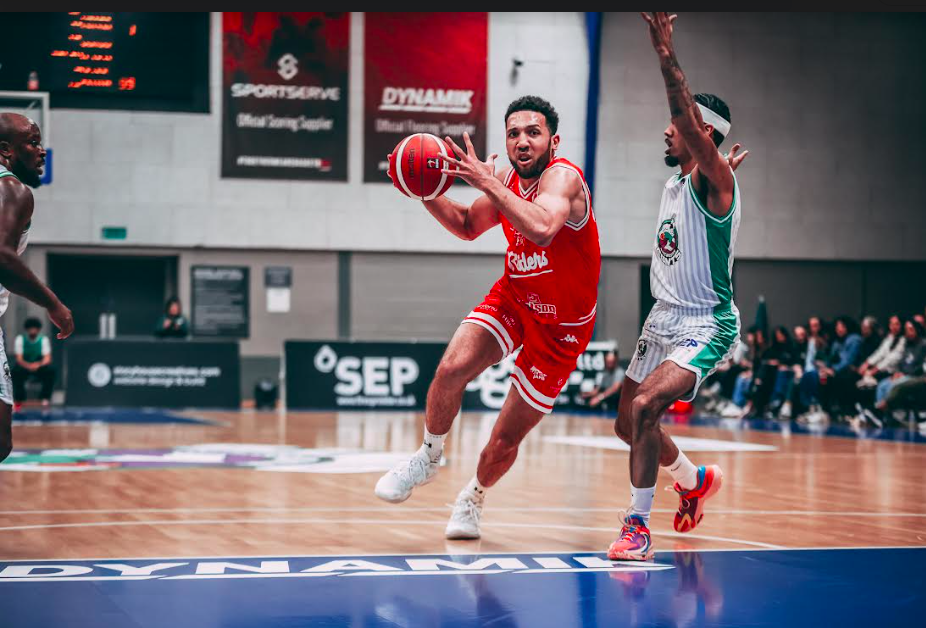 Riders Media - 16th April 2023
Riders secure clutch win
The Riders saw out a clutch 83-82 win in Manchester.
The game came down to the final seconds after Kimbal Mackenzie put Leicester up one with a minute left. Manchester's Rahmon Fletcher missed a tightly contested layup at the buzzer, as the Riders saw out a hard-fought win. 
Carrington Love led the team with 17 points, six assists and six rebounds, keeping the team in contention with key buckets in the fourth.
The battle on the boards went a long way to deciding the game, as the Riders outrebounded the Giants 47-41, despite the absence of their GB big man Aaron Menzies.
For the Giants, Green led the game with 21 points, hitting big shots throughout in a back-and-forth battle. All of Manchester's starters scored double-digit points, but could not get over the edge late.
Leicester's captain led the Riders out the blocks, as Darien Nelson-Henry scored six points inside three minutes. Former Rider William Lee countered with seven points of his own to keep Manchester in it, and nothing separated the sides through the early stages.
It was 17-17 by the end of one, Lee's seven leading the game.
The Giants jumped out to a lead in the second period. The BBL's third-leading scorer Dirk Williams caught fire to score 11, including three threes, to make it 32-20 four minutes into the quarter.
Mackenzie responded for the Riders with back-to-back threes from the corner. He followed up his buckets with a midrange, his eight quick points snatching back momentum.
The Riders remained within touching distance by the half. Mackenzie and Nelson-Henry had eight each going into the locker rooms, with the score 43-31 to Manchester.
Leicester came out into the second half gunning. They scored 11 straight to cut it to one possession, capped off by Jackson's two-handed slam on the fastbreak.
Jackson took the lead for the Riders four minutes into the third, battling inside for two. With the Riders back in it, the score remained close going into the final period. The Giants found form to close, entering the fourth up 65-58.
The Riders, once again, found a response. Whelan's three cut it to one midway through the fourth, setting up a tense finale.
Patrick Whelan, attacking the hoop for two, took the lead for the Riders with three minutes remaining. Following up his teammate, Mackenzie followed up the Giants' response with a midrange pull-up, putting Leicester ahead with just 60 seconds remaining.
It came down to Rahmon Fletcher in the final seconds, who drove to the hoop as the clock ticked down. Love contested at the rim along with Jubril Adekoya and Jackson, forcing the miss as the buzzer sounded.