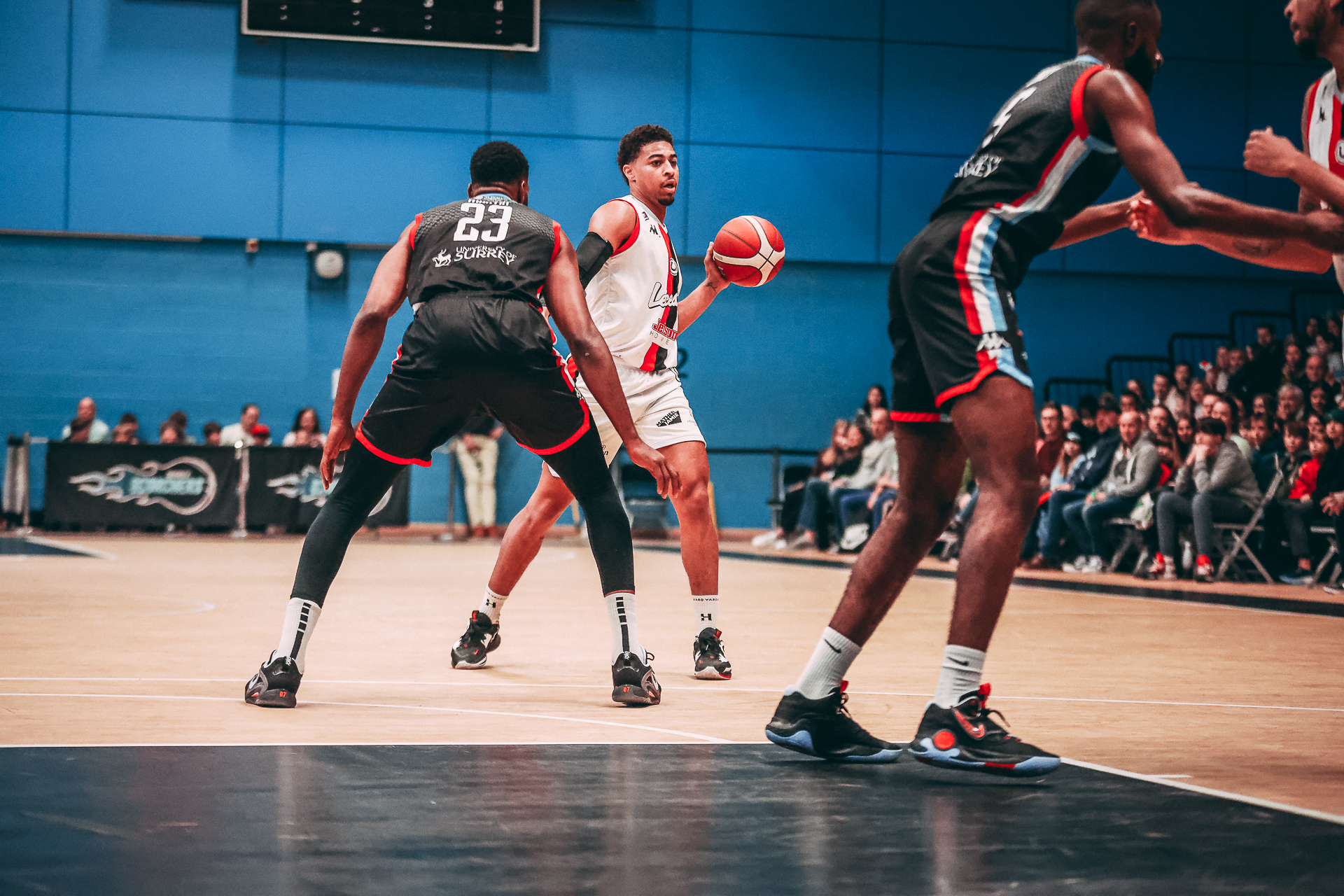 Riders Media - 9th December 2022
BBL Championship Preview- Riders vs Gladiators
The Riders take on the Caledonia Gladiators as BBL Championship action returns to the Morningside Arena. They currently sit third in the league table with an 8-4 record but are level on points with the top of the table. 
Riders bouncing back
Following their first loss in six games three weeks ago, the Riders responded with back-to-back wins to continue their winning form. Most recently, Leicester emerged victors on the road against the Surrey Scorchers.
Six Riders finished the game with double-digit points, led by Darien Nelson-Henry's 16. It was a hard-fought win against an improved Scorchers side, whose new addition, Josh Jefferson, went off for 16.
"We made the defensive stops when we needed to, had great balance and did a great job on the free throw line," said head coach Rob Paternostro after the result.
The Riders shot 39 foul shots in the game, dwarfing their season average of 20.2 per game, and made 33 of them.
"We wanted to attack the rim. We always want to go inside-out, and I think we did a good job of that. We didn't settle for shots, and we eliminated defenders to make plays."
The Riders are the most efficient team in the BBL, leading the league in field goal, three-point and free-throw percentage. Zach Jackson has paved the way with this trend, shooting 57% from the field and 51% from deep, on his way to 14.3 points per game.
Tonight's opponents have challenged the Riders this season, winning both of the meetings so far. Both the games were played in Caledonia, and the Riders will look to make the most of their home-court advantage in this one.
Caledonia finding form
The Caledonia Gladiators enter this one in-form, having won three straight in all competitions. They booked their place in the BBL Cup semi-final with a 77-68 win against the Sheffield Sharks, and beat the Riders and Patriots in back-to-back league games.
Their winning streak has moved them to 5-5 in the BBL Championship, making a run up the league standings. They play consistent, efficient offence, turning the ball over the least in the BBL while ranking third in field goal percentage.
Their offence is spearheaded by David Sloan, who is leading the BBL in scoring with 21.8 points per game. One of Sloan's two 30 point games this season came against the Riders, as he put up 36 in a monster performance in October.
"We know who our opponents are, and we know they've beaten us twice this season," said Zach Jackson. "We don't need any more motivation than that, and it's going to be important to bring all our energy."
"It's going to be nice to play at home," said Rob Paternostro. "We've been on the road eight times out of 12 this season, so when we get a home game, it's like Christmas morning!
"They're playing good basketball, and they're a great team, so we've got to play better defence and look after the ball."
Key matchup
The BBL's highest scorer David Sloan will look for a similar performance to his 36-point showing against Leicester. The East Tennessee State graduate has torched the league with his scoring so far and can go off for huge numbers every night. 
Sloan scored 12.6 points per game in his final college season and dished five assists per game. The Louisville native ranked third in his conference in assists, showing off his ability to both score and facilitate. 
Sloan possesses all the qualities needed to score in the backcourt. He's a quick, athletic ball handler with crafty moves and a quick release, keeping defenders alert for all 40 minutes.
Facing up against Sloan off the Riders' bench will be Kimbal Mackenzie, who has given the Riders key minutes down the stretch recently. He went to the foul line three times late in the recent win in Surrey, knocking down his free throws to seal the game.  
Kimbal's college career was spent in the NCAA D1 for Bucknall. He enjoyed a sensational senior year, scoring 17.6 points per game, the seventh-most in a season in college history.
Mackenzie can play either guard position effectively on and off-ball offensively. He can score from anywhere on the court, making 37% of his threes in his senior year in college. His skill set allows him to fit seamlessly into any Paternostro lineup.
Where to watch
The game will be televised live on Sky Sports, tipping off at 7:45 pm. It will also be streamed on the Sky Sports Youtube channel!