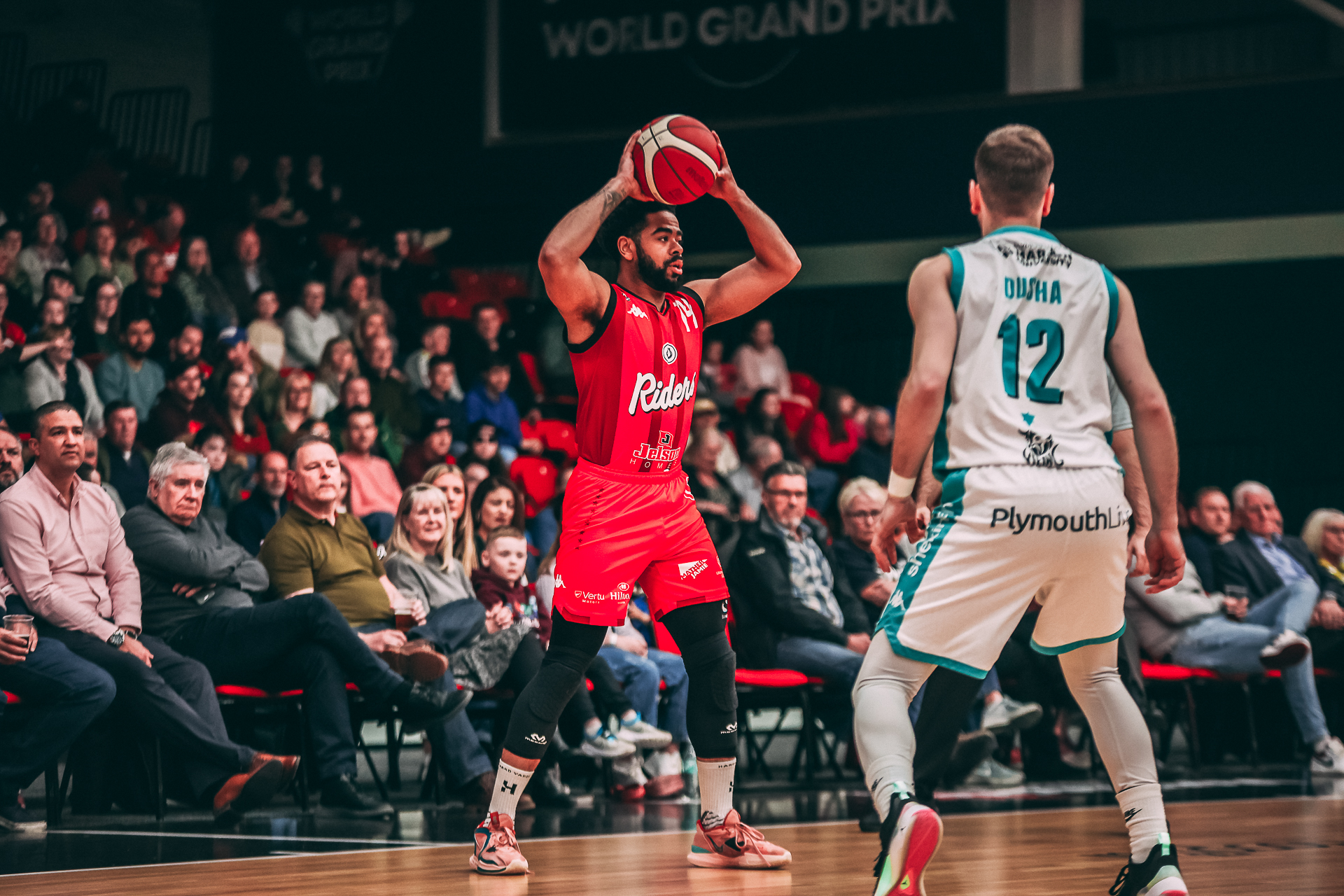 Riders Media - 15th April 2023
BBL Championship Preview: Riders at Giants
The Riders will complete a quickfire weekend turnaround as they travel north to Manchester to face the 17-17 Giants.
Coach Rob Paternostro's squad haven't seen Sunday's opponents since February 17 and will want to make a strong statement against a team they may face in the upcoming BBL Playoffs.
Riders' Season So Far
Travelling supporters should expect plenty of offensive flair in Manchester as was demonstrated during Friday night's 111-68 demolition of the Plymouth City Patriots.
The Riders appeared to ball with a freedom that only comes when the entire team is enjoying their basketball – freedom that resulted in every player on the floor scoring points.
A 4th quarter alley-oop to a cutting Blake Bowman summed up Leicester's performance in one play. Bowman rose weightlessly to the basket and stuck the jam with authority to get the Morningside Arena rocking.
In a game where big individual performances weren't a necessity, Patrick Whelan and Kimbal Mackenzie stood out.
Whelan took full advantage of some soft defence to drain five three-pointers on his way to 22 points, while Mackenzie came off the bench to record an efficient 20-point game.
Mackenzie appears to be relishing in the sixth man role, bringing energy and leadership off the bench, shown by a +34 plus/minus on Friday night – the highest of any Rider.
No victory comes easily in the BBL, so Leicester will want to bottle this feeling and draw on it throughout the rigours of the playoffs.
The win over Plymouth sits the Riders in second place in the BBL standings, level on 46 points with the Bristol Flyers.
Giants' Season So Far
Manchester have dipped a little in form recently, going 1-4 in their last five games, which has dropped them to 7th in the standings.
They currently sit level on 34 points with Sheffield and Cheshire, only two points behind Caledonia in 4th.
The mid-table log jam means that every game is crucial for the Giants, who will be hoping to enter the playoffs with as high a seeding as possible. Every team in the lower playoff places will be wanting to avoid a quarter final against the likes of London, Leicester and Bristol.
Friday night's trip to Sheffield wasn't a successful one, the Giants falling 80-71 without ever having a lead in the game.
It was an uncharacteristically poor offensive performance by Manchester, who have the most prolific attack in the BBL, averaging 90.14 PPG.
The Giants play fast and rarely miss an opportunity to score the ball early in the shot clock. The Riders will want to tighten up and force ill-advised shots as the 24 seconds runs down.
Defensively is where the Giants show chinks in their armour.
They are currently allowing over 90 PPG to the opposition, the most of any team in the championship.
If the Riders can play like they did on Friday, expect another three-digit scoring output.
Key Players
When game planning for the Giants there are two names to focus heavily on – Dirk Williams and Tajh Green.
A veteran of the BBL, Williams is averaging an impressive 19.46 PPG and is by far the best three-point shooter on his team.
The 28-year-old shooting guard has scoring in his DNA, and has only been held to less than 10 points on two occasions this season.
His 35-point manhandling of the London Lions on April 9 shows how dangerous he can be.
Fresh out of college, Green is a double-double machine, averaging 19 PPG and 9.5 RPG on the season.
A star of Benedict College in NCCA Division 2, the high-flyer has been ever-present for Manchester since he arrived last summer.
Going toe-to-toe with the Giants' talented duo will be Patrick Whelan and Marc Loving, both supremely gifted in their own right.
The 6'5" Whelan will be there to answer any deep ball Dirk Williams hits with one of his own, matching him on the season with a 44% hit rate from three-point land.
Whelan routinely drops most of his points from downtown, so we could be in store for a heat check battle come Sunday.
Not afraid of the long shot himself is the silky-smooth Marc Loving.
Loving is coming back from a wrist injury sustained a couple of weeks ago, but looked sharp on Friday against the Patriots.
He will have his hands full with the athletic Green, but the former's guile and experience could see him win that battle.
Back in February, the Riders held Williams and Green to 15 and 14 points, respectively.
Expect more of the same come Sunday evening.
Where to watch
The game will be streamed live on the BBL Official youtube channel, starting at 4:45 pm.