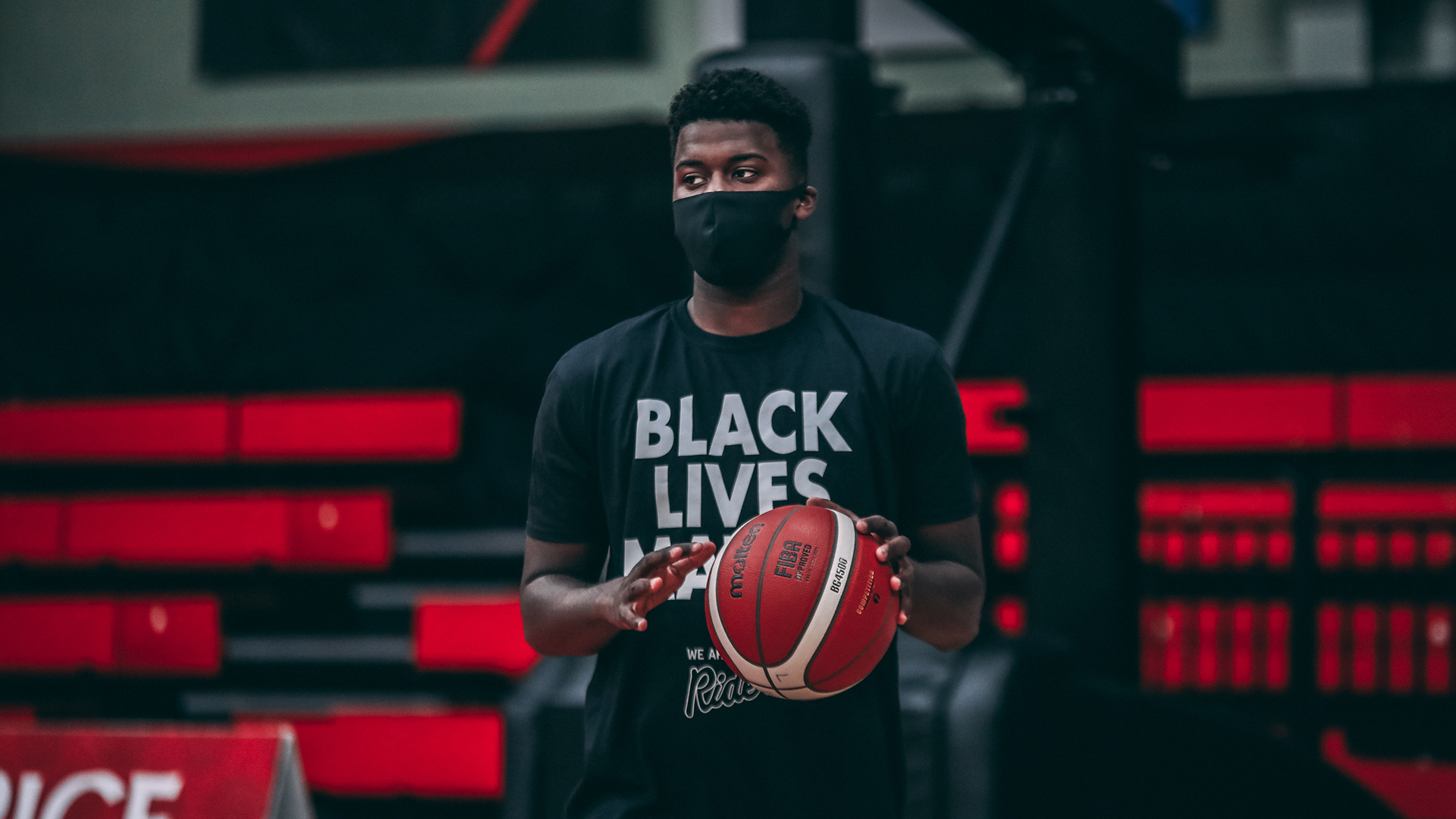 Riders Media - 20th October 2020
Young guns named to Hoopsfix rosters
Hoopsfix has revealed the rosters for the 2020 Hoopsfix All-Star Classic, despite its cancellation due to the COVID-19 pandemic.

The annual event – supported by Nike and 5or6 – would have brought together the top male and female junior players of their generation to play in three All-Star games across two days.

Congratulations to our pathway players Hannah Dawson, Molly James, Alex Baker, Victor Ndoukou, Giovanni Emejuru, Blaize Sagna, Greg Durand and Chester Morrell who were all named in the rosters.
The five previous events have all sold out in advance and another capacity crowd was anticipated in Brixton for the 2020 edition, which was originally scheduled for June before its cancellation.

"Though we are absolutely gutted to have had to cancel the event this year, we felt announcing the selected players is a small gesture to show recognition of those who would have been suiting up," said Sam Neter, owner of Hoopsfix.

"Despite the event not happening, we will class those selected this year as alumni as with every other year, and they will be listed on the new website – launching soon – with player profiles.

"Congratulations to all those selected, and massive respect to all the clubs, coaches and people who contributed to their development. We look forward to following their progress and development in the coming years."
With countless national titles and a wealth of junior international experience between them, the rosters represent a glimpse into the future of British basketball and include both domestic and foreign-based players.
The full selections for each game are as follows with name, height, position, and their 2019-20 programme as selections were based on performances up until the end of last season.

Class of 2020 Rosters
Team Black
David Chive, 6'0", Guard, John Madejski Academy
Chris Feeney, 6'2″, Guard, Barking Abbey
Bradley Kaboza, 6'2″, Guard, Myerscough
Charlie Brown, 6'3″, Guard, Derby
Lewis McGlasson, 6'4″, Guard, Myerscough
Asher Ndah, 6'4″, Guard, John Madejski Academy
Eljay Morris, 6'4″, Guard/Forward, Governor's Academy (USA)
Richard Amaefule, 6'9″, Forward, Bishop Lynch (USA)
Sanmi Fajana, 6'8″, Forward, Myerscough
Amari Williams, 6'10", Forward/Centre, Myerscough
Josh Ogundele, 6'11", Forward/Centre, Worcester Academy (USA)
Matt Marsh, 7'0", Forward/Centre, FC Barcelona (Spain)
Team White
Blaize Sagna, 6'2″, Guard, Charnwood
Louis Norton, 5'10", Guard, Barking Abbey
Ben Winter, 6'3″, Guard, Ipswich
Chester Morrell, 6'2″, Guard, Canterbury
Taiga Forster, 6'1″, Guard, Itchen
Greg Durand, 6'5″, Guard, Charnwood
Vasja Pandza, 6'8", Guard, The Hotchkiss School (USA)
Tomiwa Sulaiman, 6'6" Forward, West Nottingham Academy  (USA)
Tom Sowoolu, 6'8″, Forward, Barking Abbey
Eduardo Andre, 6'10", Forward, AZ Compass Prep School (USA)
Sam Chigbo, 6'11", Forward/Centre, Myerscough
Theo Hughes, 7'0″, Centre, Barking Abbey
Underclassmen Rosters
Team Black
Cameron Hildreth, 6'5″, Guard, Holy Trinity
Latrell Maitland, 6'1″, Guard, John Madejski Academy
Elijah Walsh, 6'4", Guard, Queen Ethelburga's
Jacob Morgan, 6'0″, Guard, Ipswich
Michael Belle, 6'6″, Guard, Strasbourg (France)
Sam Alajiki, 6'7″, Guard, Beckley Prep (USA)
Flynn Boardman-Raffet, 6'4″, Guard/Forward, Barking Abbey
Blake Bowman, 6'5″, Guard/Forward, Derby Trailblazers
Franklin Agu, 6'6″, Forward, Myerscough
Sam Grant, 6'8″, Forward, John Madejski Academy
Josh Ijeh, 6'8″, Forward, BMET James Watt College
Ethan Price, 6'10", Forward, Ipswich
Team White
Quinn Ellis, 6'3″, Guard, Orlandina (Italy)
Alex Distras, 6'0″, Guard, Haringey
Josh Uduje, 6'6″, Guard, Knox School (USA)
Owen Young, 6'4″, Guard, Haringey
Wakeem Richardson, 6'3″, Guard, BMET James Watt College
Veron Eze, 6'4″, Guard, Barking Abbey
Jeremy Sochan, 6'8″, Forward, La Lumiere (USA)
Moses Gordon, 6'6″, Forward, New City
Abiodun Adedo, 6'5″, Forward, St Charles
Giovanni Emejuru, 6'10", Forward, Charnwood
Victor Ndoukou, 6'8″, Forward, Charnwood
Ndwedo Newbury, 6'8", Forward, Haringey
Under-19 Women Rosters
Team Black
Ella Doherty, 5'11", Guard, Caledonia Pride
Jade Mbam, 5'7″, Guard, Manchester Mystics
Mariam Olawoyin, 5'5″, Guard, Nottingham
Molly James, 5'9″, Guard, Charnwood
Tamara Fournillier Onadeko, 5'10", Guard, Barking Abbey
Hannah Dawson, 5'10", Guard/Forward, Charnwood
Rebecca Dwomoh, 5'10", Guard/Forward, Femeni Maresm (Spain)
Esther Little, 6'2″, Guard/Forward, Copleston
Jannike Marshall, 6'0″, Forward, Caledonia Pride
MJ Sarkodee-Adoo, 6'2″, Forward, City of London Academy
Molly Lavin, 6'2″, Forward, Richmond Knights
Louise Rouse, 6'2″, Forward, Oaklands
Isimenme Ozzy-Momodu, 6'1″, Centre, City of London Academy
Team White
Amelia Sandie, 5'7″, Guard, City of London Academy
Abbey Whitehouse, 5'9″, Guard, Sheffield
Asha Andrews, 5'7″, Guard, Sevenoaks Suns
Charlotte Redhead, 5'7″, Guard, Copleston
Ella Pearson, 5'10", Guard/Forward, Copleston
Simona Henshaw, 5'10", Forward, City of London Academy
Shaniya Rose, 6'0″, Forward, Nottingham Wildcats
Susannah Rafiu, 6'1″, Forward, Copleston
Pollyanna Storie, 6'2″, Forward, Caledonia Pride
Adaobi Nebuwa, 5'10", Forward, City of London Academy
Cameron Taylor-Willis, 6'0″, Forward, Copleston
Emma Imevbore, 6'4″, Centre, London Thunder
Alex Baker, 6'2″, Centre, Charnwood