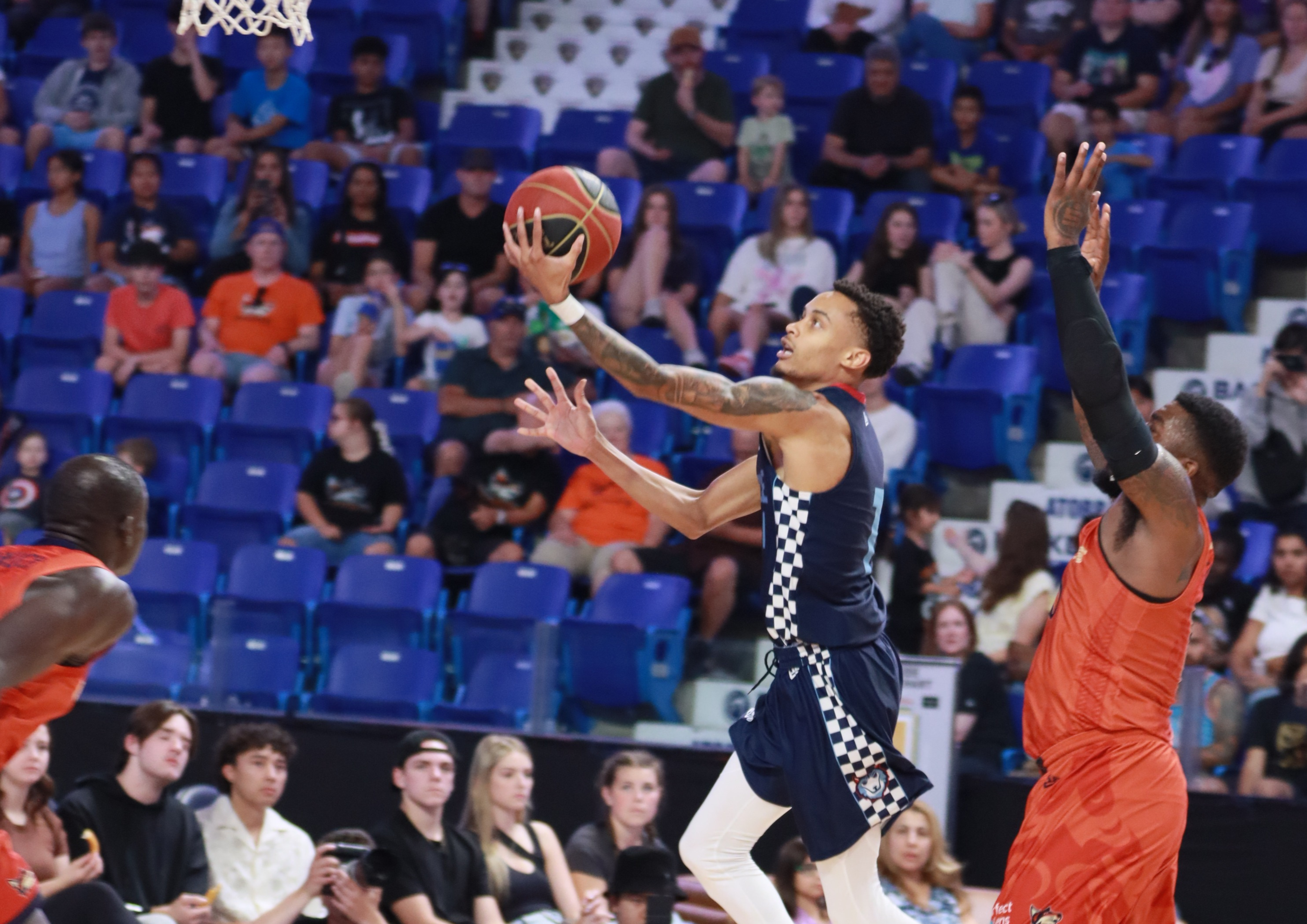 Riders Media - 8th August 2023
Xavier Pinson: Top Performances
Riders' new man Xavier Pinson is entering his first professional season following a five-year college career.
The 6'2" guard from Chicago made a name for himself as an elite scorer, facilitator and teammate during his time in the NCAA D1.
Get to know him with some of his best showings.
A career high in points wins overtime thriller
In his final year in Missouri, Pinson exploded for 36 points for his career-high in scoring.
The Tigers needed every one of his points to take a 102-98 win against TCU, as Pinson three point eruption took the game over.
Missouri was down eight with two minutes left, but he led a comeback with a deep shooting, making a four-point play to cut it to four, then tying the game with a clutch three with four seconds left, sending it to overtime.
In OT, yet another three-point bomb connected to take the lead with a minute and a half remaining, which the Tigers would see out.
In the game, Pinson hit a career-high eight threes; the Horned Frogs with no answer to Pinson's hot hand.
They attempted to stem the bleeding by sending Pinson to the foul line, but he cooly knocked down eight of his nine free throws, including at the end of OT to seal it.
The game was one of his five 20-point scoring explosions in his junior year, and his last season at Missouri.
Winning, whatever it takes
Pinson kicked off his season at LSU on a 12-game winning streak, and winning 14 of his first 15 games.
During that time, he was recognised as a player who would do anything to contribute to winning, no matter how that manifested on the stat sheet.
Nothing demonstrates that more than Pinson's seven-steal game, in a 75-61 win against the undefeated Wake Forest.
Pinson had nine points on the game, six of them from the free throw line, he remained engaged and intense throughout. His defensive efforts allowed LSU to get out on the run, in a game where buckets were tough for both sides.
Pinson found a way to impact the proceedings and proved the difference between the sides without lighting up the points column as he so often does.
Pinson's play for LSU helped set a new culture, centred around suffocating defence leading to transition points.
Hot start for New Mexico's new man
Transferring to New Mexico State for his final year of eligibility, Pisnon went off for two 20-point games in his first three outings. The highest scoring of the pair was a 25-point game, another three-point explosion for the 23 -year-old.
He drained six threes in a 90-77 win against the University of San Diego. Pinson shot 80% from the field and dished eight assists for the Aggies, dominating all areas of the game.
His explosiveness and quickness made a quick impression on his new team, as he led the game to take New Mexico State's second win of the season.
Pinson went on to put up five 20-point outings on the season, leading the Aggies in points and assists per game.
Carrying the scoring load
Pinson put Missouri on his back for two straight games in his sophomore year, averaging 30 points to lead his team to consecutive wins.
He followed up a 28-point outing against Auburn, where he went 10-12 from the field and 6-8 from the free throw line, with a 32-point explosion against Ole Miss.
Pinson went 4-4 from three and 10-11 from the foul line in a three-point win, where the Tigers needed every point he put up. He went off for 24 in the second half alone.
He hit six free throws in the final minute, and eight of Missouri's last 12 points to seal the victory, coming up clutch in just his second college year.
The outings broke Pinson's career-highs in back-to-back games, as he demonstrated his ability to take over proceedings and lead a team to wins.
Freshman's first 20 point game
Pinson had consistent success against Ole Miss, putting up his first 20-point game against them in his freshman year.
He had 20 points and six assists, pushing the Rebels all the way in a six-point loss. He led the team with his points tally, going 8-12 from the field in just 29 minutes of play.
Missouri entered the game as underdogs, against an Ole Miss side with their eyes set firmly on the NCAA Tournament.
The game was tied with 3:35 to play, but their opponents saw the best of the late momentum to avoid the upset. Pinson impressed on all fronts in the game, setting him up for three successful seasons in Missouri.
Want to see Xavier in action?
Get tickets to our preseason opener against Loughborough University here!
Get tickets to our preseason home opener against USA Select here!
---
Image credit: Montreal Alliance