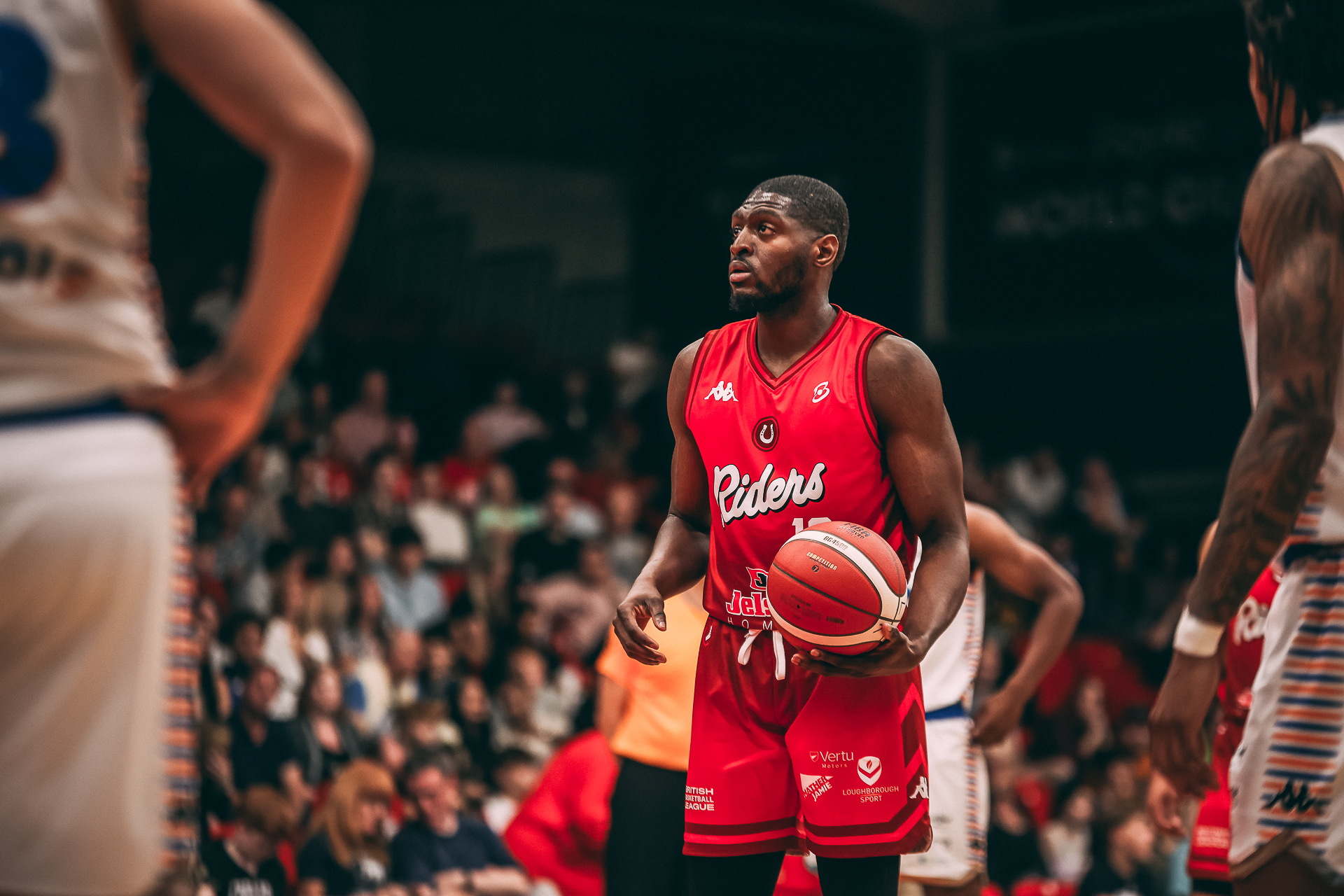 Riders Media - 17th October 2023
"Sometimes, I don't know how I'm still playing."- Samuel Idowu on battling back from injury
After over a season on the sidelines, Samuel Idowu battled back from injury to take to the court for the Leicester Riders. The American/Brit has returned to the UK after months of dedication to his recovery.
"I surprised myself at what I could endure," reflected Idowu. "I always knew I was a hard worker, but this was different. From September 2022 to August 2023, I was in rehab at 10 am every day, sometimes until 7 pm.
"It's not easy, and it gave me a newfound respect for people who have gone through serious injuries that lead to multiple surgeries. I had to do it two years in a row, and it was a massive mental challenge.
"With everything I've gone through to get here, I sometimes don't know how I'm still playing."
After a dominant two-year stretch to start his professional career in Europe, averaging 16.1 points and 7.5 rebounds per game in the Netherlands as a rookie, Idowu suffered a ruptured patella in May 2021 and was sidelined for the first time.
He returned the following season after going through knee surgery, and despite his continued elite play, all wasn't right with Idowu's body.
"Something had gone wrong with the first surgery, and while I was able to play, I was told the injury was going to happen again. After months of rehab to get back onto the court, I had to go through the whole process again.
"Luckily, the surgery went well the second time, and I took no chances with my recovery. I spent the whole year out to focus on it."
For any athlete, sitting on the sidelines is a mental challenge. Despite his calm demeanour, this was no different for Idowu.
"It was new for me. Sitting out was really difficult. I'm a level-headed person and I don't usually stress or get too anxious, but sitting for a whole year was really hard.
"It wasn't too difficult at the beginning when I could barely walk. My whole focus was on being able to stand. But once I was out of my brace and I could walk or even run, I started thinking I could play, which was really dangerous.
"My body wasn't there yet, but my mind was ready. I was shooting a little bit and feeling like I could play, which just made me want to do more.
"That was a seven-month period where it was a battle to keep myself off the court, knowing I wasn't 100% ready to be back."
After his second surgery, Idowu didn't take the court until his first practice in Leicester. Many would be anxious to test their injury, hoping the hard work in rehab had paid off. But Idowu's love of the game left no room for emotion, barring his itching excitement.
"I couldn't wait to get back on the court. I wasn't scared. There was so much emotion that goes into joining a new team, so to get back to it felt great. I missed it a lot, and it feels amazing to be able to trust my body."
His impact was immediate for the Riders. In his first competitive outing, he was named Player of the Game after scoring 12 points in his debut.
"I'm seeing the improvements in my game, and I'm starting to get back to the player I was before. Those small improvements meant a lot. I trained myself to think about that during rehab, so I'm appreciating the little gains I can make on the court."
Idowu finds himself as a veteran on a young Riders team, tasked with helping to guide six rookies through their first season of professional basketball.
In his five years as a pro, he has been on winning teams and losing teams, and understands what it takes to be the former.
"I try to reiterate the fact that in order for us to win, everyone has to buy in. That was an issue with some teams I've been on in the past.
"That's the main thing that excited me about this team. We get along off the court: the chemistry between us is incredible.
"Everyone has bought into winning. Every game, there's a different Player of the Game. We don't care as long as we win.
"Of course, guys want to individually play as well as they can, but it's ultimately about the team goal. It's about winning the game. I'm excited to be a part of that winning culture."
Part of that buy-in comes from the Riders bench, whose play has earned the team the reputation for having one of the deepest rosters in the British Basketball League. Idowu is an integral part of that unit, which takes pride in the impact it can have later in the game.
"We want teams to look at us like we have two starting lineups. Even though we're coming in off the bench, we still play to the standard of the starters, so there's no break for the other team.
"That keeps everyone fresh. Coach Rob likes to play everybody, and that keeps our energy up throughout the game."
As he continues to get back to his best, Idwou's impact on the Riders roster has proved his dedication in rehab was well worth the wait. He's proved an invaluable addition to the Riders since his arrival, and expect much more to come.
---
Want to see Sam in action?