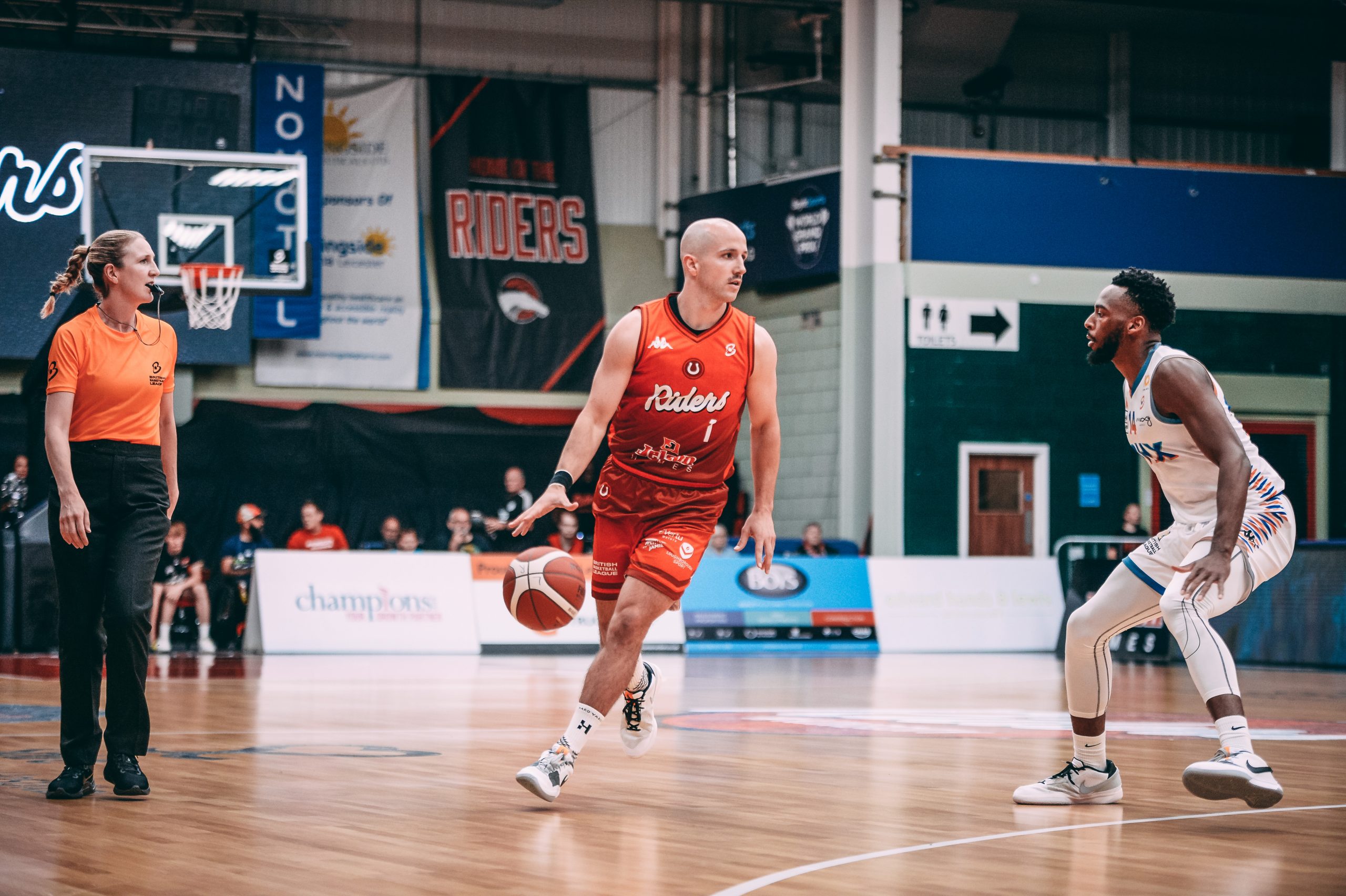 Riders Media - 16th October 2023
Captain's Log: Kimbal Mackenzie's thoughts on the season so far
Thank you to everybody for their incredible support this season. It's been great to see you all back in the stands and getting behind the team.
The start to the season has been a great challenge for us with plenty of lessons, but ultimately I'm proud of the way this team is coming together. We have a phenomenal group stacked with talent, and I'm happy to see that starting to come to fruition on the court.
Opening night was an important lesson for the team. Give Cheshire credit. They showed that they can be a dangerous team, and they outplayed us.
We have a reputation for being one of the better teams in the league and for playing well at home, but we learned quickly that if we don't show up and bring our best, we're going to get punched in the mouth.
The first game of the year is always tricky, but the bottom line is they played harder than us and outperformed us. There are no easy games in this league, and that was important for us to learn quickly.
This was an almost brand-new group with a couple of injuries early on, so we really didn't have a great idea of who we were when we first entered the season. But I believe in this group, and I believe in this coaching staff.
Every week we get in better shape, and we better understand our team philosophy, our roles, and each other. We're a few weeks into the season, and we are all getting to know each other better every day.
Since opening night, I have definitely seen the team start to gel. We're finding our roles and learning how to play with one another. The way we beat Newcastle was especially important. It's really good to show you can grind a game out early in the season.
We're starting to find our identity as a team. This roster is incredibly dynamic, and we have a lot of three-dimensional guys who make plays in multiple ways. We will be a difficult team to scout because we have many guys who can score, pass, rebound and understand the game well.
You don't know where we're going to find success every night because we have a lot of playmakers and shot-makers. With this packed schedule, seeing teams four times a season, that kind of versatility is going to be essential.
Having a dynamic group that can beat teams in a lot of different ways gives us an edge. Ultimately, you never know how we're going to approach a game. That comes from our depth, which is one of our biggest strengths. We have gotten contributions from everyone.
I could go all the way down the roster talking about the players who have contributed this season. It's truly been a group effort, top to bottom.
One guy who has somewhat flown under the radar and who has quietly been playing great is Braelen. He's been a monster in the paint. He's tough to stop: He has a great touch around the hoop and a good understanding of the game. He's been excellent for us.
He brings something that I can say for all of the players on our roster: fearlessness. The returning players all bring pride and toughness to the roster, and the guys that have come in have amplified that. They don't back down from anyone.
I'm also proud to be a part of a team that puts winning first. Every player on our roster is dedicated to the teams success. The more we give ourselves to the team, the better we're all going to play. We've done a good job as a team to go out there, be competitive together and enjoy winning.
For the rest of the season, I'm excited to see this team's development.
The trait of great teams is their progression through the season, and we have so much room to grow. We will, of course, have many ups and downs over the course of the season and will likely lose another game (as great as it would be to go undefeated the rest of the way), but the important thing is to keep looking forward and improving every day.
We have seen that early in the season, and we'll work hard every day to continue to improve.
Thank you to all of our fans for your unwavering support. We, as ever, have felt your support in the stands this season, and we will continue to work hard to make Leicester proud the rest of the way.
Your captain,
Kimbal Mackenzie