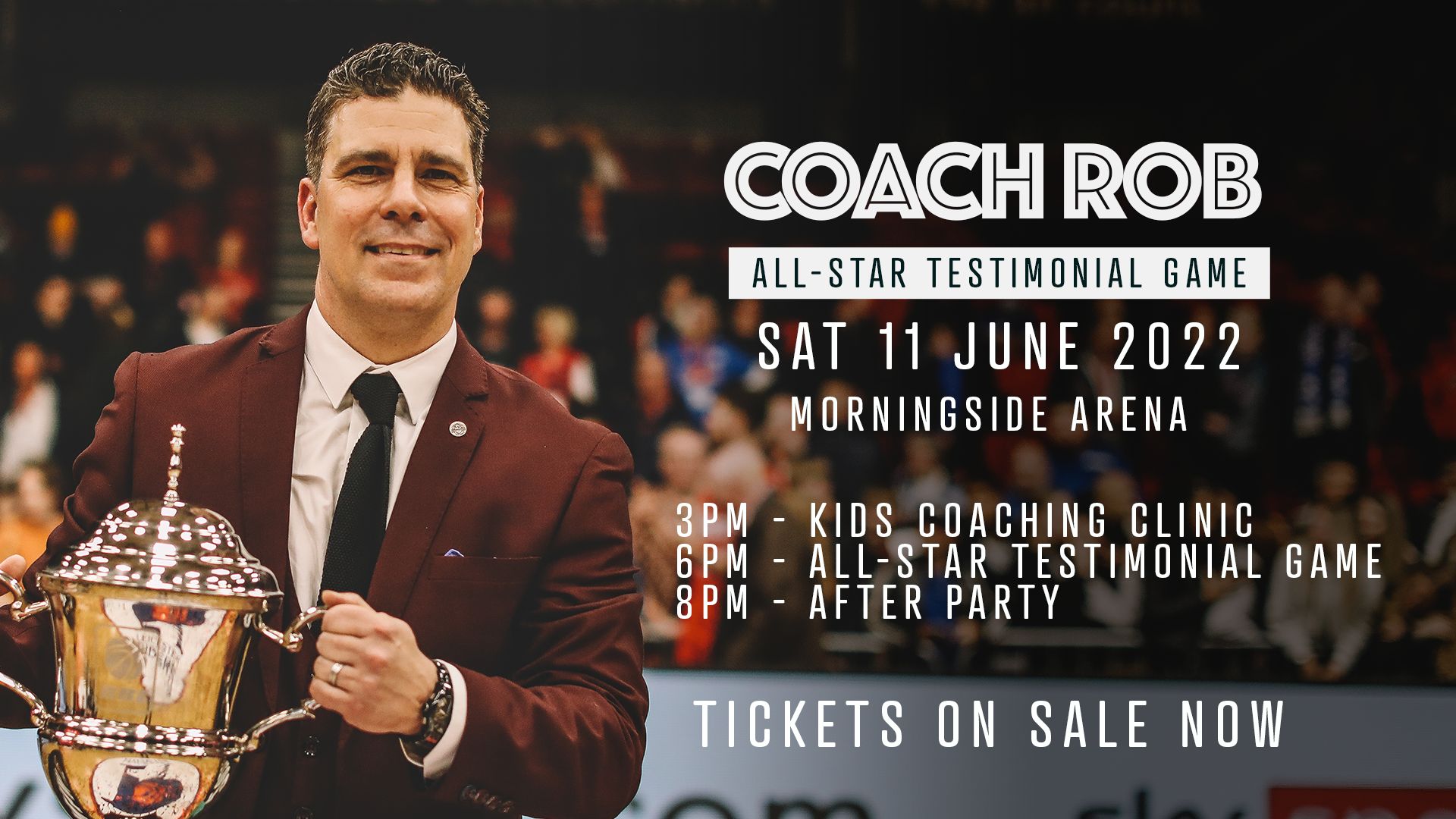 Riders Media - 17th April 2022
Rob Paternostro granted all-star testimonial game
The club have announced they have granted Head Coach Rob Paternostro an All-star Testimonial Game in celebration of his achievements in his 14 years at the helm. 
The game will take place on Saturday, June 11 – 6pm tip, and will follow a kids coaching session led by Coach Rob at 3pm.
The game is set to be very competitive, with squads made up of current BBL players, Great Britain Internationals and Riders legends!
To round off the day's festivities, an after-party will be held at the arena, with a DJ set until 12pm.
Ticket prices are set at £20 for adults, £17.50 for concessions, £7.50 for children and £17.50 for the training camp.
"We are all thrilled to be able to grant Rob a testimonial event. He has had unrivalled success as our head coach and we are sure he will achieve even more in the years to come," commented Managing Director Russell Levenston.
"He's a hall of fame level coach and we're excited to put on this event as a celebration of his achievements so far. He's a passionate and competitive coach and we expect the game to be similar!"
"Keep an eye out in the coming weeks for players being announced… there's a few surprises in there that not just the Riders fans, but the whole BBL will be excited about seeing."
Rob has enjoyed a prosperous basketball career, dating back to his high-school career in his home city of Waterbury, Connecticut.
He attended Holy Cross High School, and was named into the All-State second team in his senior year after amassing over 1000 points in two seasons.
Rob then spent a successful four years at New Hampshire college, becoming their all-time assist leader to earn a spot in their Hall of Fame.
He became the first player in his college's history to receive the NEBCA Bob Cousy Award, and won a total of seven individual awards for his performances in his senior year.
After turning pro, Rob joined the BBL in 2000, where he started a multi-year stint with the Birmingham Bullets. In 2006, Paternostro was first welcomed into the Riders' franchise, spending the season running the point for Leicester.
After a further playing season in Birmingham, Paternostro hung up his jersey and was appointed head coach of the Riders.
In his first year, 2008/09, he recorded Leicester's best-ever top-flight league finish up to that time, and the following season he became the first coach in franchise history to record back-to-back 20-win seasons.
His performances in his first coaching year made him the first Riders coach to win the BBL Coach of the Year. Five years later, Paternostro turned his club's good performances into silverware.
The Riders secured their first treble-winning year in 2013, winning the BBL Championship, BBL Cup and BBL Playoffs. Since then, Rob has led Leicester to the most successful period in franchise history.
Paternostro has won 16 trophies in his 14-year coaching stint at the club and has six Coach of the Year awards to his name, making him the Riders' most decorated coach. The Riders have won five of the last six league titles, the most successful stint for any club in BBL history.
Rob brings passion, intensity and character to the Leicester sideline, and will hope to add yet more silverware to the Riders' trophy cabinet in years to come.