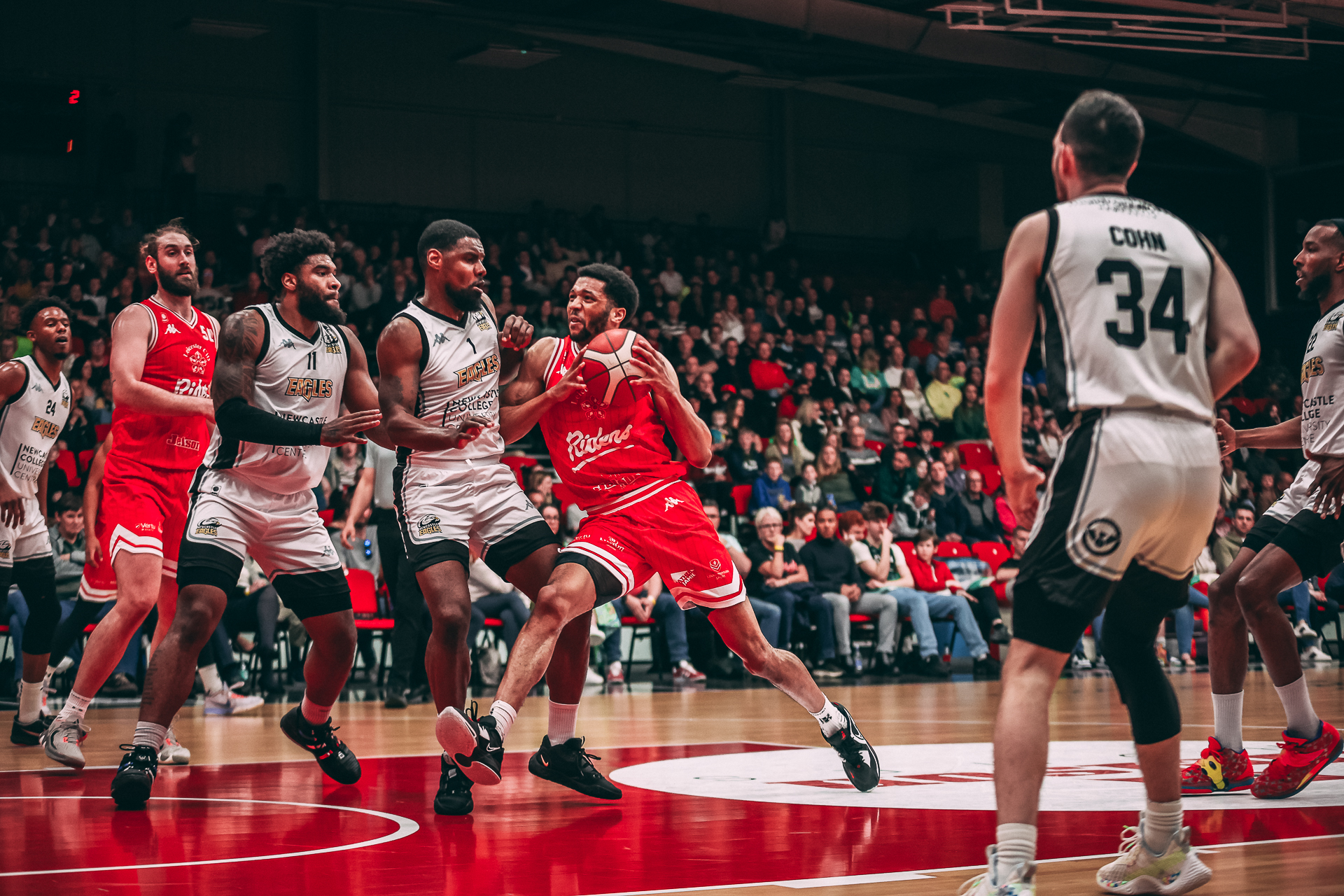 Riders Media - 9th April 2023
Riders win a close encounter
The Riders saw out a hard-fought 87-78 win against the Newcastle Eagles, winning the fourth quarter 27-17 to see it out.
It improves them to 22-10, as they move level on points with the second-placed Bristol Flyers.
Zach Jackson led the game's scoring with 29 points, leading a comeback after the Riders fell down 10 in the first quarter. The Eagles had two 20-point scorers in the game in Javion Hamlet and David Cohn, but did not have enough firepower to get over the hump.
The Riders shot 48% from the field and 39% from three in an efficient offensive display. They dished 25 assists in a complete team performance, led by 13 from point guard Carrington Love.
The Eagles got off to a better start, building a 10-2 lead from the tip. Four of their starters got on the board early to jump out to an advantage. They carried their lead through the quarter, and led by David Cohn's six points they were up 23-11 by the buzzer.
Aaron Menzies took charge of the Riders' scoring load in the second period, sinking back-to-back baskets. He played aggressively throughout the quarter to jumpstart the offence.
The Eagles maintained their double-digit advantage, however. Cohn continued to hit big shots throughout, running the game from the point. They led 49-39 going into the locker rooms, leaving Leicester with work to do.
A 5-0 start to the second half got the Riders straight back in it. Jackson's three, for his 18th points of the night, got the run underway, setting up the comeback.
The Riders continued their run to take their first lead of the game through Jackson's turnaround hook shot.
The sides traded baskets to finish off the third, setting up a tightly contested finale. Javion Hamlet concluded the third with free throws to make it 61-60 to the visitors.
The Riders edged ahead in the fourth through Evan Walshe's five quick points off the bench. His energy fired up the Leicester offence as they pulled away late.
Walshe baskets kicked off a 9-0 run, which Jackson concluded with a banked-in midrange to force an Eagles timeout.
Out of the timeout, Newcastle fought back. Javion Hamlet made free throws to cap off the response, cutting it to a one-possession game.
But the Riders saw the game out in the clutch. They hit back with 10 straight points, kicked off by a bucket from Carrington Love. A Jackson corner three iced it, seeing out a hard-fought game. 
The Riders return to action on Friday, facing the Plymouth City Patriots at home.