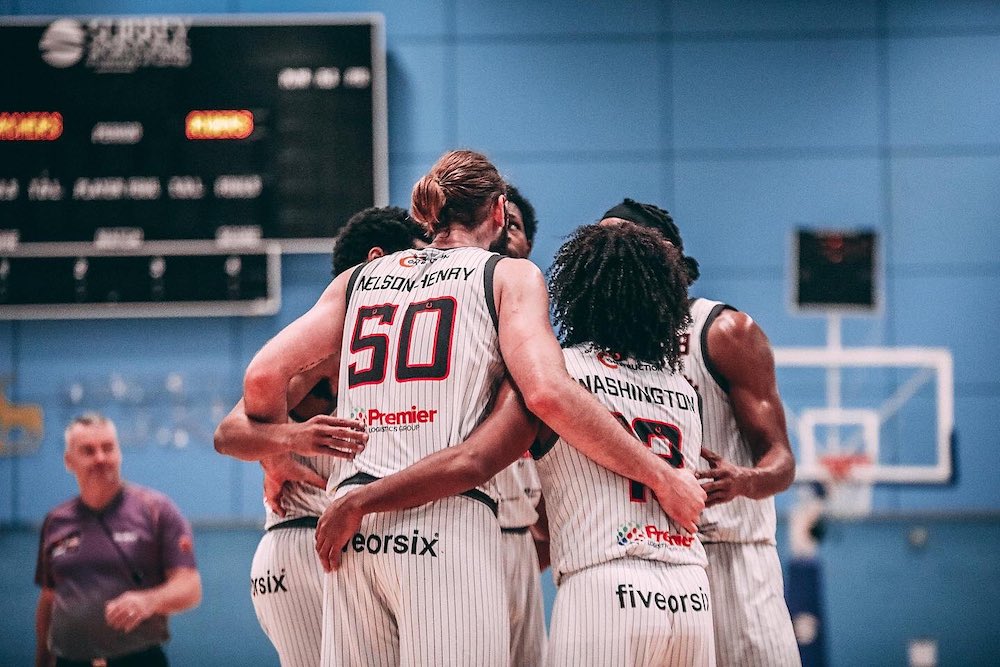 Riders Media - 6th December 2020
Riders victorious in BBL Championship opener
Leicester Riders started their BBL Championship season with a solid win 84-72 on the road at Surrey Scorchers. The win was even more impressive as Riders had two of their players fouled out, Geno Crandall and Scottish International Ali Fraser on his debut, as Leicester racked up 25 fouls, the most in a match in four seasons. It was Riders 26th win in their last 27 games at Surrey, the other being a draw in the first leg of a playoff series. It was also the tenth season in a row that Riders have won their league opener.
Both teams got off to a slow start, with the big men Darien Nelson-Henry and the Scorchers Ryan Richards trading baskets, as Riders built a 6-2 lead after two and a half minutes. Geno Crandall was controlling the game for the Riders, and he sparked another run with a three pointer, and a layup from William Lee put Riders 13-4 up. The home side were feeling the pressure of Riders tight defence, and a Conner Washington three from a long way out pushed Riders 21-12 up. Richards helped the Scorchers pull back, with a couple of big rebounds, and at the first quarter break Riders led 21-14.
Both sides were tentative to start the second quarter, and with Surrey turning the ball over regularly, Riders were failing to capitalise and a Conner Cashew long range shot kept Surrey close 25-19 down. Zach Jackson hit a couple of fine turn-around jump shots and twice Crandall penetrated the Surrey defence to draw fouls, converting 2 of 4. But a no-look pass from him found Jamell Anderson wide open for a dunk, and then Riders has three breakaways in a row off Surrey turnovers, and at halftime Riders were good value for a 46-28 lead.
The Scorchers came back in the third quarter mainly from the free throw line, as their aggressive play on offence led to a succession of trips to the free throw line, particularly for their captain Tayo Ogedengbe. A three from Ogedengbe pulled the Scorchers to within 55-43, but Jackson and Washington hit successive threes, and Riders were looking comfortable with a 63-50 lead with a quarter left.
Surrey came roaring back at the start of the final period, and Riders were rocking when Crandall picked up an unlikely technical foul to exit the game, with Riders lead down to 66-58 with eight minutes left. But a Washington jump shop steadied the ship, Nelson-Henry made a tough basket inside, and then a cutting Anderson completed a huge three point play that took the air out of the Scorchers comeback, as Riders lead ballooned back to 14. Washington was reliable from the free throw line as Surrey sought to pressurise the visitors, and a William Lee dunk put an exclamation mark on the win.
Once again Riders spread the scoring with six players in double figure points. The leader was Anderson off the bench with 16 points, on 7 from 8 shooting, along with 4 rebounds. Captain Nelson-Henry was his efficient self with 15 points and 8 rebounds, while Zach Jackson contributed 15 points, 5 rebounds and 3 assists. On a court where he scored 10 three pointers last season, Corey Johnson had a night to forget, failing to score on 11 attempts, and Fraser failed to score or get a rebound in 8 minutes play before fouling out. The other debutant for Riders Aaron Falzon was solid, with 3 points and 3 rebounds in eight and a half minutes.
Scorchers
Ogedengbe 17, McLemore 11, Cashew 10, Cook 8, Walshe 7, White 6, Raftopoulos 6, Rickman 4, Richards 3,
Riders
Anderson 16, Jackson 15, Nelson-Henry 15, Washington 14, Crandall 11, Lee 10, Falzon 3,