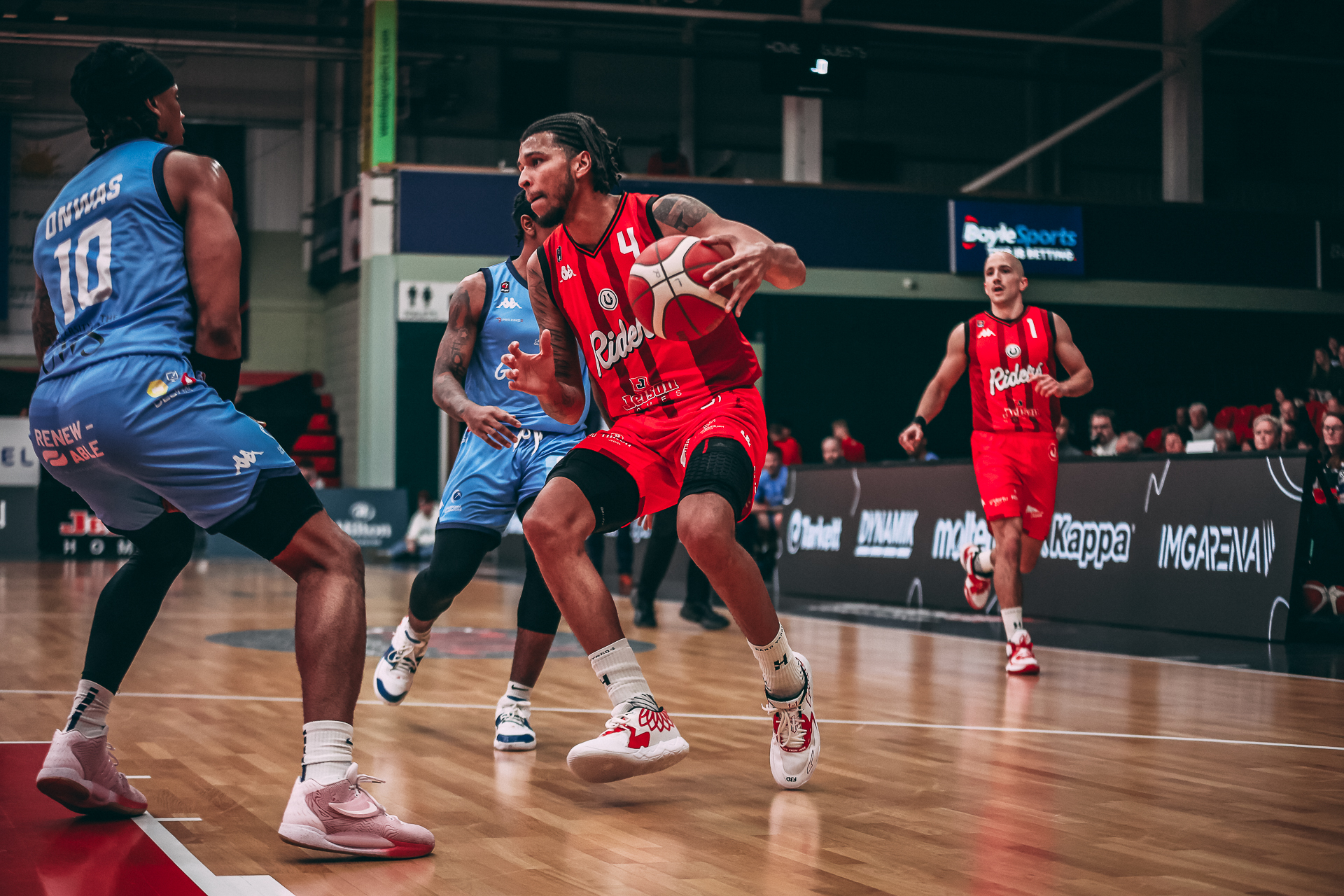 Riders Media - 9th December 2022
Riders secure big win vs Gladiators
The Riders improved to 9-4 in the BBL Championship with a blowout 100-67 home win against the Caledonia Gladiators. Patrick Whelan led the scoring with a season-high 25 points, his first double-double of the year. 
Leicester burst out to a big lead late in the second and never looked back, feeding off the home crowd to extend their advantage. They shot the lights out, going 58% from the field while locking down the Gladiators to hold them to 35%.
The Riders' defence held the BBL's leading scorer, David Sloan, to 10 points in the game, their perimeter pressure keeping the first-year pro off the scoresheet at his usual high rate. His backcourt opponent, Derryck Thornton, had a 16-point showing to help Leicester to a big win.
Little separated the sides through the opening stages, as five Riders got on the scoresheet to edge a closely contested first quarter. Whelan's seven-point burst to end the period edged the Riders ahead, with the score 21-20 by the buzzer.
Whelan had 10 at the end of the first, Leicester's leading scorer on the season starting out with a hot hand. Jubril Adekoya took over the scoring load from the GB international in the second, bagging seven straight points to maintain the Riders' narrow advantage.
Following Adekoya's baskets, the Riders exploded out to a 15-2 run to build the first significant lead of the tie. Thornton led the run with six points and an assist, finishing it off with two foul shots.
With a firm grip on the tie, the Riders entered the locker rooms with a significant advantage, up 51-35 by the half.
The second half started how the first half ended, with the Riders on a 5-0 run. The teams traded buckets once again after a hectic Riders surge, the lead remaining around 20 for much of the third period.
The Riders had the best of the action to close the period, hitting back-to-back threes courtesy of Zach Jackson and Whelan. Whelan hit another from the corner with 20 seconds left to extend the lead to 26 points.
Leicester burst out the gate in the final quarter, starting 4-0 to make it a 30-point affair. Aaron Menzies capped off a dominant display with a monster fourth quarter, swatting shots and throwing down a thunderous jam to send the Riders fans home happy.
The Riders face off against the Gladiators again in their next home game for the BBL Cup semi-final! Get your tickets here to catch the action live!
Before then, the Riders head on the road to take on the Newcastle Eagles in BBL Championship action on December 16. A win would improve their record to 10-4, as they continue to build momentum in the season.