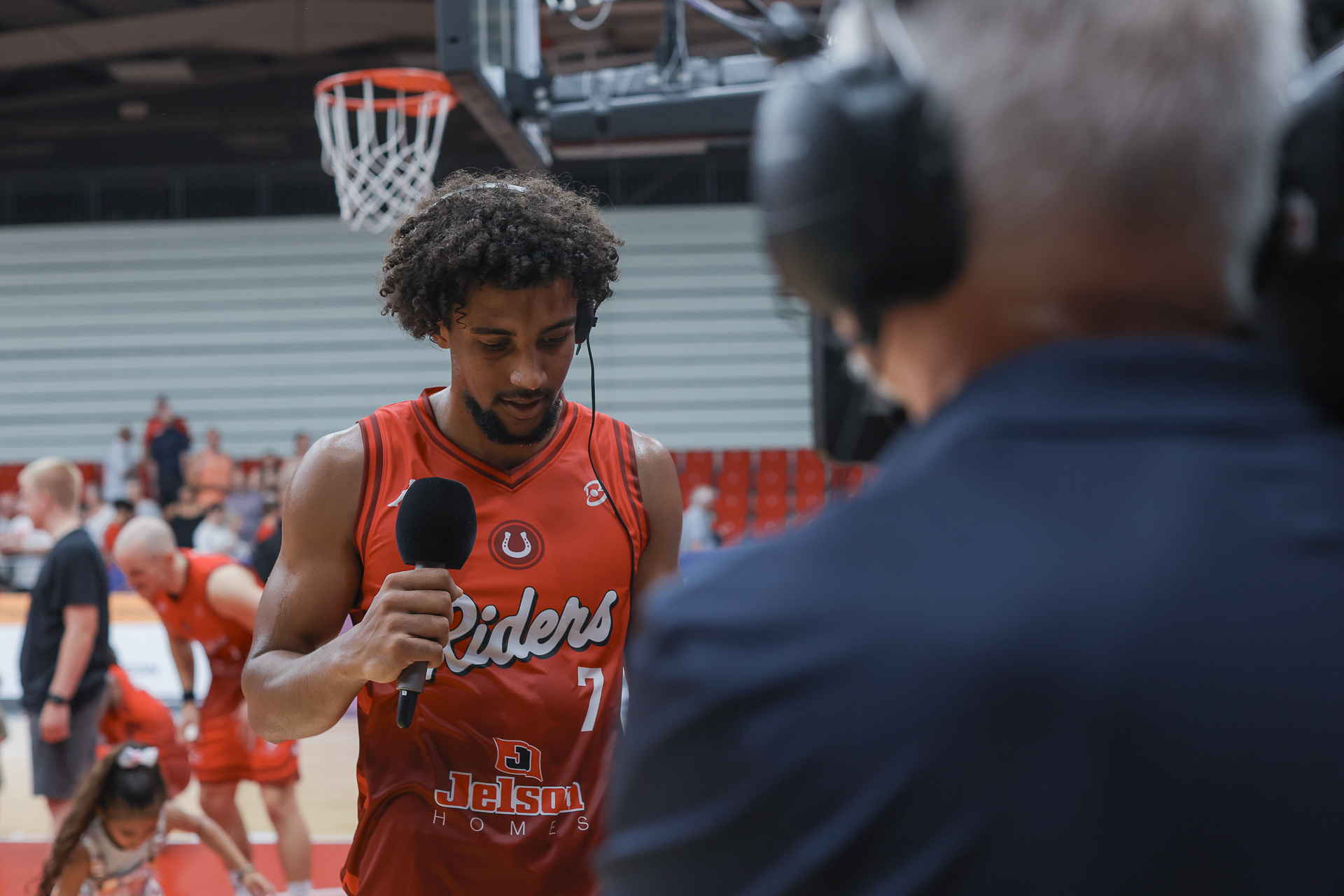 Charlie Walker - 9th September 2023
Riders react: USA Select
The Riders took the win in their final pre-season game, beating USA Select 105-62 in their return to the Morningside Arena Leicester.
Here's what the team had to say after the game.
Rob Paternostro
"I loved the way we jumped on them early. We moved the ball well, defensively, we were in gaps, and we had a huge lead. Once we were up big, the game was played a little differently.
"Our conditioning needs to get better. because I thought at the end we were a little gassed. But all in all, we were good."
Coach Rob was cautious with Xavier Pinson to start pre-season as he recovered from an injury sustained in the CEBL over the summer, but he made his return to the court last night.
"I liked Xavier out there. He's a natural point guard and he's so slick with his dribble. His head is always up because he's such a good ball-handler who doesn't need to look at the ball. He can get in gaps and make plays, and tonight he did that."
"The injuries hurt us at the start of pre-season. Losing Xavier and Caleb hurt us because we haven't got a good look at who we are with a full roster.
"But overall, I like our depth. It's been great having Mo and Conner back out there, and I also thought Blake has been great this pre-season. He's been playing consistently well. We've got a lot of good guys, and come Friday, we'll be able to utilise them.
"We're happy to be home, and we're looking forward to having a good crowd for our season opener. It's always exciting on opening night."
Blake Bowman
Young star Blake Bowman has impressed in his second Riders pre-season, scoring in double-digits in every game.
"I'm feeling great. It's a good opportunity to get out there and put on a show for the fans. I've been working on the three-point shot, and my dribble pull-up to add some range to my game."
"As long as Coach Rob trusts me, I'm going to be out on the floor. I just need to make winning plays to force him to keep me out there."
Bowman was perfect from the field in the game, going 7-7 and 1-1 from three.
Xavier Pinson
Upon his return to court, Xavier Pinson impressed. He had 12 points, three rebounds and three assists in 19 minutes of action.
"It was great to be out there with my teammates. I thought we controlled the pace better than we had throughout the pre-season, and we were sharper as a team. For the most part, I was just happy to be on the court.
"I know the level of competition is set to increase, but after the game, I feel like I'm in great shape. I'm ready to show the fans what we can do.
"I feel like we learned a lot about each other, and what Coach Rob wants from us as a team. It's a great starting point for us to build going towards the season."
Miryne Thomas
Miryne Thomas once again showed his scoring ability against USA Select, leading the Riders with 19 points and seven rebounds despite only playing 19 minutes.
After picking up fouls battling inside, Thomas says his biggest focus is staying on the court.
"The biggest thing for me is to play without fouling. I got into foul trouble tonight, so I couldn't play for long stretches.
"I'm in good shape and feel like I can play hard for 40 minutes, so I want to be in a position where I can play big minutes."
In his first game in front of the Riders' home crowd, Thomas fed off the energy.
"I loved the energy here at the Morningside Arena. I liked how the fans reacted to everything we did out there, and after the game, they stayed to give us love."
Sam Idowu
Also making a return to action this pre-season was American/British big Sam Idowu, who sat out the previous season.
"I had a lot of fun tonight, and it was great to meet all the fans. It's nice being on the court again because it's been a long year and some change sitting out."
"I feel good. I'm in the best shape I've been in a long time. The preparation going into the season has been good, and I've played consistent minutes.
"Now I'm impatiently waiting for the season to start. I can't wait to get going!"
---
Want to see the Riders in action?
Get tickets to our season opener against the Cheshire Phoenix!