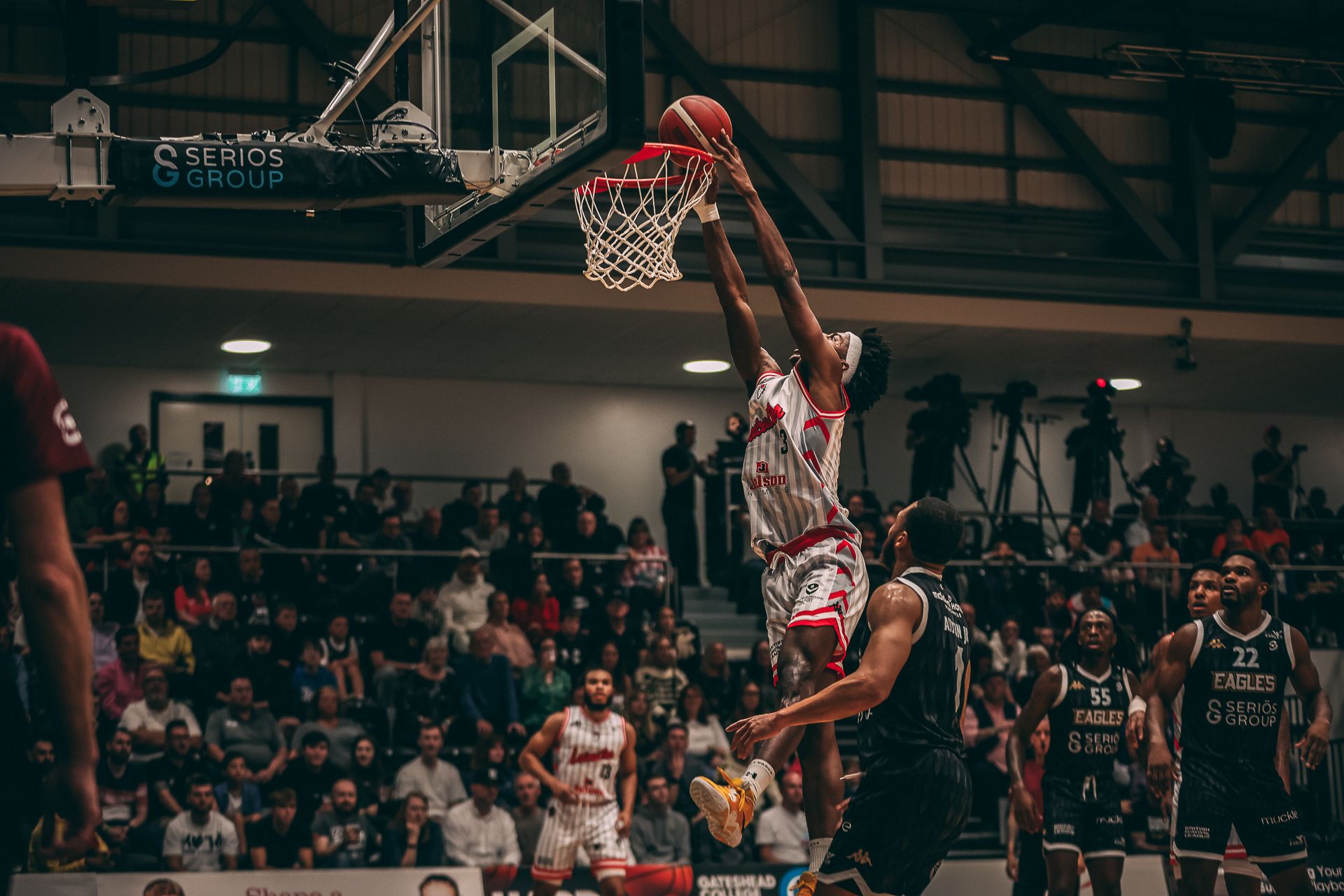 Riders Media - 7th October 2023
Riders react to win in Newcastle
The Riders improved to 3-1, following a 92-85 win on the road against the Newcastle Eagles. Here's what the Riders had to say after the hard-fought victory…
Miryne Thomas
For the second straight game, Miryne Thomas led the scoring load with 17 points, accompanied with six rebounds and a block in an energetic performance in the paint.
Thomas explained that his hunger and desire stems from his gratefulness for the opportunity professional basketball brings him.
"I'm living my dream. I've been working to get here for over 10 years, and now I'm soaking it in.
"I've been telling the team I'm here to run and get tired. If I have zero points and rebounds and we come out with a win, I'm as happy as I would be if I had 100 points."
On the opposing side of the court, the Eagles' Jordan put on a show. The former Glasgow Rock scored a game-high 22 points, injecting momentum into his team as they attempted a comeback from ten points down.
"Johnson is a tenacious player. Kudos to him and the Eagles for the battle they gave us.
"During our timeouts, we knew we were fine. We knew who he is and what he's capable of, but we know who we are and what we're capable of on defence, and we were able to see out the win."
Rob Paternostro
Following the game, Head Coach Rob Paternostro was pleased with how the team battled in the clutch, fending off the Eagles, who got back into it late. 
"I thought we were solid tonight," said Paternostro. "I was a little disappointed at halftime. I thought we could have been up a little more, but I knew we'd have to hang on in the second half, and we did a really good job in the last five minutes to get the job done."
Coach was happy with the buy-in on the defensive end. The Riders showed physicality and energy throughout, causing Newcastle difficulties in running their offence.
"Defensively, we were really good in the halfcourt tonight. In transition, we could have done a better job, and we put them on the foul line a few too many times, but I liked how we played defence. The guys were committed to it, and these players are learning and improving every week."
The new-look Riders showed maturity for a young roster comprised of six rookies. They fought hard wire to wire and executed in a composed manner late.
"At times, we have five rookies out there, and games like this will be great for them. We've had really good weeks of practice, and what's showing up on the practice floor is starting to show up in the games.
"Our depth is huge. Tonight, we played 11 guys because we had to make sure we were fresh. We're still trying to figure out rotations, and we're learning a lot about our team, but this was a big step for us.
"For us, it's about getting better each week. This league is tough, so we've got to keep improving."
Jaren Holmes
Coming off a 15 point game, including six points in the final six minutes, Jaren Holmes echoed his coach's sentiment: "We want to pride ourselves on being one of the best-conditioned teams in the League, and with our depth, we're able to play hard late."
Holmes' clutch play separated the sides late, hitting a three with a defender in his grill and completed an and-one play in transition. He credited his work on the practice floor for his ability when the pressure is high.
"I trust my work. I make those shots every day in practice, from the layups to the threes, so I know I can be myself."
'Hopefully, this win can put us in good stead for the rest of the season. We're trying to build momentum and keep our energy and spirits high. We're becoming a more cohesive group. Every day we learn more about each other, and each other's games."
Holmes put the win down to a collective effort, with contributions from every Rider.
"Braelen had a monster game in the post, which opened everything up for us. Miryne, Kimbal, and Xavier all had incredible games, which goes for everyone up and down the roster. It was a true group effort." 
---
Want to see the Riders in action?