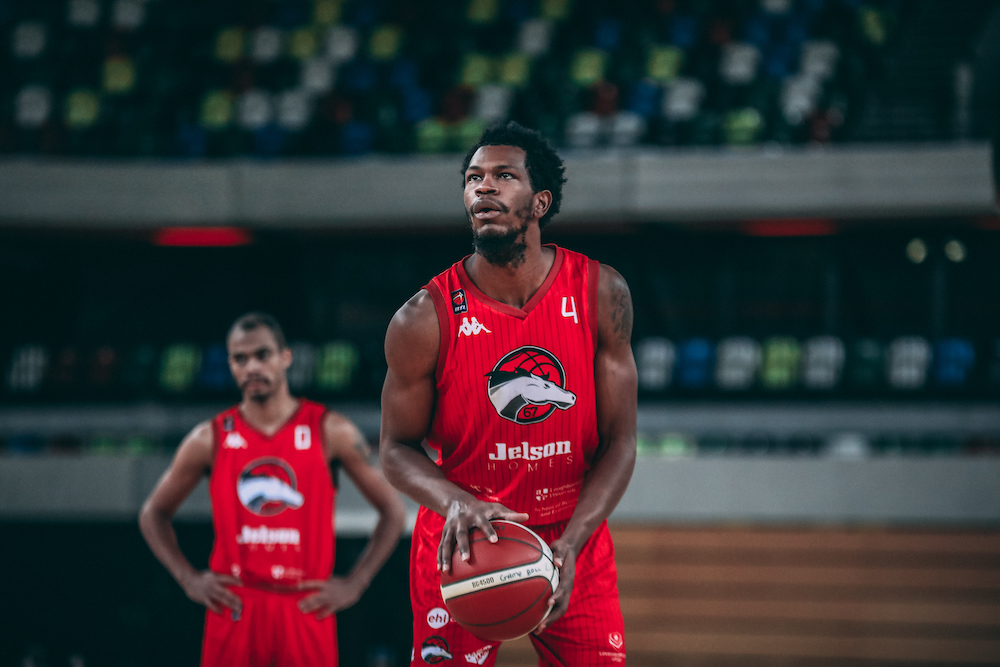 Riders Media - 22nd November 2020
Riders fall to Lions in the Capital
A short handed Leicester Riders fell short on Sunday afternoon 98-89 in a tough BBL Cup group qualifying match against the London Lions. Riders overcame a slow start to push the Lions all the way, but former NBA star Deandre Liggins proved the difference. However Leicester remain tied at the top of the North Group.
Leicester started the game tentatively, struggling to score the basketball, and turning the ball over uncharacteristically. With London needing a win to assure they progress in the Cup they jumped out quickly and fine interplay between two time MVP Justin Robinson and former Rider Chris Tawiah saw Lions into an early 11-3 lead, following consecutive mid-court turnovers by the Riders. Riders three point shooting has been excellent so far this season, but they managed just 1 from their first 6, and that single make was by Corey Johnson to stop the Lions momentum, with a minute left in the first quarter. But at the end of the first period the Lions were cruising 25-12.
Geno Crandall started the second quarter with a three point play, but, once again sparked by Robinson, the Lions went on a 9-nil run to build their largest lead of the game at 36-19. But Riders went with a smaller line-up, and a three point play by Johnson was followed by a Jamell Anderson triple. From then on, Riders dominated the second period, with Darien Nelson hitting a couple of baskets inside, and with fine play from Zach Jackson, they were back in the game, trailing just 45-40 at half-time, in spite of shooting 35% from the floor at that stage.
Riders started the second half with a 5 nil run that included a rare Crandall dunk. And the teams then traded blows with the scores tied on 53 four minutes in. Then former Cleveland Cavalier Liggins took over the game, and swung it decisively in London's favour. He hit a driving layup, followed by a long three, then another three, following by a another driving lap-up, and Lions were suddenly 10 points clear at 63-53. A technical on the London bench stopped the rot, and then Crandall was switched onto marking Liggins and that slowed the momentum to cut the London lead to 71-67. But Liggins then hit a three, and a Robinson threw up a hail-mary three point shot on the buzzer, to put London up 77-67 with ten minutes left.
Riders kept plugging away in the final quarter, and a Zach Jackson three point play kept Riders within 7. But London got good shooting from Robinson and Kevin Ware and were eyeing the 21 point win Riders had achieved in the home leg, when Riders were forced to a timeout trailing 92-77 with four and a half minutes left. Three 3 pointers by Johnson in the final minutes ensured Rider maintained their points edge over the two legs, but Leicester couldn't prevent the Lions from taking the win.
Riders again had 5 players in double figures, led by another double-double by William Lee with 15 points and 11 rebounds. Crandall looked very impressive with 18 points and 9 assists as well as some fine defence, while Darien Nelson Henry also managed a 16 points and 10 rebounds double-double.
Lions
Liggins 26, Williams 20, Robinson 19, Ware 11, Taiwah 9, Okoroh 8, Ikhinmwin 3, Lockhart 2
Riders
Crandall 18, Jackson 17, Johnson 17, Nelson-Henry 16, Lee 15, Anderson 3, Washington 3
The Riders return to action on Tuesday 1st December when they take on the Sheffield Sharks at the Morningside Arena in their final BBL Cup qualifying game.