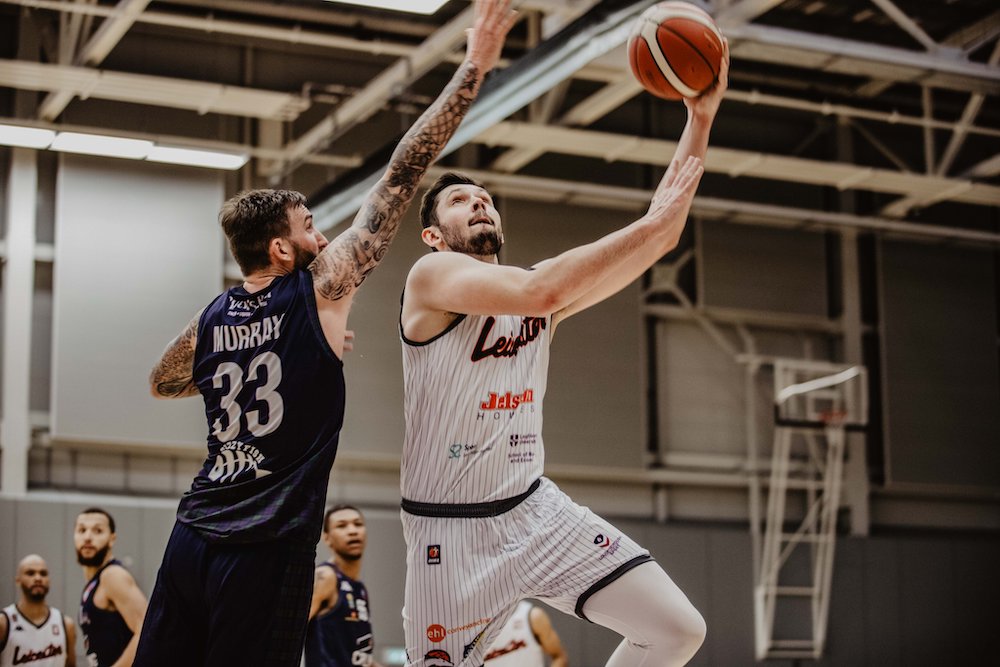 Riders Media - 7th February 2021
Riders overcome Rocks for second win of the weekend
Leicester Riders are out on top of the BBL Championship on their own, after a dominant 97-78 victory on the road against the Glasgow Rocks. This result was coupled with an upset defeat 81-75 at home for London Lions by the Plymouth Raiders on Sunday afternoon.
Riders were well on top throughout the first three quarters of the game, building a 35 point lead with thirteen minutes left in the game, before the Rocks came back to put a more respectable look on the result in the final quarter.
Riders won the game again through their defence, which turned over the Rocks 17 times, while Riders limited their own errors to just 6. Riders also converted 17 of 18 free throws as the Rocks struggled to contain Riders at any stage.
Leicester started out meaning business, with captain Darien Nelson-Henry scoring inside but Christian Keeling responded with a driving lay-up for the Rocks. William Lee then exploded for a three and followed that up with a huge dunk. A drive to the basket by Geno Crandall gave Riders a 9-5 lead midway through the first quarter, but the defences were on top at that stage.
Lee continued to cause problems for the Rocks big men with his movement, and he scored twice from the free throw line, followed up by another big dunk forcing the Rocks to a timeout, trailing 13-4.
Ali Fraser then came off the bench to a court very familiar to him from his time at the Rocks, and he immediately scored inside, followed by a three. Former teammate Gareth Murray took up the challenge from Fraser, and the Rocks player-coach hit a couple of scores in reply, to leave Glasgow trailing 24-12 after the first quarter.
Fraser started the second period as he completed the first, and he made a three point play which also led to a technical foul on the Rocks. The Riders kept coming, as Fraser drew fouls inside, and that led to yet another technical foul on the Glasgow bench, as Riders lead grew to 35-15. Glasgow finally regained their composure and Isa Brandon came off the bench to spark the offence. Julius Van Sauers hit a couple of big baskets, and at halftime the Rocks trailed 47-28. At that stage Crandall was dominant with 13 points and 4 assists.
Glasgow needed a fast start to the second half and a Marc Kwedi three followed by a 20 foot jumper by Keeling gave them that. But Corey Johnson responded with a three, Crandall intercepted for a lay-up, Zach Jackson hit another three and Riders went on a 12 to nil run. Another Keeling basket stopped the rot, but a three point play by Lee spurred Riders again. Johnson hit another three and another breakaway from Crandall had Glasgow reeling. American centre Ronald Delph then three baskets in quick succession and with Keeling hitting a triple the Rocks clawed the score back to a 78-52 lead with ten minutes left.
Glasgow gained confidence in the final period as threes started to drop from Fraser Malcolm, and Riders got a little sloppy. But Riders Head Coach Rob Paternostro called a timeout, steadied the ship and his team saw out the win with some comfort.
Crandall was once again the star man for Riders, finishing with the impressive stat-line of 22 points, 8 assists and 4 rebounds, including 6 from 6 from the free throw line.
But William Lee was not far behind with 19 points, including 2 of 3 three pointers, and 9 rebounds. Fraser also caught the eye with 14 points and 2 assists.
Rocks
Keeling 16, Delph 15, Van Sauers 15, Malcolm 14, Brandon 7, Murray 6, Kwedi 3, Mpondo 2
Riders
Crandall 22, Lee 19, Fraser 14, Johnson 10, Jackson 8, Falzon 8, Washington 8, Nelson-Henry 6, Anderson 2