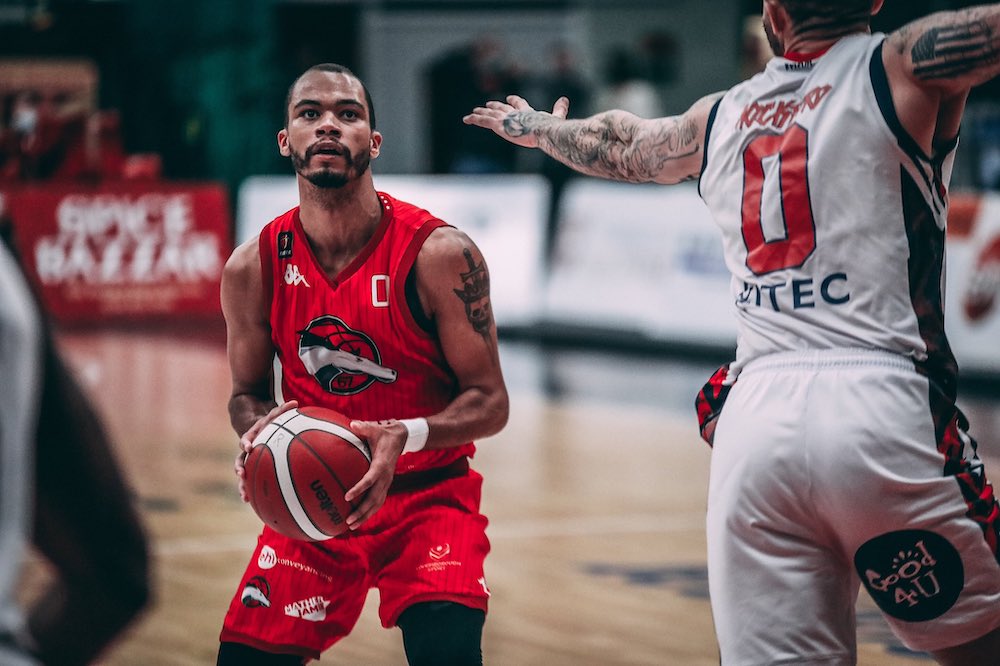 Riders Media - 22nd December 2020
Riders defeat Flyers to move to 3-0 in the BBL Championship
Leicester Riders stay undefeated in the BBL Championship, with a solid 85-73 win over Bristol Flyers at the Morningside Arena. The Riders dominated the first quarter, and then held off multiple efforts at a comeback by the Flyers, who never got Riders lead down to single figures for the rest of the game, played before the Sky TV cameras. Riders American point guard Geno Crandall was man of the match in a mesmerising performance of ball handling under pressure, faced by a Flyers backcourt of two GB Internationals, Ben Mockford and Teddy Okerafor.
Bristol started the game impressively scoring twice inside, carving Riders offence open rather too easily. But Crandall hit a jumper and then assisted on a Darien Nelson-Henry dunk. Mockford hit a very long three, but that was quickly countered by one by William Lee, and that was the last time the visitors led, as Riders went on a tear. Corey Johnson hit a three, which was followed by one from Zach Jackson, and a breakaway dunk by Lee forced Bristol to an early timeout, trailing 17-7. Straight out of the break, Riders forced Bristol to a shot clock violation, and then Nelson-Henry and Lee scored inside, followed by another Johnson three. Jamell Anderson came off the bench, upping Riders defensive intensity even further, and he joined in the fun with a three, as Riders dominated the first quarter 34-19.
Crandall piled on the misery early in the second period with a step back three and then Aaron Falzon hit another, as Riders racked up 10 three pointers in the first half from just 15 attempts. A beautiful pass from Johnson found Nelson-Henry open for an easy score and Riders lead ballooned to 48-27 midway through the second quarter, their biggest of the game. Raphael Thomas-Edwards then made a couple of exceptional plays at both ends of the court for Bristol, and by half-time the Flyers had whittled down the Riders lead to 56-40.
Both defences tightened up considerably in the third quarter and with the defences on top both teams found it hard to score. Marcus Delpeche was causing Riders plenty of problems when he got the ball near the basket, but Nelson-Henry hit an extraordinary three under pressure at the end of the shot clock, to keep Riders on top. Zach Jackson hit a three in an otherwise relatively subdued performance, and Riders lead was still 70-54 with a quarter left.
The teams continued trade baskets early in the fourth quarter with Lee picking up a couple of scores off offensive rebounds to keep Riders lead in double figures. As the clock ran down Crandall performed his magic drawing multiple fouls near the end of the shot clock, which he then converted from the free throw line. If he was not being fouled, Crandall found Nelson-Henry with space underneath the basket, and that was good enough to snuff out any attempted Bristol recovery.
Crandall finished with 19 points, 5 rebounds and 8 assists, also converting 9 of 10 free throws to stifle the Bristol comeback. Nelson-Heney was once again very efficient with 15 points on 87% shooting, and added 6 rebounds and 3 assists.William Lee also impressed with 14 points, 7 rebounds and 2 assists, but it was Riders 12 three pointers at 38% shooting to just five by Bristol at 27% conversion rate, which proved the difference between the teams.
Riders
Crandall 19, Nelson-Henry 15, Lee 14, Johnson 13, Jackson 8, Anderson 5, Falzon 4, Fraser 4, Washington 3
Flyers
Delpeche 19, Lockett 15, Thomas-Edwards 12, Copeland 8, Mockford 6, Okerafor 5, Edozie 4, Rogers 4