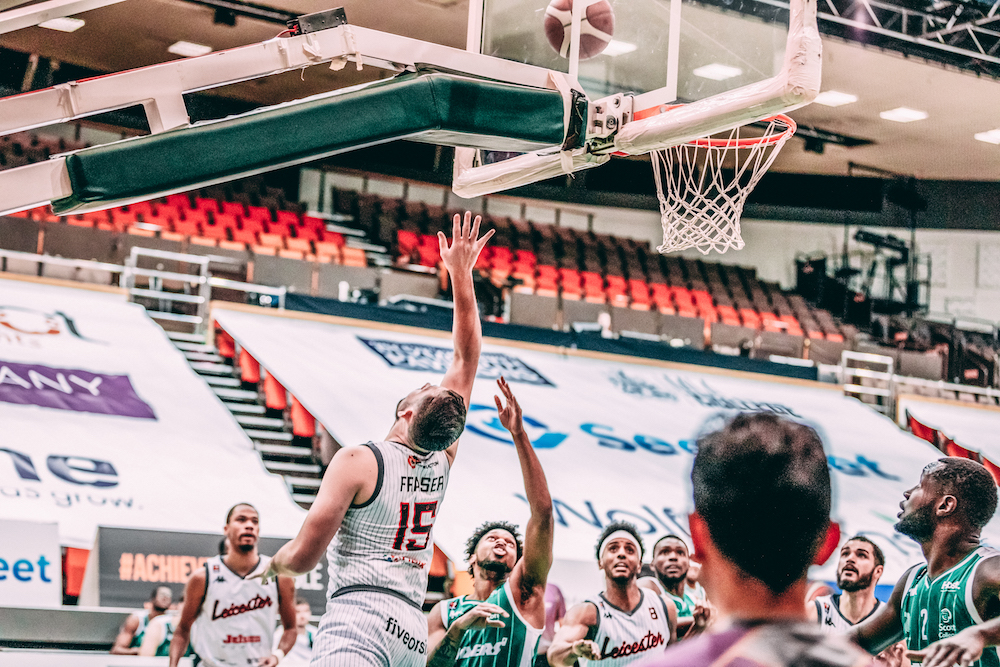 Riders Media - 8th January 2021
Riders bounce back with a tough win in Plymouth
Leicester Riders bounced back from their heart-breaking defeat against London on Sunday with a hard fought 77-71 victory on the road at Plymouth Raiders in the BBL Championship. Riders needed a strong defensive performance in the third quarter to set up the win and held off strong pressure from Plymouth late in the game.
It was Riders thirtieth consecutive victory over the Raiders, tying an all-time BBL record in head-to-head matchups. The result improves Riders record to 4 wins with a single defeat.
Riders got their inside game going early on through centre and captain Darien Nelson-Henry, but fell behind 12-6 midway through the first period, as Raiders GB international Ashley Hamilton took advantage from the free throw line. But Aaron Falzon came off the bench to hit a three and spark a Riders revival, as they went on an 11-2 run, including baskets from William Lee and Conner Washington, and capped by four points in a row from Geno Crandall, to push Riders 15-12 clear. American guard Mike Morsell was keeping the Raiders in touch with fine long range shooting and at the first quarter break Riders led just 19-16.
Ali Fraser came off the bench to get Riders going in the second period, but then the two teams hit a purple patch shooting-wise with Crandall hitting a three, and long-range jump shot, which was matched by consecutive three pointers by Morsell and a long range shot from point guard Ricky Mcgill. Another driving lay -up by Hamilton forced Riders Head Coach Rob Paternostro to a timeout as Raiders edged in front 30-29. Zach Jackson suddenly found his shooting touch on consecutive plays and then Ali Fraser did the same, but a basket off an offensive rebound by Michael Ochereobia kept Raiders just in front at half-time 38-37.
Riders turned up the defensive intensity in the third period, and Nelson-Henry again was to the fore under the basket, converting some easy makes to push Riders clear 46-40. Riders were starting to control the boards and fine play by Jamell Anderson and a three by Corey Johnson got Riders lead out to double figures, leading 53-43 with three minutes left in the third quarter. Riders had a solid lead at 59-48 with a ten minutes left, as they dominated the third quarter 22-10.
The Raiders immediately bounced back at the start of the final period with Hamilton starting to impose himself offensively and another Morsell three cut Riders lead to 64-59 with five minutes left in the game.
Morsell hit yet another long range three to cut Riders lead to 68-64 with two and a half minutes left, forcing Riders to another time-out. A three-point play by Morsell further cut Riders lead to just one point, but then fine play by Crandall, and a put back dunk by Lee, edged Riders out to 71-67 with a minute left. Crandall found his way to the basket for a dunk and then the Riders held their nerve from the free throw line to secure a well-deserved victory.
Crandall impressed again, although he was not at his very best, finishing with 19 points, 7 rebounds and 5 assists. Ali Fraser had one of his best games for Riders, with 12 points and 5 rebounds in 17 minutes of play, while there was a welcome return to offensive efficiency by Nelson-Henry with 13 points on 60% shooting. The Raiders Morsell top scored in the game with 26 points, including 5 three-pointers.
Raiders
Morsell 26, Hamilton 17, Ochereobia 10, Mcgill 7, Porter-Bunton 6, Ubiaro 4, Neighbour 1
Riders
Crandall 19, Nelson-Henry 13, Fraser 12, Johnson 9, Jackson 6, Lee 5, Washington 5, Falzon 5, Anderson 3
The Riders return to action on Tuesday Evening when they take on the Newcastle Eagles in the BBL Cup Semi Final in Manchester.