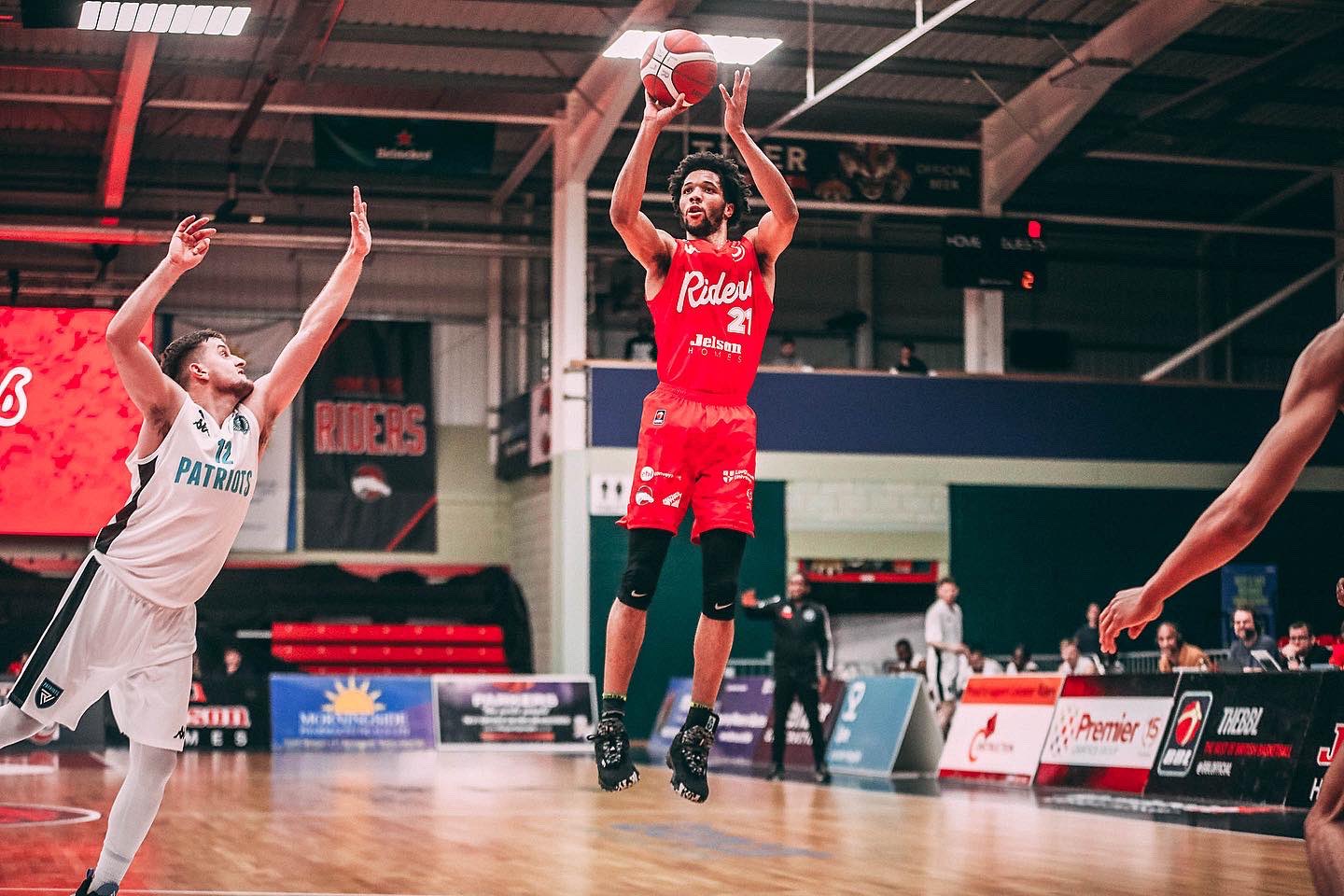 Riders Media - 24th October 2021
Riders beat Patriots to make it 6 Wins on the bounce
The Riders made it six wins on the bounce, beating the Plymouth City Patriots 81-64. Ohio graduate Marc Loving led the team with a 20 point performance, he and Jubril Adekoya scored 14 of the Riders 16 fourth-quarter points to seal the victory.
The hosts took a double-digit lead in the second quarter which they would never surrender, managing the game after taking an early lead. But despite falling down 24 in the second half, the Patriots fought back to make it a game late. However, the Riders survived the late Patriots charge to take the win, ending the BBL Cup group stage with a 6-1 record.
Plymouth's top scorer on the season, Denzel Ubiaro, scored 19 points to lead the Patriots back into the tie. The 6'3" guard shot 54% from the floor in an efficient shooting night, but his team will not advance to the knockout stages despite his best efforts.
Back to back threes gave the Riders their first edge of the game, opening the floodgates for the BBL best Leicester offence. Adekoya led the Riders with nine of their 24 opening quarter points, the Valparaiso graduate's hot start off the bench earning the home side a six-point lead.
After a slow start to the second, with just four points scored between the teams in the first five minutes, the Riders began to extend their lead with a 12-3 run. They locked down the Patriots, holding them to nine points in the quarter to take a 40-27 lead into the locker rooms.
In the second half, the Riders exploded out the gate, knocking down four threes in five minutes to stretch their lead to 20. Patrick Whelan led the deep artillery, the two-guard who spent three years in Spain making three threes in the third for eleven points. Despite falling into a deficit, the Patriots battled back into the game late in the quarter, cutting the lead to 13. The hosts took a 64-51 lead into the fourth.
With Plymouth riding a wave of momentum entering the final quarter, the Riders had to stem the tide to reassert themselves on the game. Seven straight points from Adekoya snatched back the flow of the game for Leicester, who saw out the tie comfortably.
"After playing an emotional game on Friday night, coming back today is challenging, but I think we did enough to be in control most of the way" said coach Rob Paternostro post-game.
"They did a good job. They were much improved from the last time we played them. Their team is improving and they showed that today".
The win concludes the Riders BBL Cup group campaign. They begin their BBL Championship defence on Friday by hosting their rivals, the Newcastle Eagles, on Sky Sports.