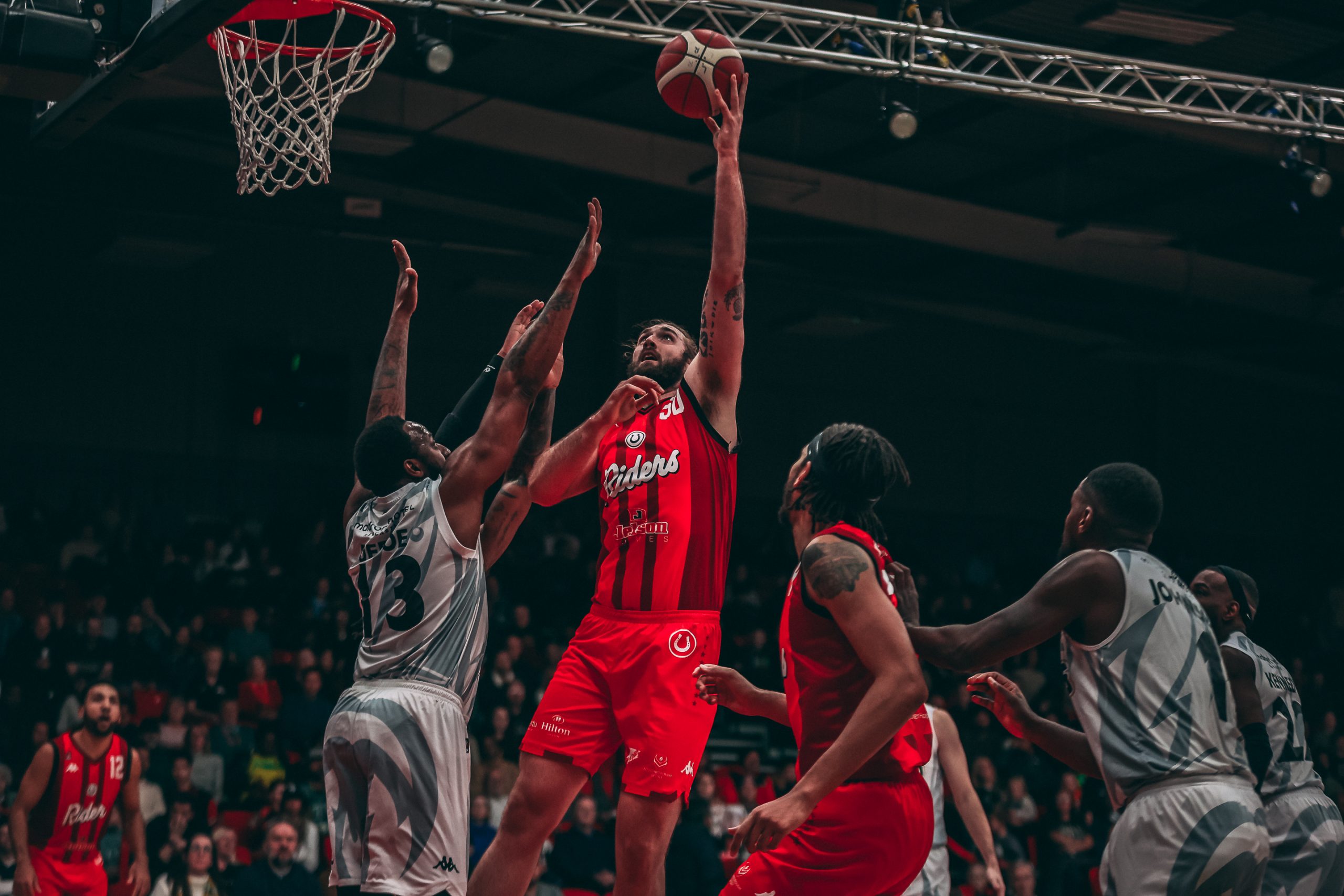 Riders Media - 26th November 2022
Riders advance to BBL Cup Semi-Final
The Riders got the best of the Newcastle Eagles, winning to advance to the semi-finals of the BBL Cup.
Marc Loving led the team with 27 points, his fourth 20-point performance on the season. He scored 11 in the first quarter to get the Riders rolling, and went 10-12 from the field and 5-5 from three on the game.
He was one of two 20-point scorers for Leicester, as Derryck Thornton put up 21 in 25 minutes. The California-born point guard attacked the rim relentlessly, going 8-9 from the free-throw line and 6-12 from the field.
The Riders put up an efficient and clean offensive effort. They shot 49% from the floor, 43% from three and turned the ball over just eight times to blow out their long-standing rivals.
Kyle Johnson put up big offensive numbers for the visiting Eagles. The Canadian guard put up 24 points, six rebounds and four assists in an effort to swing the scoreboard in his team's favour.
Loving caught fire to get the Riders' offence firing early, scoring 11 of the team's first 15 points to pull back an early eight-point deficit. After the slow start, the Ohio native's electric play got the Riders in rhythm to make a quick recovery.
They finished the first up 24-20, and the sides continued to trade baskets in the early stages of the second. Thornton was the hot hand midway through the period, making back-to-back buckets, including an and-one on the fastbreak.
With two and a half minutes remaining in the half, Jubril Adekoya, returning to the lineup after missing the previous game through injury, hit a corner three to give Leicester a seven-point lead: their biggest of the night.
The triple saw momentum shift the Riders' way, and Kimbal Mackenzie dished a flashy pass to a cutting Darien Nelson-Henry to continue to grow the lead.
The Riders finished the half on a 10-0 run, going into the locker rooms up 49-37.
Zach Jackson came out into the second half gunning, scoring nine straight points to put the Riders up 20. Leicester started the third on a 17-6 run, making the run 27-6 since late in the second period.
Thornton got back to work, taking over from Jackson to bag seven points on the bounce. Mackenzie concluded the period with a two at the rim, as the Riders won the third 29-13.
The Riders saw the game out comfortably, led by Loving's six points in the fourth to take a 21-point win.
The Riders return to league action in their next fixture, heading to Surrey to take on the Scorchers. A win would see them improve to 8-4, and bring the season series against the Scorchers to 2-0.