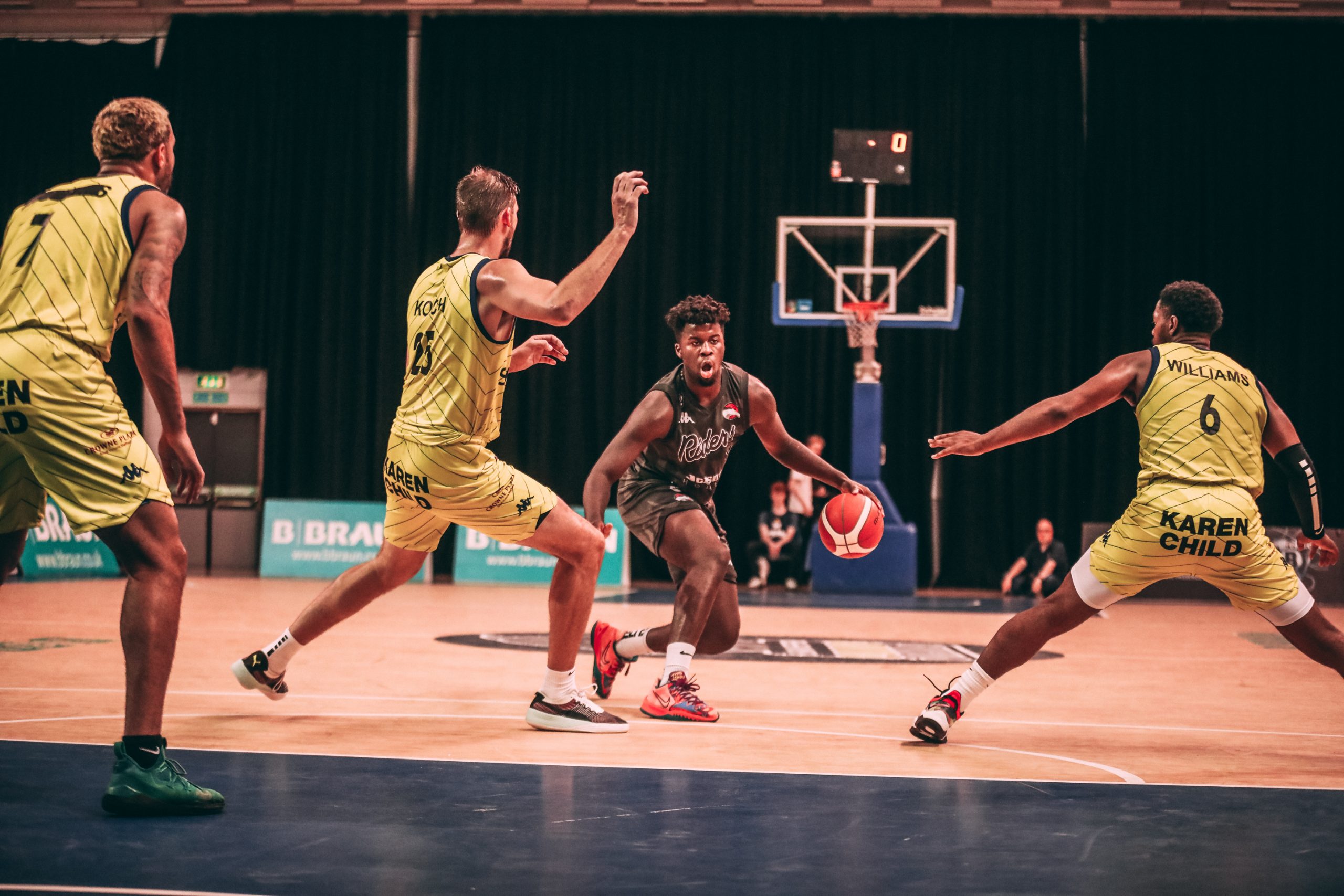 Riders Media - 18th September 2021
Report: Riders at Sharks
The Riders rounded off their preseason with a 88-80 loss to the Sheffield Sharks. After signing with Leicester during preseason, Marc Loving got his first taste of basketball on English soil. Ohio-born Loving led the team with 22 points in three-quarters of game time kicking off life in British basketball in emphatic fashion.
Loving began with a bang, scoring 12 in the first to get the Riders on the board. His highlight of the quarter: a smooth fadeaway from the free-throw line over 13-year Shark, Mike Tuck. Tuck led the game with 23 points, playing hard down low. The Sharks edged a tightly contested opening period 22-21, with former Loughborough Rider Lucien Christofis scoring to close out the quarter.
The Riders kept it close in the second, despite an early run from the hosts which stretched their lead. Mo Walker continued his hot preseason, scoring seven in the half as he battled with new Sharks addition Marcus Delpeche in the paint. Delpeche, who averaged 13.5 points and 7.7 rebounds for the Bristol Flyers last season, was held to five points in the first half against Walker's stifling interior defence. The Riders entered the locker room down 44-38, with Loughborough's Victor Ndoukou's free-throws ending the half.
Captain Darien Nelson-Henry opened the second half explosively, throwing down a monster jam over Delpeche for a three-point play. The Penn State graduate's highlight injected momentum into the Riders, who took a narrow lead early in the third. Loving's offensive form continued late in the third, scoring seven in the period which ended 66-64 in the Shark's favour.
Delpeche fouled out early in the fourth quarter, as coach Rob Paternostro turned to his youth to close the game. With a lineup consisting of Loughborough and Charnwood prospects, Leicester fought the Shark's BBL lineup to the final minute, with the game tied at 80 with 60 seconds on the clock. Ndoukou led the Riders in the fourth with six points, driving to the rim repeatedly and finishing strongly against tough defence.
"Victor over the four or five preseason games that we've played has shown us something. He's a guy that can fill in if we need him" said Coach Rob post-game.
The hosts hit shots down the stretch to seal the win, but were pushed all the way by the Riders' young stars spectacularly.
Paternostro also commented on Loving's breakout game: "We know he has that kind of talent. He can really shoot the ball and play defence, and I think as he gets more comfortable with the system, the surroundings and the players we're gonna see some good stuff from him".
This fixture was the Riders final preseason outing. They tip-off their season on Friday 24th September, hosting the Bristol Flyers in the BBL Cup.