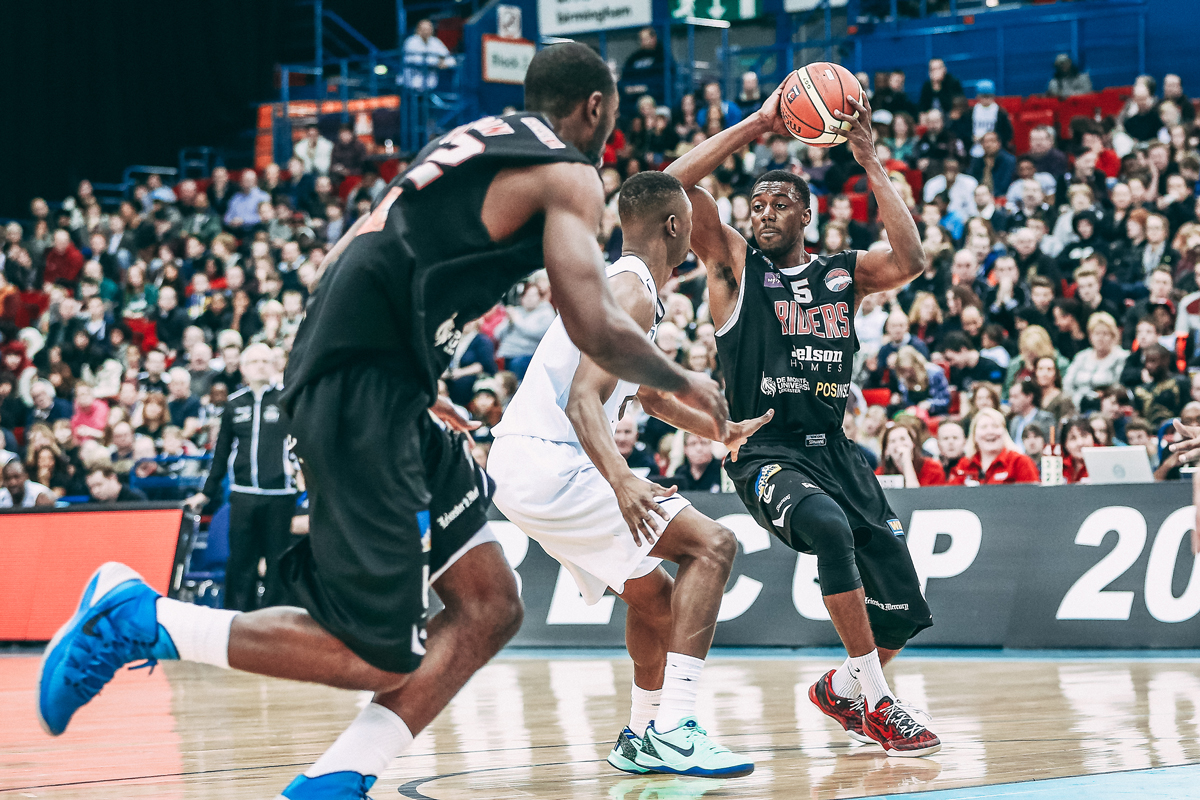 Riders Media - 8th June 2022
Rob Paternostro testimonial Preview: Riders Legends
A roster of Riders Legends return to the Morningside Arena to celebrate Coach Rob Paternostro's legendary tenure at the reigns, suiting up to face the BBL All-Stars in an All-Star testimonial game.
Players from across Rob's 14-year tenure as head coach will be competing, as Riders fans will get an opportunity to see legends from past eras at the Morningside Arena once more.
After competing in Leicester in the 2016/17 season, former G-League power-forward Taylor King has returned from retirement for the game. King averaged 12.5 points and eight rebounds in his season at Leicester, winning the league, trophy and playoff treble and being named to the BBL Team of the Year.
"I'm feeling very grateful to be able to head back to Leicester, where I had so many great memories, just to have the opportunity to suit up again and go hoop with a bunch of very talented players," said King.
"Rob is the best. I played for lots of great coaches in my career, and he is up there with the best of them. I'm extremely lucky and thankful to be able to head back to Leicester, where I cemented so many great memories, and reunite with many great players who I keep in contact with today.
"I'm also thankful to be able to play in front of the Riders faithful. To see that amazing fanbase again is a blessing!"
Joining him from the 2016/17 season are Drew Sullivan, Harrison Gamble, Shane Walker, Andy Thomson and captain Tyler Bernardini. The group have 20 Riders seasons between them, and together helped build the most successful period in franchise history.
Sharing the court with them in honour of Rob is Jay Couisnard, who played two seasons for the Riders from 2012 to 2014. The 6'6" two-guard averaged 16 points per game in his second Riders season and is looking forward to his return to Leicester.
"I'm honoured and happy to be involved. Being able to come back to show appreciation for Coach Rob and the Riders organization was a no-brainer for me. I'm excited to see everyone including the fans and former teammates."
Couisnard played a fundamental role in securing Paternostro's first silverware, in a treble-winning year in 2013. Accompanying him from that roster is Jorge Calvo, Zaire Taylor, Drew Sullivan and captain Barry Lamble, who got the ball rolling for Paternostro's winning ways in Leicester.
Completing the roster is Rema Lascelles, a 6'6" guard who played three seasons from 2017 to 2020, and Rashad Hassan, whose two seasons in Leicester starting in 2013 kick-started his seven-year professional career, which continues to flourish with the Plymouth City Patriots.
"I feel honoured to be a part of the game. Rob is a champion on and off the court, and I'm forever grateful for the opportunity to have started my professional career with the Leicester Riders," commented Hassan.
"It's going to be fun catching up with my former teammates and players I've played against throughout my career as well. There's going to be some amazing talent playing in this game so I'm sure the fans will be in for a fun and competitive game."
Coach Rob's right-hand man, assistant coach Pablo Vazquez, has shared the sidelines with Rob since 2016. He added: "The commitment and hard work since the moment Rob arrived at this club has created a legacy.
"It will be a great event with so many players who have created history in British Basketball. I'm hoping for a great crowd to celebrate Rob's commitment to the Leicester Riders organisation!"
In anticipation of the game, coach Rob commented:
"I'm so excited about Saturday. Seeing so many friends in one place will make it a night to remember. I feel honoured to be given this testimonial game and I appreciate all the people who have helped put this night together."
The game should be a high level of basketball, and that's something I really wanted to have. The rosters are filled with so much talent, so it should be fun watching all those great players go at it."