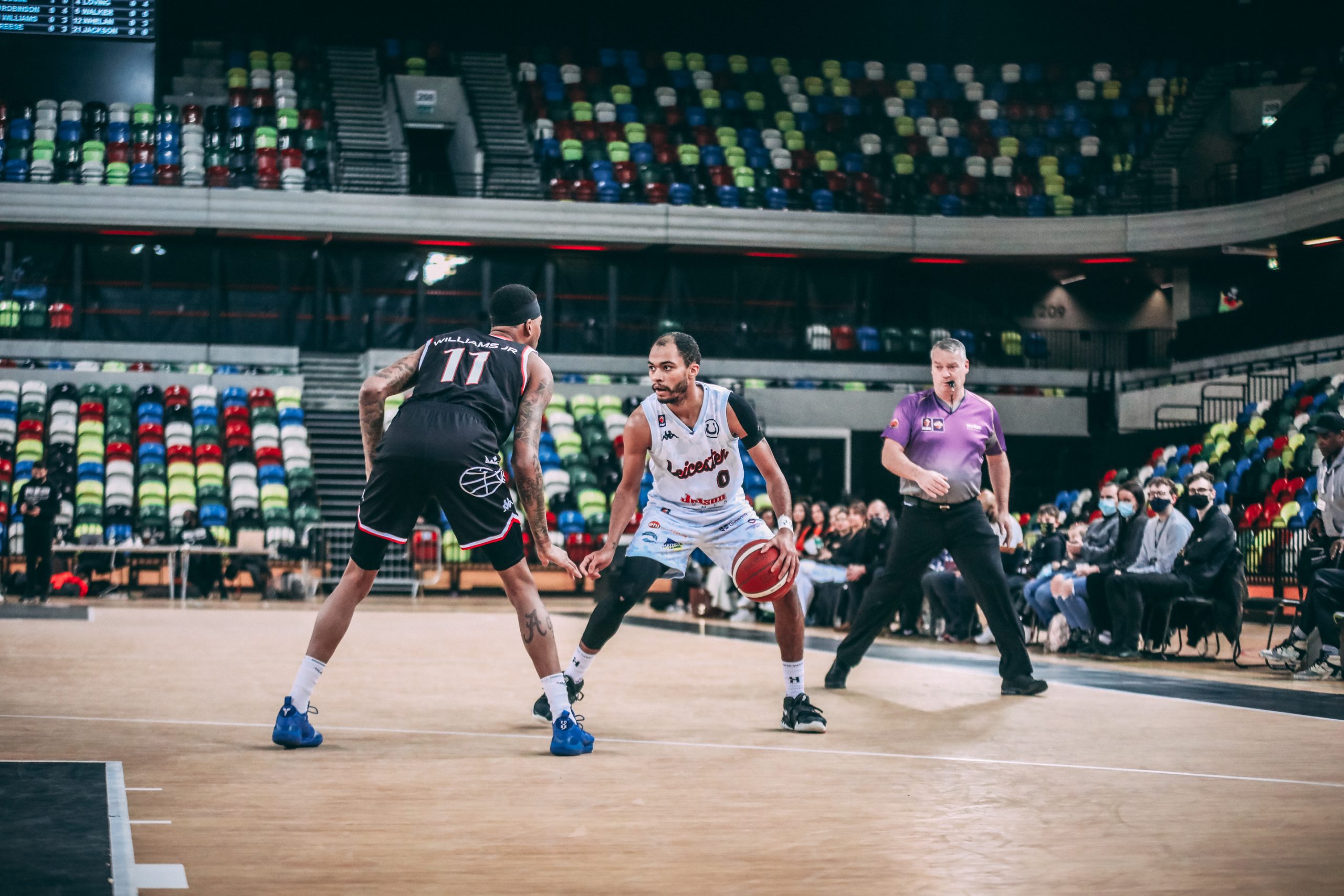 Riders Media - 2nd February 2022
Preview: Riders at Lions
Season So Far – Riders
The Riders have gotten off to their best start to a league season in franchise history, as they sit top of the BBL Championship table with a 10-0 record. Led by Marc Loving's 14.8 points per game, they are in prime position to retain their league title.
In their previous fixture, Leicester's hot start was rewarded by silverware, as they lifted the BBL Cup after beating the Manchester Giants 83-69. Geno Crandall dominated the game, scoring 26 points to earn himself the Final MVP.
"This is validation for the hard work we've put into the season up to this point," said Crandall post-game. "It's good to get another win under our belt to keep the momentum going, and we just want to build on this."
Holding their opponents to just 67.5 points per game, the Riders' defence has been the key to their early success.
"We have a group of guys who believe in defence, and that's important," commented coach Rob Paternostro after the Cup win. "We really wanted to make this a defensive game, and we locked in nicely. To hold them to 69 is a great effort."
The Riders are an elite outfit on the other end too, scoring the second-most points in the league with 94.4 a game.
Three-point shooting has been their most effective weapon, leading the BBL to make 42.1% of their deep shots. Leicester have a plethora of weapons on the perimeter, with four players averaging over 40% from three-point range.
Season So Far – Lions
For their high standards, the Lions have endured a difficult start to their BBL campaign. They sit sixth in the table with a 5-2 record, having played the least amount of games in the BBL due to their European commitments.
The Lions made history in Europe however, becoming the first BBL franchise to win a European game since Nick Nurse's Brighton Bears in 2002. They advanced to the second round of the FIBA EuroCup, where they finished with an 0-4 record.
Led by Dirk Williams' 21.7 points, the Lions possess the highest-scoring offence in the BBL with 95.7 points a night. They are also stifling at the rim, blocking a BBL best five shots per game, led by Kylor Kelley's 2.7 per contest.
Following legendary coach Vince Macaulay's departure, the Lions look to start their new era with a run of good form, and a win in this one would make it 3-0 in the BBL for their interim coach James Vear.
One To Watch – Riders
Named Finals MVP after his 26 points, six rebounds, five assists, two blocks and two steals in the BBL Cup final & Molten Player of the Month for January, Geno Crandall added to his long list of team and individual BBL accolades. 
The Gonzaga graduate continues to set the league alight with his play after winning the BBL MVP last season. He's averaging 14.7 points and 7.5 assists, but is more focused on winning than his individual statistics:
"I'm a big team guy, and I think winning is more important than anything you can do individually. It's the ultimate mark of a player: how can you contribute to winning."
Leading the Riders to a 10-0 record to start the year, Crandall's contributions to Leicester's winning efforts is key to their success.
Coach Rob Paternostro sang the praises of his point guard: "He's always a difference-maker. He's can score and assist from so many places, and he's a competitor. That's what we love about him. When you couple that with a great IQ, you get a heck of a player."
One To Watch – Lions
Shot blocking big man Kylor Kelley has patrolled the paint effectively for the Lions this season, blocking the second-most shots in the BBL with 2.7 a game.
The seven-footer from Oregon State University utilises his 7'3" wingspan to great effect, walling off the rim from any attackers. In college, Kelley was the PAC-12's best shot blocker, averaging a monumental 3.4 blocks in his senior year.
Kelley's ability at the rim alone was enough to earn him NBA draft consideration. Now, his talents are at the Lions' disposal, as the second-year pro is a key asset to his side. He has saved over 20 points on the defensive end this season, by far and away the most on his team.
Should the Riders want any success at the rim in this one, they'll have to go through Kelley.
Previous Meetings
The Riders have gotten the better of their opponents in their meetings early in the year. The league rivals have met four times in the BBL Cup this season, with the Riders winning on three of these occasions.
Most recently, they met in the semi-finals of the BBL Cup, with Leicester emerging 178-170 victors over two legs.
In a hard-fought second leg, Zach Jackson led the Riders to a 79-74 home win with 16 points, as his team held the BBL's best offence to 42% shooting.

Isaiah Reese led the Lions effort with 20 points and seven assists, going 7-18 from the field.