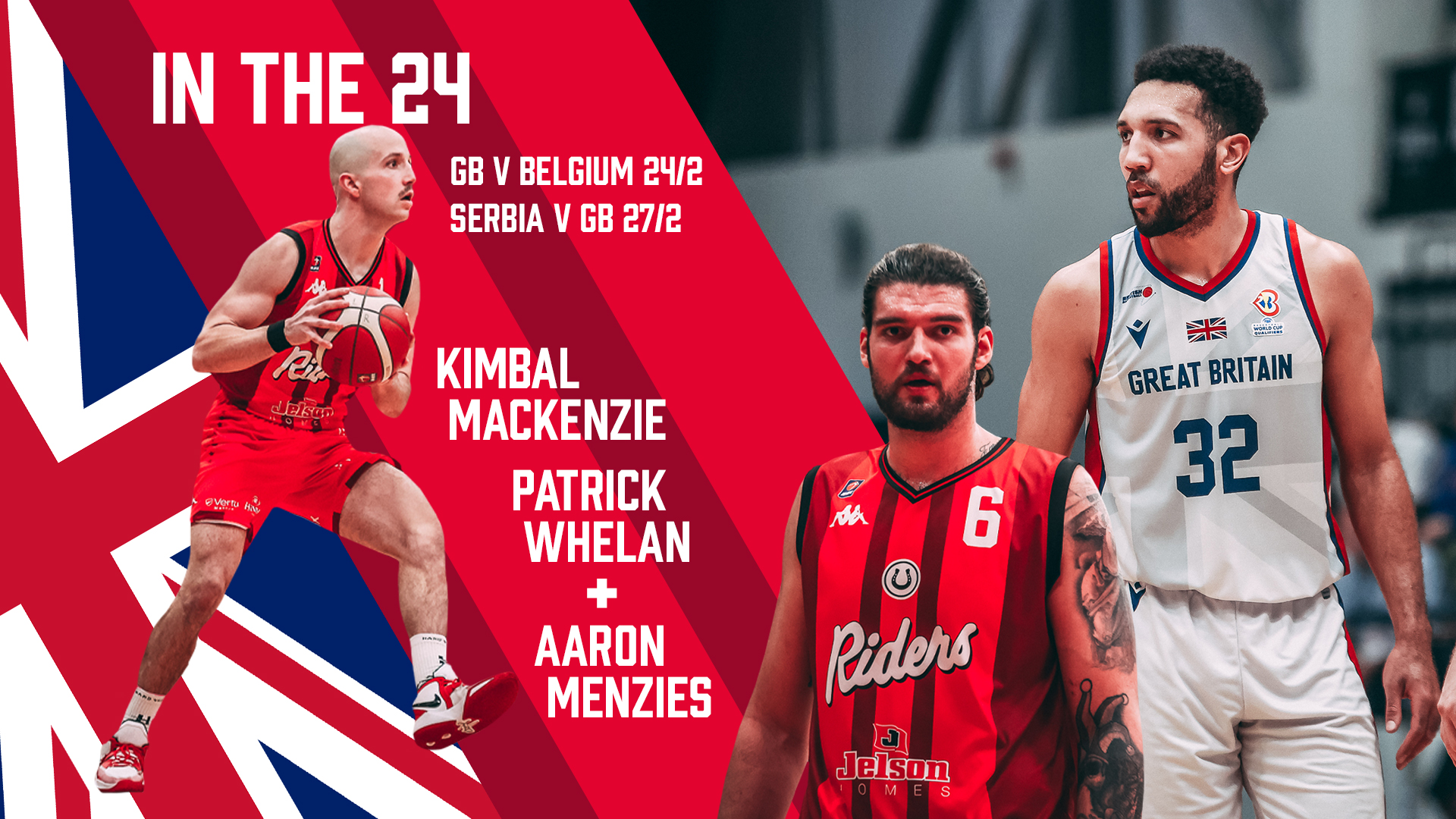 Riders Media - 14th February 2023
Kimbal, Patrick & Aaron in GB 24
Riders guard Kimbal Mackenzie has been named in the Great Britain Men's National Team 24-man roster for the first time for the upcoming FIBA World Cup Qualifiers against Belgium and Serbia.
Mackenzie who holds a British passport joins GB regulars Patrick Whelan and Aaron Menzies on the roster for the upcoming window.
GB face Belgium on Friday 24 Feb before travelling to Belgrade to face Serbia on 27 Feb.
24 Man Roster for FIBA Basketball World Cup 2023 Qualifying Window – February 2023
Amin Adamu G 25 6'5″ Kapfenberg Bulls (AUT) 0
Jamell Anderson F 32 6'7″ Cheshire Phoenix (GBR) 15
Michael Belle F 19 6'6″ Espoirs Strasbourg (FRA) 0
Quinn Ellis G 19 6'2″ Monferrato (ITA) 2
Ashley Hamilton F 34 6'7″ Quimper (FRA) 30
Myles Hesson F 32 6'6″ Kagawa Five Arrows (JPN) 54
Noah Horchler F 25 6'8″ Aris B.C. (GRE) 0
Kyle Johnson G 34 6'5″ Newcastle Eagles (GBR) 85
Dwayne Lautier-Ogunleye G 26 6'3" Swans Gmunden (AUT) 19
Callum Lawson F 26 6'6″ Valur (ISL) 2
Kimbal Mackenzie G 26 6'1″ Leicester Riders (GBR) 0
Aaron Menzies C 26 7'3″ Leicester Riders (GBR) 2
Ben Mockford G 33 6'2″ Newcastle Eagles (GBR) 54
Luke Nelson G 27 6'3″ London Lions (GBR) 35
Teddy Okereafor G 30 6'4″ Apollon Limassol B.C. (CYP) 53
Gabe Olaseni C 31 6'10" Darussafaka (TUR) 53
Josh Sharma C 26 7'0″ London Lions (GBR) 2
Mo Soluade G/F 27 6'5″ London Lions (GBR) 7
Devon van Oostrum G 30 6'3″ BK Levicki Patrioti Levice (SVK) 50
Jelani Watson-Gayle G 24 6'1″ Bristol Flyers (GBR) 0
Carl Wheatle F 24 6'7″ Pistoia (ITA) 27
Patrick Whelan G 26 6'5″ Leicester Riders (GBR) 11
Jordan Williams F 27 6'8″ Hubner Nyiregyhaza (HUN) 4
Akwasi Yeboah F 25 6'6″ Darussafaka (TUR) 4