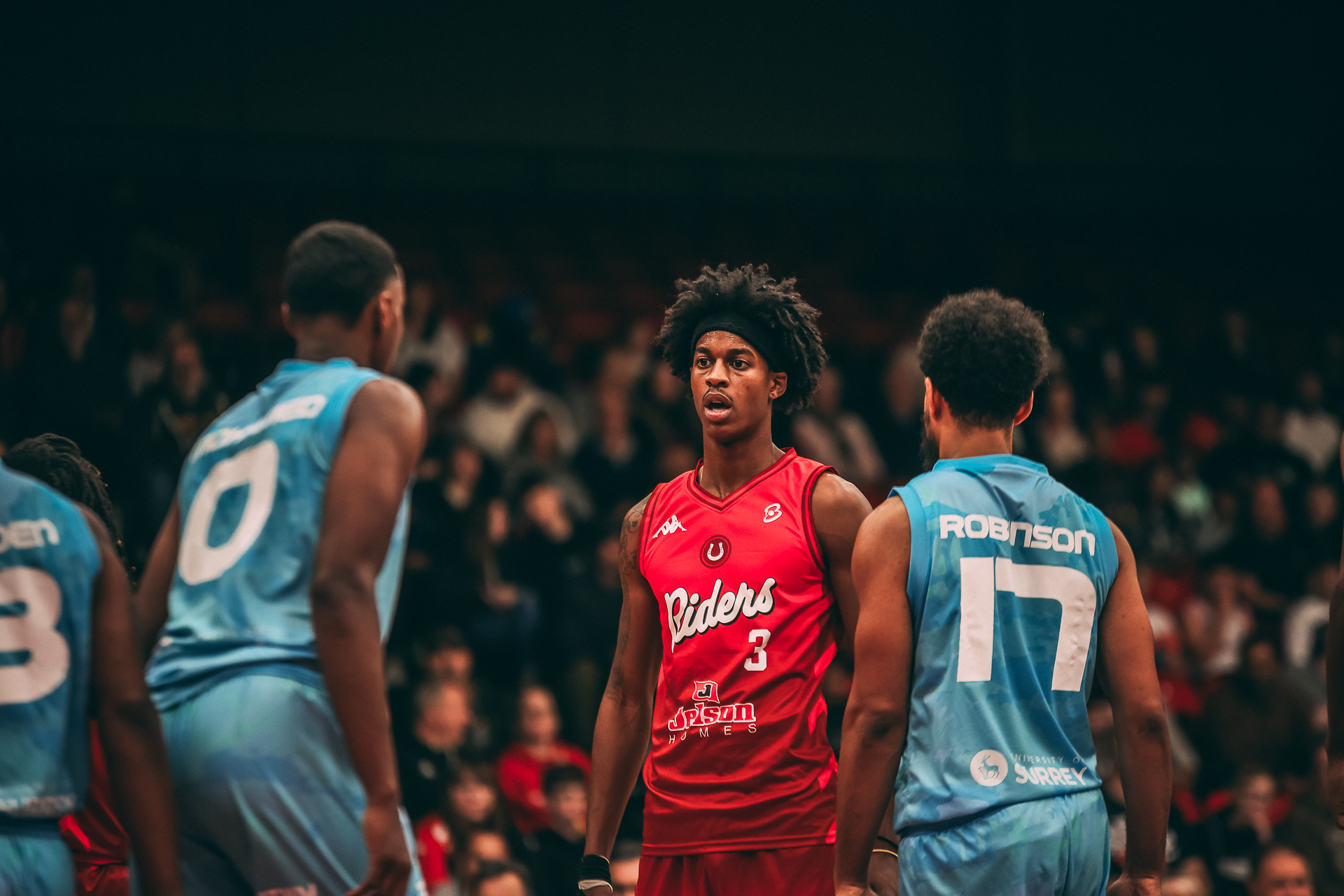 Riders Media - 25th October 2023
Championship Preview: Riders vs Scorchers
The Riders' British Basketball League Championship game on Thursday night pits Rob Paternostro's squad against the 1-6 Surrey Scorchers.
The Morningside Arena will host the Scorchers for the second time this season and Riders' fans won't need to cast their minds too far back to remember a 91-74 home victory on October 13.
Round seven brings a double-header for Leicester, who follow Thursday's tilt with a trip to the home of the Caledonia Gladiators on October 29.
Fixture Information
Leicester Riders vs Surrey Scorchers
Morningside Arena, Leicester
Thursday, October 26, 7:45pm
Keeping Pace at the Top
The Riders currently occupy fifth place in a BBL Championship table that is tight throughout.
Coach Paternostro's young squad sit just above .500 with a 4-3 record after tough northern road trips to Manchester and Newcastle.
In last Friday's outing versus the Eagles, the Riders fell 95-90 in a hotly contested game.
Despite matching the Northeasterners on the boards and putting up solid offensive numbers, a sharpshooting performance by guard Rickey McGill (31 points including six three-pointers) proved to be the difference.
The Riders didn't go down quietly, though, with Miryne Thomas and Xavier Pinson dropping 22 and 19 points respectively.
Thomas, capable of multiple spectacular plays per game, had his best statistical game in a Rider jersey, complementing his effective scoring with 10 rebounds to claim a well-earned double-double.
The 6'8" Ohio native has been a focal point for Leicester's offense so far this season, whether that's through slipping into space in the paint for a monster jam or fading out wide for the corner three.
The long power forward's offensive production could prove the difference on Thursday night, especially against a Scorchers team that could struggle to go bucket-for-bucket with him if he hits at a high percentage.
Building on the First Win
The first chapter of the 2023/2024 season has been a difficult one for the Scorchers, but Lloyd Gardner's squad now have a victory from which to build.
October 21 saw Surrey delight their home faithful with a comfortable 98-72 victory over a Manchester Giants team coming off two games in three days.
The Scorchers cooked from beyond the arc, hitting an impressive 20 three-pointers at a 50% clip.
Surrey pull the trigger more than any other team in the BBL, firing an average of 72 shots per game. If they can breach the net as often as they managed against Manchester, their 78.6 PPG will take a huge leap.
Accuracy and efficiency have been stumbling blocks all season, though. The Scorchers sit bottom of the league in FG% and second bottom in 3PT%.
They rebound the ball well, largely thanks to star centre Saiquan Jamison who tops the BBL with 11.4 RPG.
Riders' fans should expect the Scorchers to manufacture plenty of chances to score. If they can score at an efficient rate, they could cause some problems.
Key Matchup
Thursday night's box office battle will be one that comes off the bench, as experienced guards Justin Robinson and Riders' Kimbal Mackenzie tussle for second-unit dominance.
Crafty veteran Robinson was a key factor in Surrey's sole win, dropping a smooth 23 points on the Giants through efficiency all over the court.
Robinson held a masterclass in taking what the defence gives you, hitting 72% of his field goals including five buckets from downtown.
The long-time London Lion is currently averaging 11.6 PPG on 42% shooting from the bench.
Attempting to match Robinson's impact on court will be Round five BBL 'Team of the Week' member, Mackenzie.
The Riders' team leader has been as influential as ever this season, often hitting difficult shots around the rim and coming up clutch when the team needs him most.
An industrious 16-point game against the Eagles typified the qualities Mackenzie is bringing in his third year as a Rider, as he combines ruthless scoring with an eye for a pass.
The Canadian is second on the Riders in assists this season, dishing 4.7 assists per outing, which could give him the advantage in the matchup against Robinson.
The streak
The Riders currently possess a 39-game winning streak against the Scorchers, the longest active streak in the British Basketball League.
The streak dates back to November 11 2021. They have an opportunity to make it a round 40 in this one.