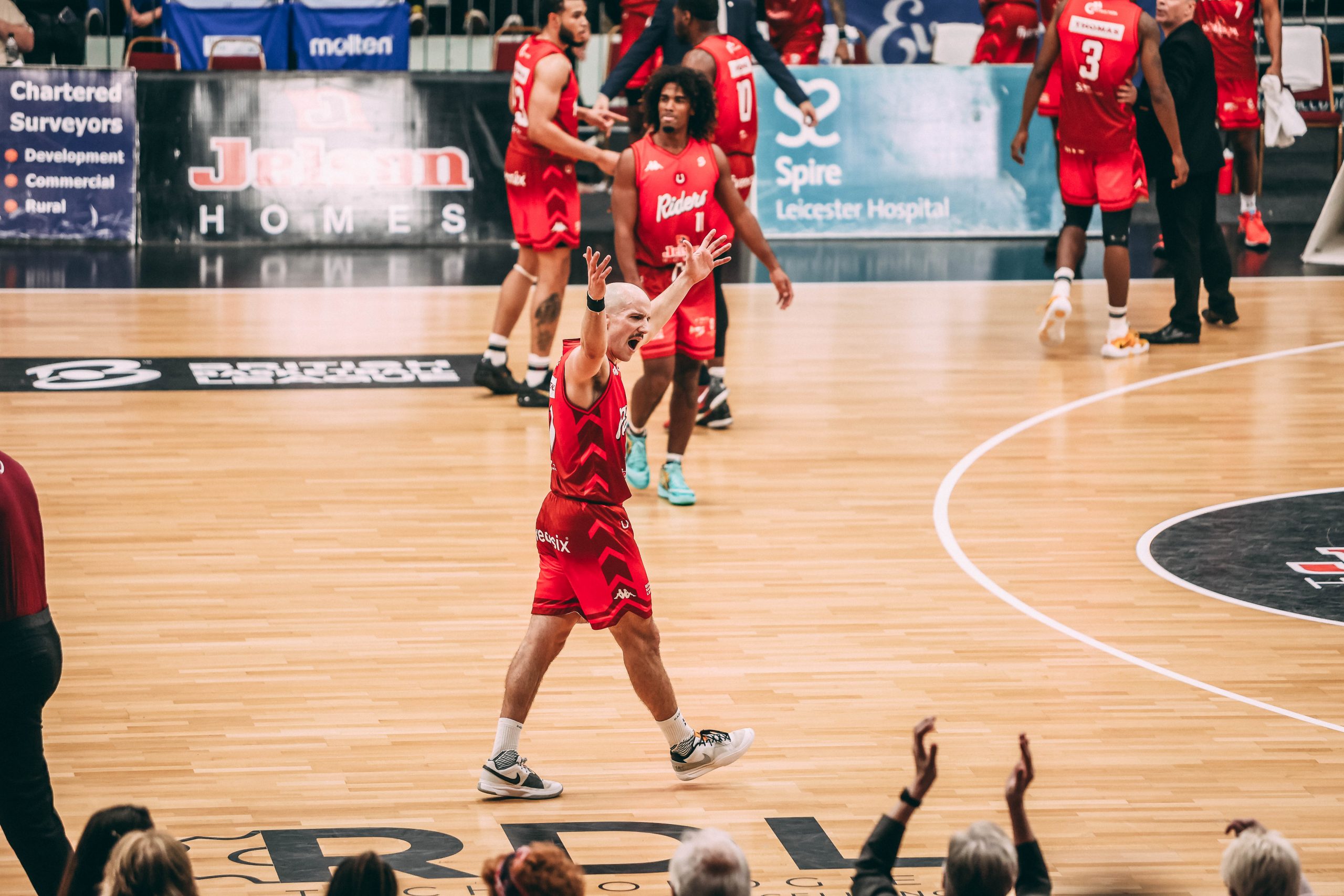 Riders Media - 9th November 2023
Championship Preview: Riders vs Lions
This Friday is an important one for the Riders as round nine of the British Basketball League Championship brings the visit of the table-topping London Lions to the Morningside Arena.
It will be the first time Rob Paternostro's team will face the reigning champions this season, having narrowly lost to them in the Playoff Final last May.
Both squads will also need to manage their minutes wisely, with the Riders due to play Cheshire on November 12 and the Lions competing in midweek EuroCup games.
Fixture Information
Leicester Riders vs London Lions
Morningside Arena, Leicester
Friday, November 10, 7:45pm
Maintaining Form in the Morningside
Since the opening-day loss to the Cheshire Phoenix, the Riders have turned the Morningside Arena into a fortress, winning four consecutive home games by a margin of 14.8 points.
Victories against Plymouth, Newcastle and a double over Surrey have proved vital in keeping the Riders above .500, but their fiercest test of the young season is likely to come this Friday.
One thing the Riders need to maintain is a prolific offence at home.
Leicester are hitting an average of 94 points in front of their home supporters and last Saturday's 111-point demolition of the Eagles shows a continuous upward trend in scoring production.
Jaren Holmes, Miryne Thomas and Xavier Pinson regularly drop double-digits in the scoring column, ably supported by captain Kimbal Mackenzie and cultured big man Samuel Idowu off the bench.
They must be at the top of their game against the Lions, who are giving up just 79.2 points per game on the road so far and are one of the best defensive teams in the league.
Depth scoring, which proved so successful against the Eagles, could once again be the key to success for the Riders.
Leicester's bench dropped an immense 51 points on Newcastle, and players like Mackenzie and high-flying wing Blake Bowman finished with a plus/minus of 17, illustrating the positivity a strong second unit can bring.
The Lions also have a squad that runs deep with quality, so expect this contest to be a battle of attrition – especially with both teams looking to important games in the next few days.
A 'Near Perfect' Start
In the first 13 games of their title defence, the Lions have looked nothing short of dominant.
Remaining unbeaten until a loss in Plymouth on November 5, where six Lions first team players were inactive, Petar Božić's team have sat first in the British Basketball League Championship table since round one.
Sunday's 94-70 defeat to the Patriots came after the Lions heavily rotated the squad as they attempt to manage the rigours of competing in two competitions simultaneously.
Top contributors Tariq Phillip, Luke Nelson and Conor Morgan were rested, and League leading scorer Matt Morgan was limited to just 16 minutes on court.
However, the blowout proves that if teams force tough perimeter shots – London shot just 19% from three-point range – and work hard on the offensive glass for second chance points, the Lions can be outmatched.
Friday's trip to Leicester bisects two road games in Europe (last night against Joventut Badalona and next week at Besiktas Emlakjet Istanbul) so the Lions' strength in depth will be tested to its limits.
The Riders will still need to front up on the defensive side of the ball though, as their opponents bring an offense that leads the League in every major shooting category.
A 99.9 PPG average, a field goal percentage of over 50 and a 39.1% three-point clip demonstrate the potency of the Londoners' attack.
The visitors can score from anywhere, matching the Riders at just over 38 points in the paint per game and sitting atop the league in buckets from beyond the arc with 144.
In what is sure to delight both sets of supporters, this contest could turn into a shootout.
Key Matchup
Friday's key matchup is between two American guards who can do it all: Jaren Holmes and Matt Morgan.
A free-scoring point guard who is proving deadly from beyond the arc this season, Morgan is crucial to the Lions' success.
In his first British Basketball League season since joining from Le Mans (French Betclic Elite league), the North Carolina native leads the league in scoring and three-point percentage, hitting 20.3 PPG and 47% of his deep shots.
The 26-year-old comes with high-level pedigree, having spent two seasons in the NBA G-League for the Toronto Raptors before moving to Europe where he shone during spells in Turkey and France.
Morgan is a matchup nightmare for opposing defences. If there is one player on the Lions that can never be left open, it's #33.
Riders' 'Team of the Week' member Holmes may lack the experience of his opponent, he makes up for it with sheer intensity and will to score.
Standing at 6'4" and powerfully built, Holmes is formidable when he finds a lane, and his ability to fight through contact to finish inside is largely why he sits atop the Riders' scoring charts with 14.4 PPG.
Evidence from last Saturday's 28-point performance against the Eagles shows that #13 can also score with finesse as he dropped three-pointers and delicate floaters inside with barely a miss.
The former Iowa State athlete is getting better every time he enters the court, and despite not directly facing Morgan on Friday, the points battle between the two could prove crucial.
Played for both- Josh Ward Hibbert
Josh Ward-Hibbert, playing in his eighth British Basketball League season, has played seven of those years with the Riders and Lions.
He first joined Leicester in 2016, kicking off his Riders career with back-to-back trebles in 2017 and 2018. He collected seven pieces of silverware during his four seasons in the East Midlands, improving season on season.
His final year saw Ward-Hibbert average 11.2 points and 5.9 rebounds per game, shooting 51.6% from the field and 41.2 % from three. The season, cut short due to the COVID-19 pandemic, proved to be his final in Riders red.
He moved to the Lions the following season, remaining in the capital for three years. Last year he helped London to a treble of their own, contributing 4.9 points and 4.0 rebounds per game.
This season, Ward-Hibbert took his talents to the North East to suit up with the Newcastle Eagles. Early in the year, he's scoring 4.6 points per game, shooting 35.1% from the field.