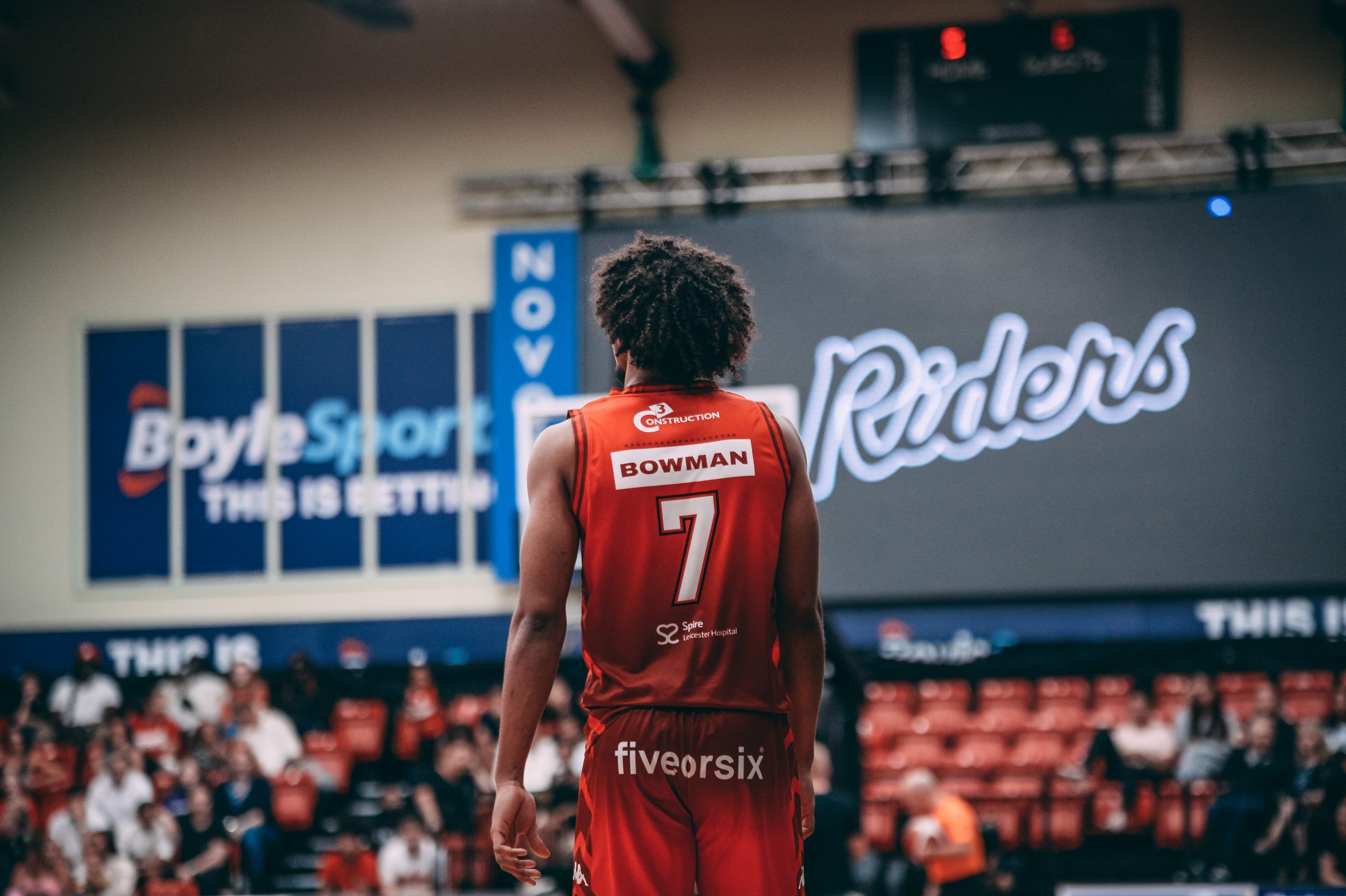 Riders Media - 26th September 2023
Blake Bowman: "I want to be a part of something great"
Last summer, highly touted young British star Blake Bowman put pen to paper to join the Leicester Riders.
Now a second-year Rider, Bowman's performances early in the year have caught the attention of coaches, players and fans alike.
View this post on Instagram
He was instrumental in the Riders' season opener in getting the team back into the tie, hitting two big three-point shots which saw the team cut it to one possession.
His improved shooting from distance is the result of hours on the practice court.
"I was working with the coaching staff on the basics," said Bowman. "There wasn't too much to change from my form, but we worked on hand position and rhythm.
"I worked on it each day before and after practice and carried on during the summer. Being able to focus on it more during the summer was really helpful. There was no practice, so I could really put in the hours.
"It's a result of a lot of hard work for a long time, and I feel like I have a better feeling for finding the hoop."
Bowman is feeling the benefits of the step up into professional basketball. Surrounded by professional coaches and elite players has allowed him to expand his knowledge of the game.
"It made me realise how much there is to know about basketball. Learning from Coach Rob and the veterans we had made me understand the game at a deeper level.
"It's not every day you meet people with such a great understanding of the game, so I see it as my responsibility to pick their brain."
Bowman's play has earned him a larger role and more opportunities. And a change from the backcourt to the frontcourt has helped him feel more comfortable in his role.
"I'm shooting the shots I'm supposed to be taking, and I feel more involved in the offence. Playing from the two to the four is very similar in our system. Going to the four has given me more responsibility in the offence and allowed me to focus on the areas of the game I do best."
But, of course, that takes nothing away from what the Derby Trailblazers did for Bowman before his arrival in Leicester. He played through their youth system since their Under-10s, growing up with the team and winning silverware in his final season in the L Lynch Trophy.
"It was a family. I grew up with the team, went to college with them and won a trophy with them in my final year. We'd all been together for so long, so to win something together was amazing. Not many people can say they've won a trophy with their best friends.
"Head Coach Matt Shaw did a lot for me in giving me the opportunity to play and make mistakes. He's a great guy that I can talk to about anything."
His affiliations with Derby made his relationship with the Riders programme a competitive one growing up.
Despite his family ties with the club, his father Barry Bowman and Uncle Marc Hawley both suiting up for the Riders in the past, he saw them as a rival after his battles with Charnwood College.
"Being from Derby and growing up playing for them, I had a rivalry with Charnwood my whole life! My teammates were happy for me, but they definitely pulled my leg about moving here. But it was definitely a great decision!"
In year two, and with a brand new group surrounding Bowman, the goal remains the same: contribute to winning basketball in any way he can.
"I don't have personal goals when it comes to numbers. The work I put in will show, and I want to contribute to winning. I want to be a part of something great."
---
Want to see Bowman in action?