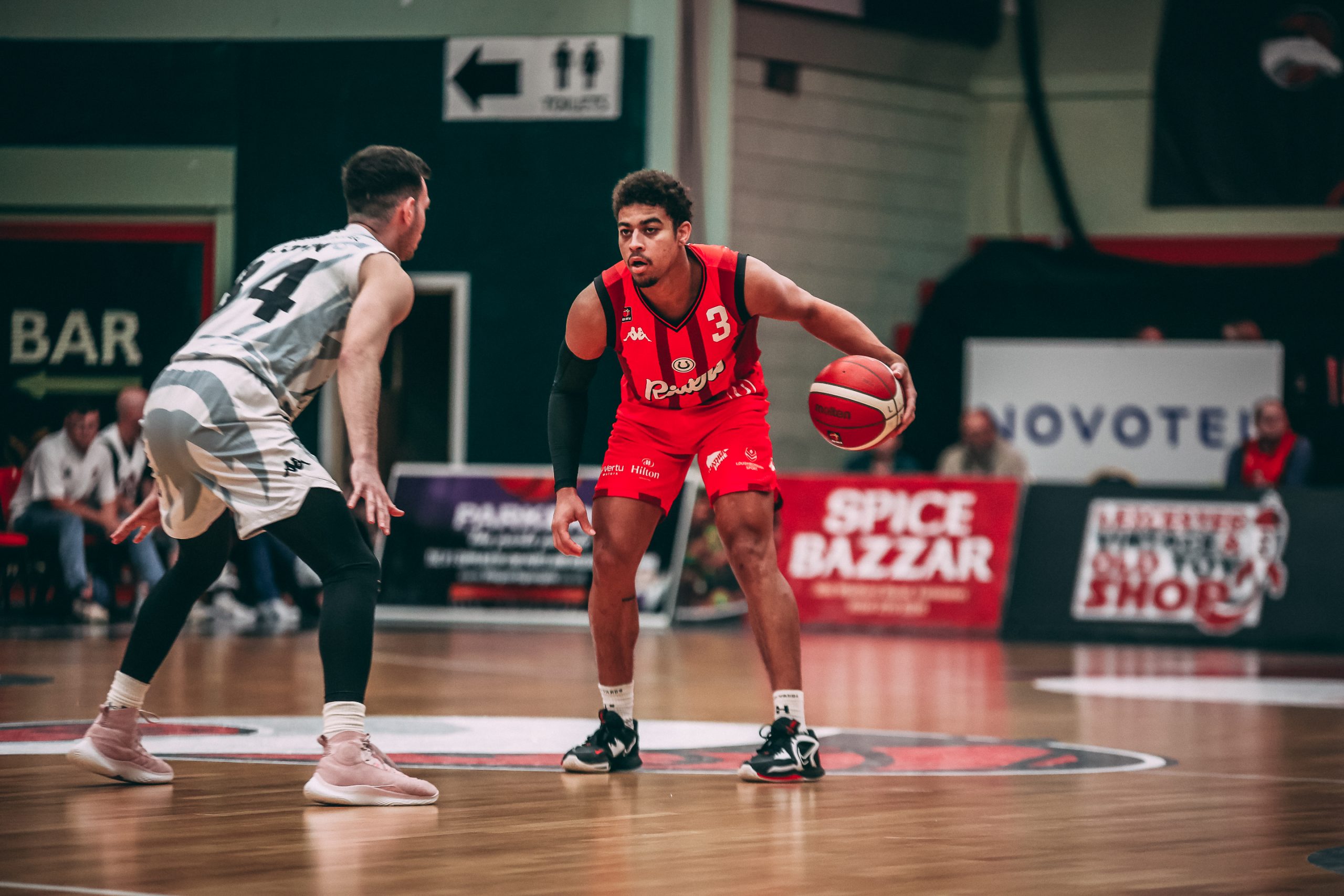 Riders Media - 2nd December 2022
BBL Championship Preview- Riders at Scorchers
The Riders take on the Surrey Scorchers on the road in a return to BBL Championship action. A win would see them improve to 8-4, having won six of their last seven in all competitions going into this one. 
Sharpshooting Riders sinking shots
The Riders' offence has clicked into gear in recent weeks, leading the BBL in all major shooting efficiency numbers. Their three-point shooting, which is a BBL-best 37.5%, helped them to a significant BBL Cup quarter-final win against their long-standing rivals, the Newcastle Eagles. 
They went 10-23 from deep in the game, led by Marc Loving's red-hot 5-5. The Ohio-born power forward went off for 27 points, accompanied by seven rebounds and six assists. Loving leads the team's scoring in the league this season, scoring 15.6 points per game. 
"I thought we played really good defence tonight, and we took care of the basketball really well. It was a good performance from us," said coach Rob Paternostro.
"Turnovers have been important for us all year. When you look after the ball and play defence the way we can play it, you have a really good chance to win."
Leicester's 7-4 record is good for third place in the league standings, as the reigning champions sit four points behind the league-leading Bristol Flyers. A loss to the Caledonia Gladiators in their previous league game broke a five-game Riders' winning streak, which saw them shoot up the league table.
Scorchers searching for offensive rhythm
In contrast to their opponents, the Scorchers have struggled to get consistent points on the board so far this season, ranking last in the BBL in scoring. Their defence put them in a position to win their most recent game, holding the Sheffield Sharks to 60 points, but couldn't find the bottom of the basket to grind out a win.
Surrey did secure their first win of the season a game prior to the Sharks defeat, beating the Newcastle Eagles 79-74. New man Ryan Martin scored 20 points to lead the team, the former London Lion putting on a show in front of the Sky Sports cameras.
The Scorchers have been plagued by injury early in the year, starting with their captain Tayo Ogendengbe going down just a game into the season. They currently have five players recovering from injury, including leading scorer Andrew Lawrence.
"They've had a lot of injuries, so they've been mixing and matching quite a bit," said Paternostro. "We've been down there already this season, and we know it will be challenging."
Key matchup
Having played two games with his new team, Ryan Martin has hit the ground running in Surrey. He averaged 16 points over the fixtures, kicked off by his 20-point effort against the Newcastle Eagles.
Last season, Martin signed with the London Lions, and his eight points per game helped them to the BBL Playoff final. The seven-year pro moved back to his home country after five years competing in Europe, most recently scoring 13 points per game in Denmark for the Bakken Bears. 
The 6'11" big man is a force down low, scoring at a high percentage at the rim. New Riders' big man Aaron Menzie will meet him in the paint, the 7'3" center looking to lock down his opponent.
A GB international, Menzies signed for the Riders in mid-November from German second-division side Dresden Titans. He averaged 8.6 points and six rebounds in Germany after spending his first two seasons in Spain.
Menzies is a force at the rim, using his height and frame to swat shots away and grab offensive and defensive rebounds. He is effective in the pick and roll, helping ball handlers attack the rim, and plays well with his back to the basket to get his own points.
Menzies and Martin's battle in the paint will be an intriguing part of this fixture as Menzies looks to slow Surrey's new man down.
Where to watch
The game is available to watch on the British Basketball League Youtube channel, tipping off at 6 pm. The stream is scheduled to start 15 minutes before tip-off.