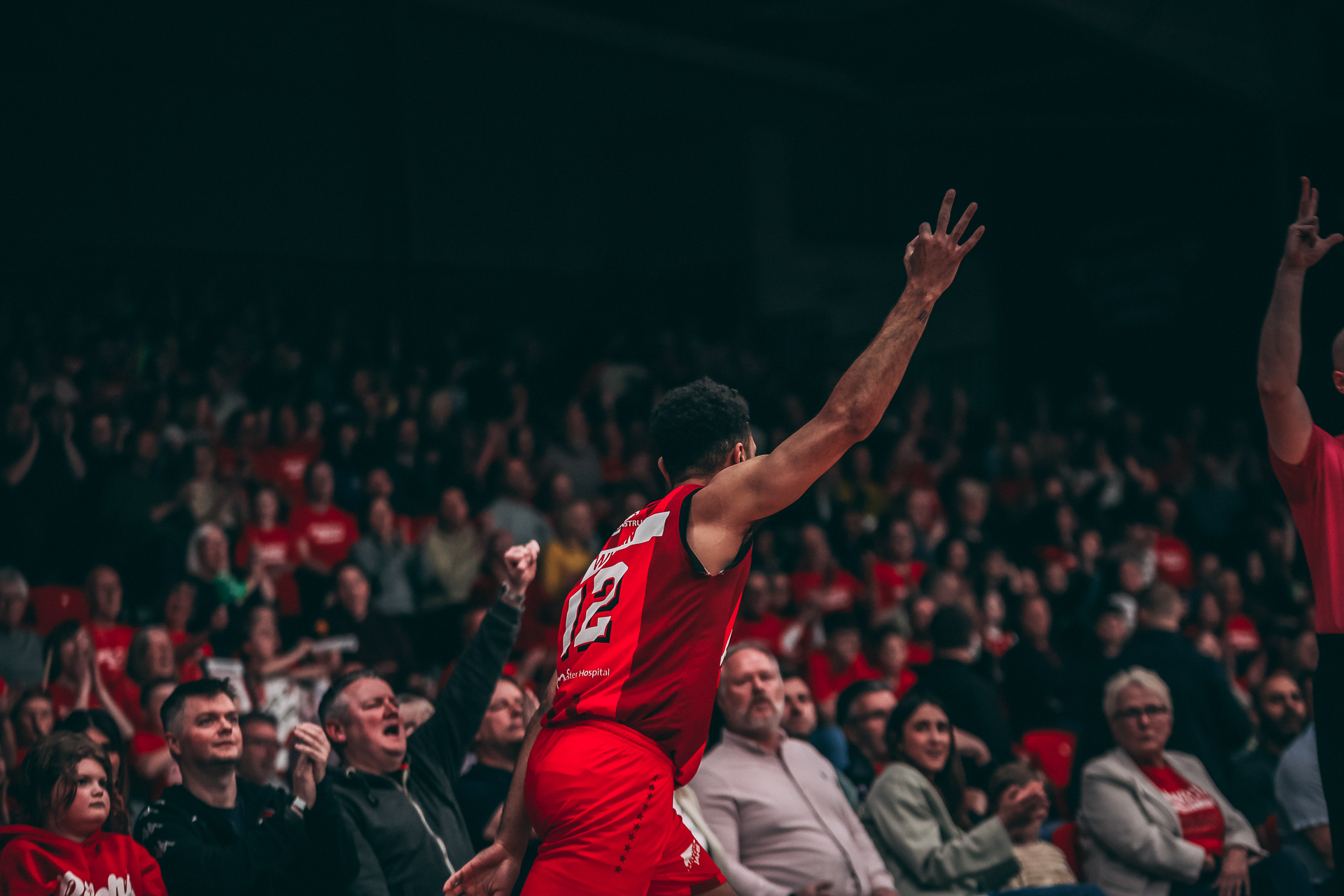 Riders Media - 30th April 2023
Riders through to the semis!
The Riders saw themselves comfortably through to the BBL Playoff semi-finals with a 153-140 aggregate win against the Sheffield Sharks.
They entered the game needing to hold onto their nine-point advantage from the first leg, and won the second leg 74-70 to advance through the first round.
Zach Jackson took over the tie to stretch the Riders' lead at the midway point. He finished with 25 points and nine rebounds in a dominant showing.
The Riders attacked the rim relentlessly in the game, which got them to the free-throw line 19 times. They outrebounded the Sharks 32-25, winning the interior battle. 
Riders' captain Darien Nelson-Henry was a huge part of that, putting up an 18-point double-double with 11 rebounds. His second-chance points, from four offensive boards, were key to Leicester's early success in the game, allowing them to build from the inside.
He led the game out the gate, scoring the team's first six points, bagging eight in the first period as Leicester built a lead.
It was a dominant start, with the hosts holding an 18 aggregate. They started 8-12 from the field, with both Nelson-Henry and Jackson starting 3-3.
The Sharks fought back through Devearl Ramsey, who put six on the board, but the first ended 22-17 to Leicester.
The second went back and forth but resulted in the Riders maintaining their lead. Nelson-Henry extended his tally to 14 by halftime. Meanwhile, eight points in the second for Jackson made it 14 for him as well.
The Sharks tied it up midway through the second, but a run to end the quarter saw the Riders enter the locker rooms up 42-34 in the game and 122-105 on aggregate.
Jackson quickly got to 20 points in the third quarter, taking over proceedings out of halftime. He scored the Riders' first seven points of the half as the Riders continued to extend their lead.
The Sharks hung around in a low-scoring third quarter, however, and a Ramsey and-one to end the period made it a 13-point game going into the fourth.
Nelson-Henry refound his scoring form in the final period, scoring back-to-back baskets. But the Sharks made it a one-point game on the night, forcing the Riders to see it out in the clutch.
Leicester snatched momentum through Kimbal Mackenzie, who attacked the hoop on two straight plays for four points. He then set up Patrick Whelan for an open three, as the Riders took firm control of the tie with a 7-0 run.
From there, they saw the game out to progress to the next round. They will face either the Bristol Flyers or Newcastle Eagles, depending on the result of the Eagles' fixture against the London Lions tomorrow evening.