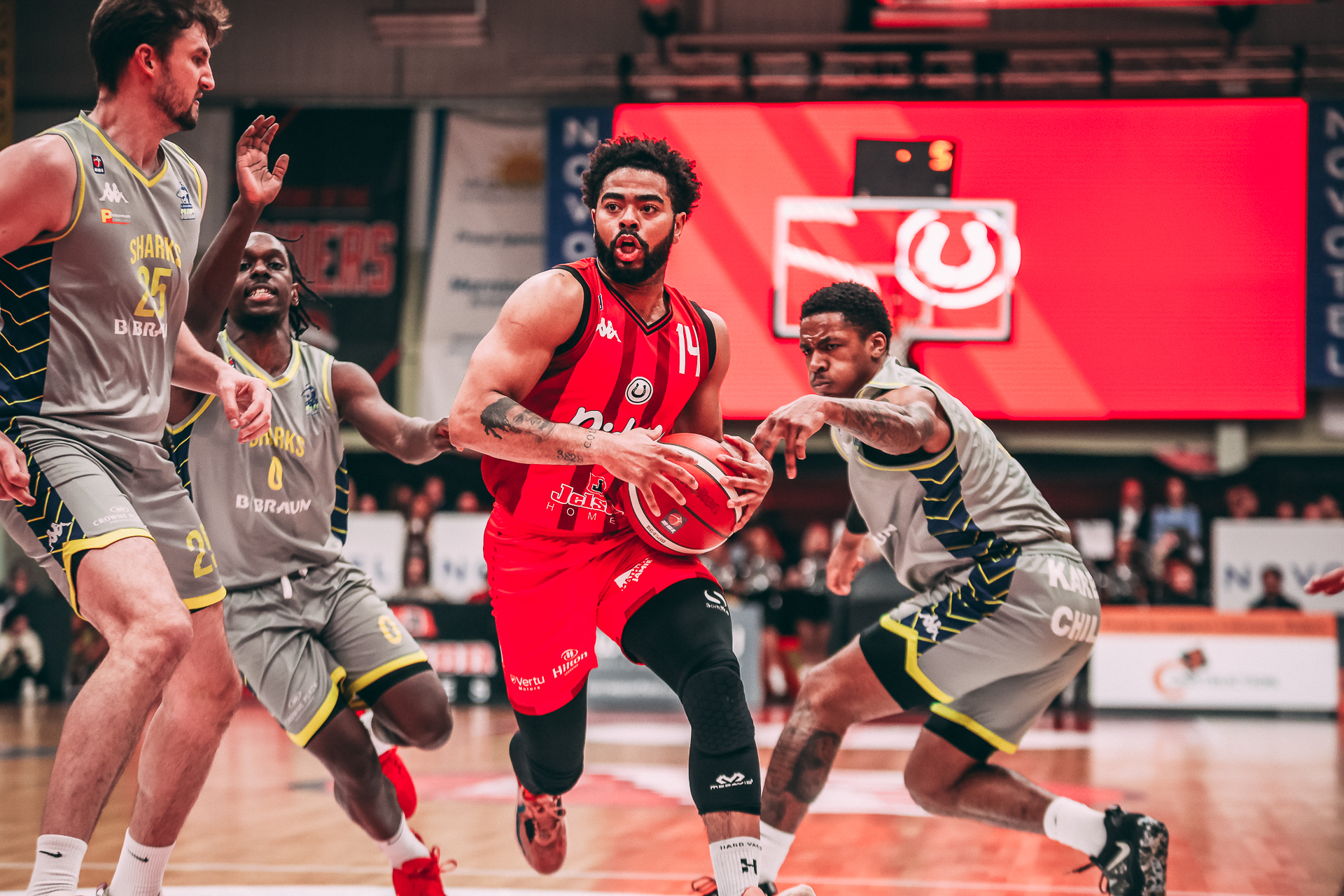 Riders Media - 21st April 2023
Riders see out gritty win
The Riders battled for an 85-76 win against a stubborn Sheffield Sharks team, in a tightly contested game wire-to-wire.
Marc Loving led the game with 25 points and 10 rebounds, his double-double coming from 53% shooting from the field. He scored eight in the final quarter to see the game out.
The Riders shot 47% from the field in an efficient shooting effort. The game was in the balance entering the fourth, but Leicester won the final period 28-21 to secure the win.
Four Sharks scored 12 points, led by Jalon Pipkins, who grabbed seven rebounds in the process. Pipkins electrified the game with his explosiveness at the rim, but his high-flying plays did not prove the difference for the Sharks. 
The win improves the Riders' record to 25-10 with one game remaining in the BBL Championship season, securing the second-seed for the postseason. 
It was a gritty affair from the tip, with the sides managing 30 points between them through the opening quarter. The Riders led 16-14 through one after Loving's corner three concluded the period.
Loving then got the second underway with another three, as the Riders stretched their lead to nine a minute in. His explosive jam midway through the period capped off an 11-2 start to the quarter.
The Riders' offence stalled going into the locker rooms, producing two points in three minutes near the end of the half. This allowed Sheffield back into the game, cutting the Riders' lead to three, but the hosts still had the lead by halftime, led by 12 points from Loving. 
The sides jockeyed for the lead throughout the third, with neither able to build a significant advantage. Kimbal Mackenzie scored seven points in under a minute to build Leicester's momentum, and the score at the end of the third was 57-55 in their favour. 
The Riders played aggressively to start the final period, putting the Sharks in the bonus just three minutes in. They took advantage of this, finding their offensive form to jump out to a nine-point lead. 
They kept the Sharks at arm's length throughout the rest of the quarter, as Loving's eight points in the period led them to the win. Jalon Pipkins cut it to four for the visitors with a minute remaining, but Loving's free throws put the seal on a hard-fought win.
The Riders are back in action on Sunday, playing their final game before the postseason on the road against the Cheshire Phoenix.