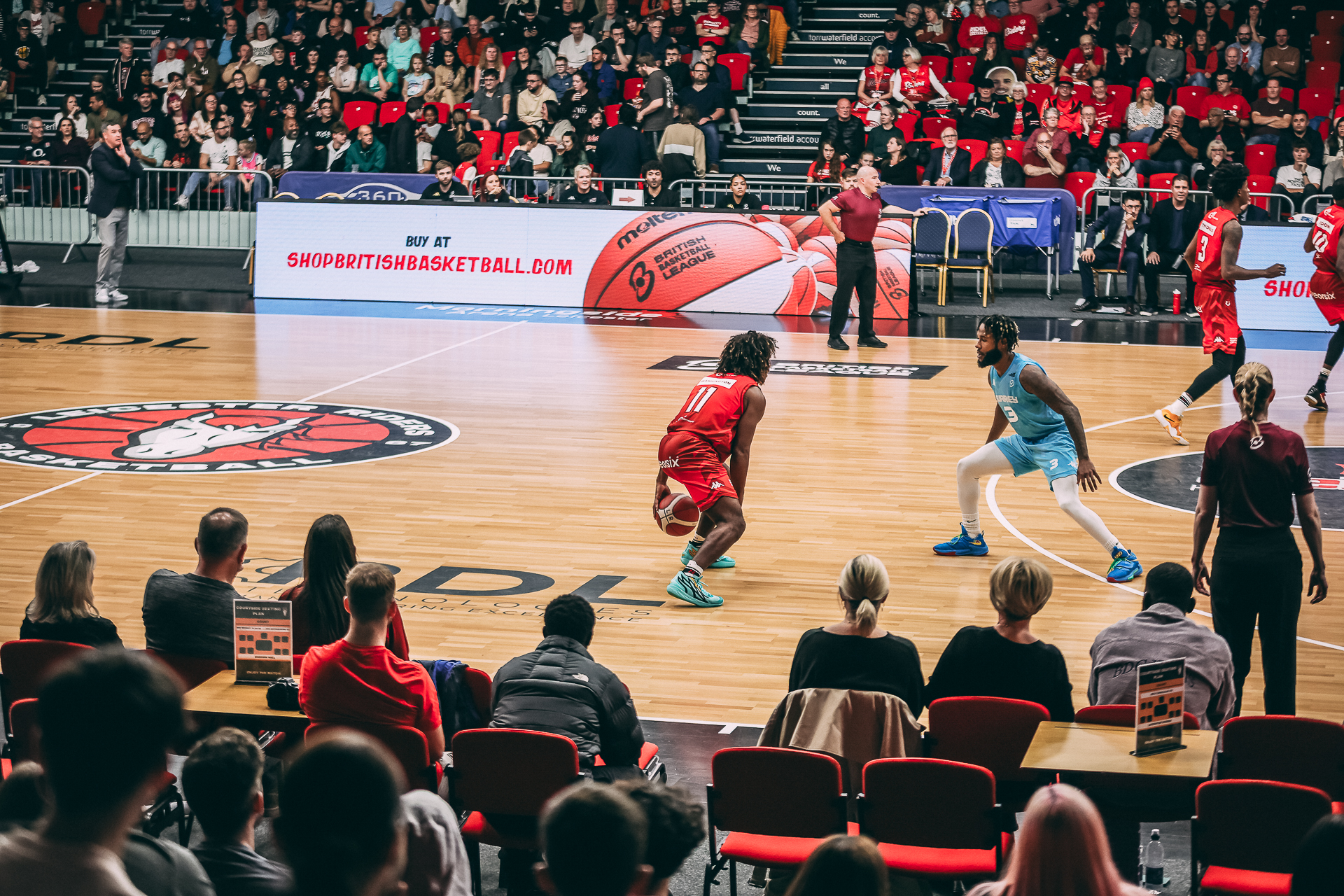 Riders Media - 1st November 2023
Riders review: October summary
October was a busy month of Riders basketball, featuring six games and four road trips.
Here, we take a look back at the month of action.
October games
The Riders went 3-3 across the month of October, facing two doubleheader weekends and four games on the road. They began with a bang, winning 92-85 in a wire-to-wire game on the road against the Eagles, led by Miryne Thomas' 17 points.
They followed this up at home a week later, beating the Surrey Scorchers comfortably 91-74. October featured two home games against Surrey. In the second, the Riders pulled off the biggest recorded comeback in British Basketball League history to take the win.
The Riders fell to the Manchester Giants in the second of back-to-back games, lost another wire-to-wire battle against the Eagles and fell short in the final seconds against the Celadonia Gladiators, as Clifton Moore Jr.'s hookshot sent Leicester back to the East Midlands empty handed.
Going .500 in October means the Riders sit fifth in the standing with a 5-4 record, two wins behind second.
Magic Miryne
Leading the team over the month was Miryne Thomas, who averaged 13.5 points and 7.7 rebounds over the six games. His performances earned him a place on the British Basketball Team of the Week twice, leading the Riders scoring in each of their wins.
His best performance of October was the second of back-to-back 20 point double-doubles as he led the comeback against Surrey. Thomas put up 20 points, 11 rebounds, four assists, two steals and a block in his stat sheet-stuffing effort.
Thomas' rebounding efforts have seen him rise the League charts, now ranking seventh in total rebounds among British Basketball League players.
Jaren Holmes remains the Riders' leading scorer on the season, after putting up 12.3 points per game over the month.
Building off the bench
The Riders' strength in depth continued throughout October, outscoring their opponent's bench by an average of 8.2 points per game.
The team had a double-digit scorer off the bench in five of their six October games, Kimbal Mackenzie leading the second unit with 12 points per game. He led the team's scoring with 22 points in the Riders' first game against Surrey.
Leicester's captain came up huge in the clutch against the Gladiators, making what appeared to be the game-winning basket with seven seconds left. Mackenzie leading the second wave of attack for the Riders is pivotal to their success.
---
Want to see the Riders in action?
Get tickets to the next Riders home game against Newcastle Eagles!