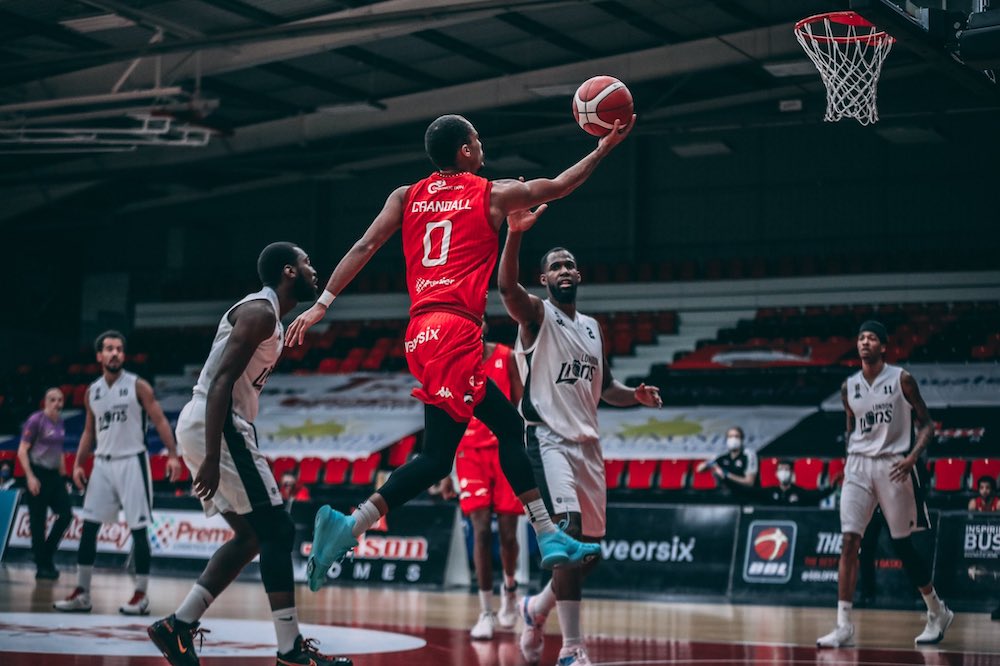 Riders Media - 4th January 2021
Riders handed first league defeat by Lions
Leicester Riders saw victory snatched from them in a mad last minute, as they were beaten by London Lions 74-73 Sunday evening in the BBL Championship at the Morningside Arena. Riders were 5 points clear at 73-68 with just a minute left in the game as they looked to preserve their unbeaten start in the Championship.
They were looking good for the victory with the Lions struggling to get any penetration on offence. But then a stray pass was intercepted by Dirk Williams at mid court for a breakaway dunk, and that was followed by a Lions steal on the subsequent inbounds play to give them another easy layup. When Riders could not score on their possession, the Lions came down and Orlando Parker hit the twelve-foot jumper to wrench the game from Riders. A last second attempt from Corey Johnson to steal back the game for Riders fell short.
The start of the match was delayed by two hours after the Lions were caught up in a traffic accident on the M1. But both teams shrugged off the delays early on, with Corey Johnson opening his account with a three with the first shot of the game, matched by Lions GB star Justin Robinson. When Johnson hit another three it looked like it was going to be a shooting fest, but then the defences started to take over. The Lions were getting good movement inside from ex-Rider Chris Taiwah. An Orlando Parker three edged London in front 12-8, but Washington came off the bench to draw a couple of fouls and hit a big three. With seconds left in the first quarter Riders worked the ball beautifully to the corner to Jamell Anderson for a three, to tie the game at 19 after 10 minutes.
The Lions came out on fire in the second period as Kevin Ware and ex-NBA star Deandre Liggins combined, and a Liggins three was followed by Dirk Williams making three points from the free throw line giving London a 35-22 lead and forcing Riders to a time-out, with four minutes gone. That did the trick as Riders went on an eleven to nil run with William Lee converting six points and Geno Crandall dazzling with his ball handling. The Lions were then forced to a timeout and they responded with consecutive threes by Dirk Williams and Jules Dang Akodo to push Lions lead back to 41-33, forcing Riders Head Coach Rob Paternostro to another time-out. That again worked the magic and a three point play off an offensive rebound by Crandall, and a scintillating assist by Crandall for a three point play by Ali Fraser had Riders trailing 44-39 at half-time.
Lions started the sharper in the third period but again Crandall inspired Riders back. He hit a driving lay-up followed by a three, and Riders were back within 5 trailing 57-52. Crandall then found Nelson-Henry inside for an easy basket followed by a William Lee dunk. With two and a half minutes left in the quarter Crandall hit another three to close to trail by just 62-59 and neither side could muster a score in the final two and a half minutes of the third period.
The defences stayed on top in the fourth quarter but an Anderson three was followed by one from Washington and Riders slowly build a lead. A Crandall basket halfway through the final period gave Riders their biggest lead of the game 71-64 with five minutes left, and Riders stayed in front until that final crazy minute when the game got away from them.
William Lee was in stunning form for Riders at Both ends of the court, contributing 15 points and 12 rebounds while blocking 3 Lions shots, in 35 minutes of play. Crandall also put on a masterclass finishing with 23 points and 4 assists, including 3 three pointers.
Riders
Crandall 23, Lee 15, Johnson 11, Washington 9, Anderson 6, Fraser 4, Nelson-Henry 2, Jackson 2, Falzon 1
Lions
Williams 19, Liggins 14, Parker 11, Robinson 10, Ware 6, Taiwah 6, Akodo 3