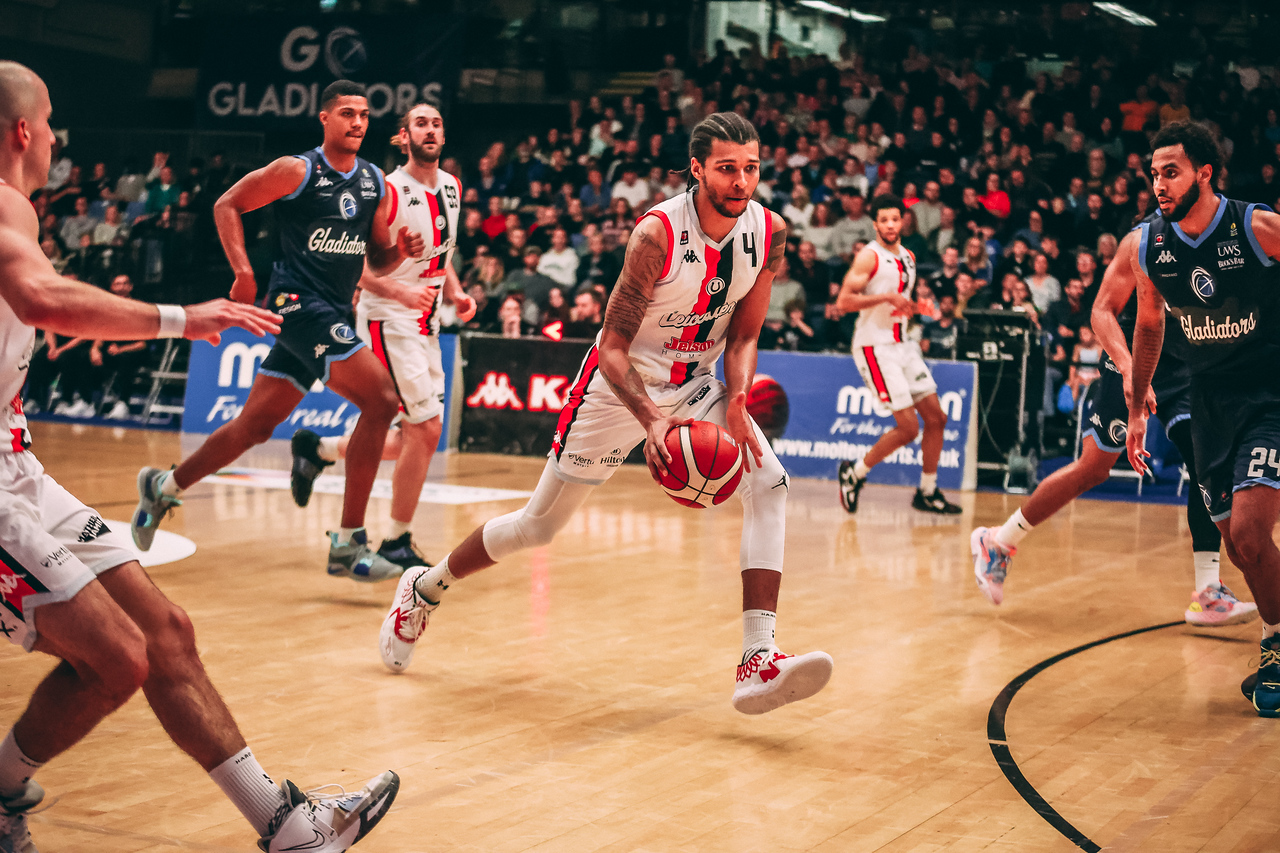 Riders Media - 23rd November 2022
Riders fall to Gladiators
The Riders lost their first game in six, falling 92-66 to the Caledonia Gladiators.
Leicester fell into a 20-point hole in the opening stages, and despite cutting it to single digits in the third, failed to recover all the way. The Gladiators, who lead the BBL in steals, played intense defence to force 25 turnovers from the Riders.
Marc Loving led the attempted comeback with 15 points, going 55% from the field and 50% from three. He made momentum-building plays throughout, but the Riders could not climb all the way back.
Jeremiah Bailey had a season-high 23 points for the Gladiators, the 6'6" wing grabbing six rebounds and dishing five assists to stuff the stat sheet. The first-year pro found form in key moments in the game to rebuild the hosts' lead.
The Gladiators took the ball from the Riders three times in the first three minutes to jump out to a 13-2 lead. Leicester stemmed the tide momentarily, keeping them off the scoresheet for the next few minutes, but ended the first period in a  31-12 hole after a 10-point quarter from the BBL's leading scorer, David Sloan. 
Zach Jackson hit back-to-back threes near the end of the first, as the Riders tried to find some momentum.
Loving came out gunning to start the second, making two three-point plays to chip into Caledonia's lead. Leicester commenced a 14-4 run to cut it to single digits, capped off by a Loving triple.
Leicester won the second 27-19, as Patrick Whelan hit a pair of free throws to close the half with 11 points, with the score 48-39 to the hosts.
The Gladiators started the second half with four steals in three minutes, going on an 11-0 run to build their lead back to 20.
After a tough start to the third, Loving and Jackson snatched back the run of play again, scoring six straight between them to once again chip away at the deficit. Kimbal Mackenzie followed up his teammates to get points in transition, making it 61-47.
The teams closed the quarter with traded baskets, the difference still 14. But the hosts started the final period the hotter of the teams, hitting three threes in two minutes. They blew the game open to start the fourth and took their lead to the final buzzer.
The Riders take a break from BBL Championship action on Saturday to take on the Newcastle Eagles in the BBL Cup quarter-final. The game will be played at the Morningside Arena, tipping off at 7:45 pm.