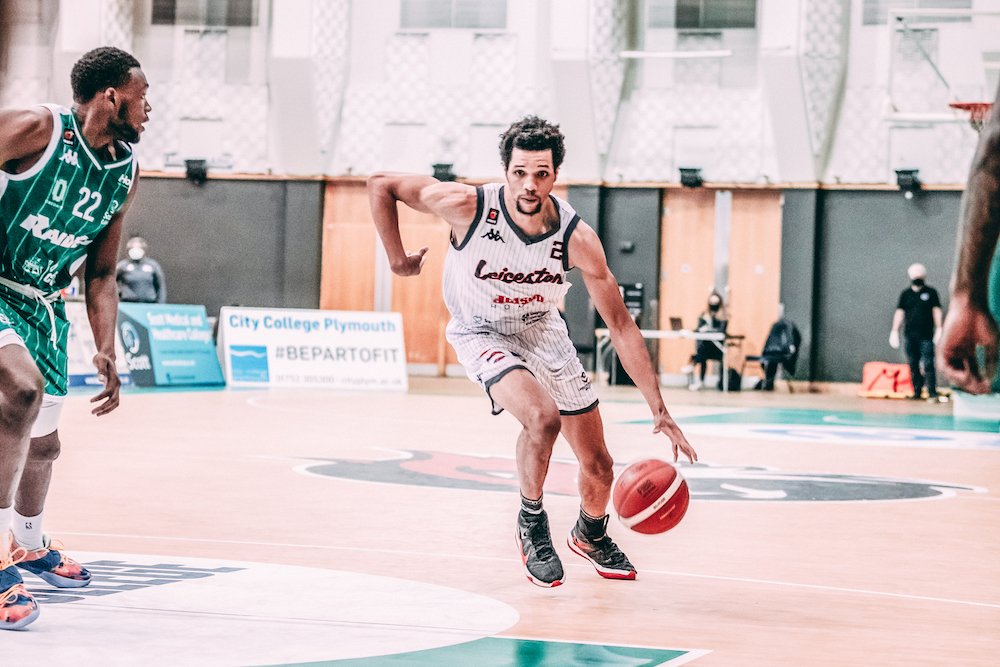 Riders Media - 16th January 2021
Riders defeat Raiders to set new BBL record
Leicester Riders bounced back again, this time from Cup semi-final defeat to Newcastle Eagles, with a solid 82-70 win at the Plymouth Raiders in the BBL Championship.
In doing so, Riders set a new BBL record, with their 31st consecutive victory over Plymouth, the longest winning streak between two clubs. The last time Raiders beat the Riders was in 2012.
They did so thanks to an extraordinary set of performances from their two point guards, with Geno Crandall scoring 18 points, while pulling down 17 rebounds and dishing out 8 assists, one of the top efforts in the BBL this season. Crandall added in a steal and a block for good measure. 
Conner Washington top scored with 21 points, including 4 three pointers, and also added 7 rebounds and 3 assists. The guards had to step up because forward William Lee picked up early fouls and only managed 10 minutes on court, as did captain Darien Nelson-Henry, with Riders two big men managing just 7 points and 3 rebounds between them.
There was little between the teams in the first half. Crandall was immediately into the action, scoring two early baskets with some mesmerising dribbling to create space, and a Lee three had the scores tied on 8 points after four minutes. But Riders were also a little sloppy with the ball with four early turnovers, and both teams were struggling to score. Four points from GB International Ashley Hamilton, who had a very subdued game, thanks to pressure defence from Riders, helped Raiders to their biggest lead of the game at 16-10, but Scottish International Ali Fraser came off the bench and immediately provided a match-up problem for the Raiders. Fine work from Fraser and Zach Jackson got Riders back to level pegging, before Leicester born Elliott Sentence hit a three at the end of the first quarter to give the home side a narrow first quarter lead, 21-18.
Conner Washington levelled the score at the start of the second period with a three, but Mike Morsell, who scored 26 points against Riders a week ago, started to impose himself on the game, and slowly the Raiders got on top, leading 31-25 with four minutes left in the first half. But Fraser again came off the bench to work his magic inside and Riders went on a 9-2 run to go up 34-31. A late score for Chris Porter-Bunton left the game in the balance at half-time with Riders just edging it 34-33.
In the last game between these teams the third quarter proved decisive for Leicester, but it was the Raiders who had the better start this time with a Morsell three pushing them to a 41-38 lead. But that was quickly cancelled by a Jamell Anderson three, and that was followed quickly by a three from Washington.
This triggered the crucial spell of the game, as Riders wound up the defensive pressure full court, turned over the Raiders twice in the back court, and had easy scores. That gave Riders a 48-41 lead with just over two minutes left in the quarter, and the Raiders were reeling. Porter-Bunton steadied the ship but a three-point play by Anderson and another fine play inside by Jackson had Riders well on top at the third quarter break, leading 53-48.
The game stayed tight early in the final period, but Crandall and Washington were playing their double act, and a three from Washington was matched by a driving lay-up from Crandall, and another jumper from Washington had Riders 66-57 clear midway with five minutes left. When Jackson hit another two the Raiders were forced to a time-out. But that sparked a burst of scoring from the visitors with Jackson and Washington hitting threes, and after that there was no way back for the Raiders.
As well as Riders deadly duo in the backcourt, Jackson caught the eye with 18 points, but it was Riders smothering defence that kept Raiders powerful offence in check, with only three home players managing double figure points, as Raiders shot just 38% from the floor.
Raiders
Morsell 17, Porter-Bunton 12, Hamilton 10, Ochereobia 9, Mcgill 9, Sentence 6, Beisty 3, Dusha 2, Neighbour 2, Neziri, Ubiaro, Walker
Riders
Washington 21, Crandall 18, Jackson 18, Fraser 12, Anderson 6, Lee 5, Nelson-Henry 2, Johnson, Falzon, Ndoukou, Hedley, Jimenez