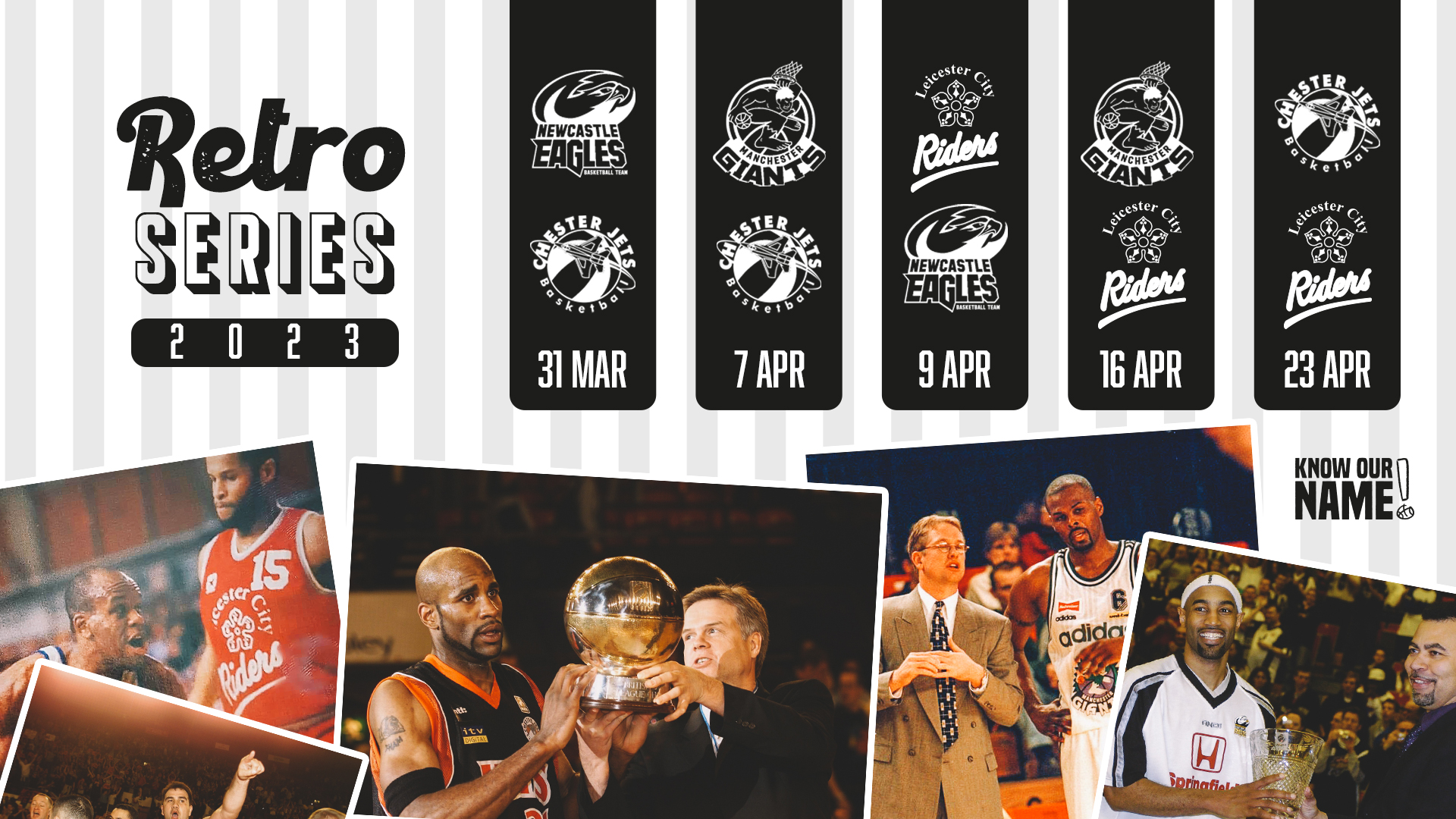 Riders Media - 21st February 2023
Retro Series 2023 announced
Leicester Riders, Manchester Giants, Cheshire Phoenix and Newcastle Eagles are excited to announce the Retro Series 2023! 
Five games involving these four teams in March & April have been selected as special retro games featuring retro kits, old-school tunes and off-court appearances from BBL legends.
Following the success of last season's retro nights between Riders and Giants, the clubs are bringing back the retro games to allow the fans, players and coaches to celebrate their organisation's history.
"We're excited to be part of the Retro Series," commented Riders Head Coach Rob Paternostro. "We had two entertaining games with Manchester last season, it was really cool to see both sets of fans wearing their clubs' old jerseys at the games."
Giants Head Coach Vince Macaulay "It's great that this year's Retro games have expanded to four teams. All four teams have a rich history in the BBL and we're looking forward to celebrating it with our supporters at the games."
Leicester Riders will sport their 1987 uniform from the first ever season of the BBL. The Cheshire Phoenix will suit-up in the 2001-02 'Jet-wash' uniform, celebrating a clean sweep of trophies.
Newcastle Eagles are throwing it back to the 2004-05 season when the Eagles under legendary player-coach Fab Flournoy first won the BBL Trophy, beating Nick Nurse's Brighton Bears in the final! Following on from the success of last year's pinstripes, the Manchester Giants will be back this year with a retro style kit sporting the infamous cartoon Giant logo!
The Retro Series games will take place on the following dates:
March 31: Newcastle Eagles vs Cheshire Phoenix – Vertu Motors Arena, Newcastle Ticket Link
April 7: Manchester Giants vs Cheshire Phoenix – National Basketball Performance Centre, Manchester Ticket Link
April 9: Leicester Riders vs Newcastle Eagles – Morningside Arena, Leicester Ticket Link
April 16: Manchester Giants vs Leicester Riders – National Basketball Performance Centre, Manchester Ticket Link
April 23: Cheshire Phoenix vs Leicester Riders – The Cheshire Oaks Arena, Cheshire Ticket Link
Keep your eyes open for more announcements in the lead-up to the games!