We're proud to offer a number of excellent game night packages.
The 1967 Club
Enjoy the highest quality game night experience at part of the 1967 club this season at the Leicester Sports Arena.
Enjoy an excellent view of the game from court-side seats.
Two-Course meal served before the game including quality main course and a choice of hot and cold desserts.
Inclusive drinks served to your table from the bar 5pm to 7pm.
Reserved Car Parking Space (1 space per 2 tickets)
Exclusive access to the 1967 Club area of the Kevin Routledge Suite before games, during the half time break and following the game.
Platter of Cheese and Biscuits served at your table following the game.
Pre-game presentation from a former player, coach or club representative to give an exclusive preview of the upcoming British Basketball League game.
Opportunity to meet the Riders players in the Kevin Routledge Suite following the game.
Priority access to Cup, Trophy and Playoff tickets as well as BBL away fixture tickets.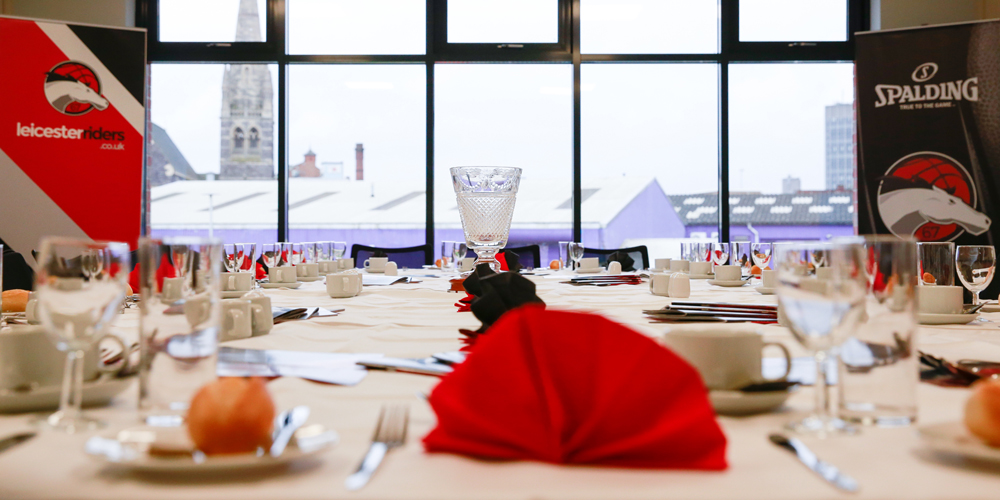 The Captain's Club
Inclusive drinks* from the bar 5pm to 7pm to include beer, wine and soft drinks (times will vary dependant on fixture, bar available for 2 hours prior to event start)
Pre-game presentation from a former player, coach or club representative.
Opportunity to purchase "bar meals" at an additional cost on the night.
Opportunity to meet the players in the lounge following the game
Priority access to Cup tickets and away fixture tickets
Enjoy the Riders take on top quality BBL opposition from a Premium level seat.
Access to Kevin Routledge Suite (KRS) before and after the game.
*Inclusive drinks include all draught beer and cider as well as the house red, white and rose wine.
For enquiries or to book over the phone please contact us on 01162558635.