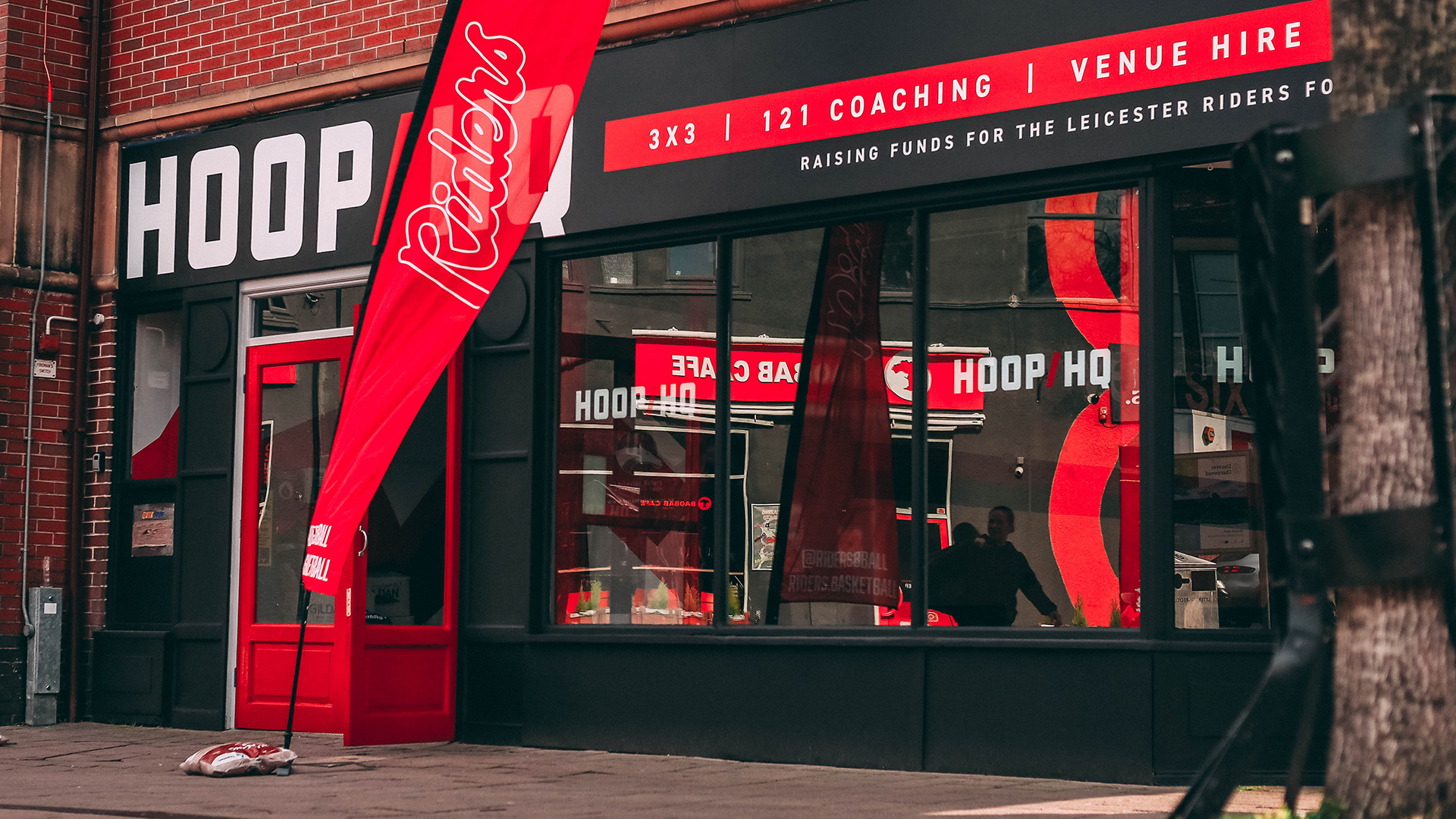 Riders Media - 11th May 2023
HOOP HQ opens in Loughborough
The exciting new venue in Loughborough town centre has been created to raise funds for the Leicester Riders Foundation, whilst also inspiring the future generation of British basketball talent
British basketball team, Leicester Riders, has today announced the opening of Hoop HQ, an exciting new venue designed to get more young people off the streets and onto the court.
The new experiential space, which is located in Loughborough town centre on Market Street, has been created to raise funds for the Leicester Riders Foundation, give more local children access to the sport and ultimately cultivate the future pipeline of British basketball talent.
The Leicester Riders Foundation already works with lots of communities all over Leicestershire and the Hoop HQ concept will be used as a model around the country. The area will look to become a community base for everyone to be able to access the game of basketball and connect with like-minded individuals, whether that's through shooting some hoops or playing 3×3 basketball.
The launch of Hoop HQ comes just days before Leicester Riders battle it out against London Lions at the British Basketball Play-Off Finals. Taking place this Sunday at the O2 Arena in London, the Riders will be looking to defend their title for the second year running.
Commenting on the space, Leicester Riders Managing Director and Riders Foundation Trustee, Russell Levenston said: "The opening of Hoop HQ has been a dream of mine and I'm so excited to see it finally come to life. A huge thank you to Raff, the landlord for offering the shop to the foundation and believing in the project, as well as to the local companies and volunteers who've helped turn this into a safe, enjoyable space for the community to use."
Hoop HQ landlord, Raff Russo said: "Hoop HQ is a fantastic initiative and the Leicester Riders team has worked tirelessly to turn what was the old Blockbusters into a welcoming venue for all the community to enjoy. This is a one-of-a-kind space which will be pivotal in driving awareness for British basketball and help to inspire the next generation of players."
James Sirrell, Director of EDSB Compliance Solutions, commented: "EDSB Compliance Solutions are proud to support Leicester Riders Basketball team and their new Retail outlet in Loughborough. The EDSB team have worked night and day over the past few weeks to get everything compliant in time for their grand opening and we look forward to partnering up with them for many years to come."
Hoop HQ will be open to the public from Tuesday 23rd May and will be open 6 days a week from 2pm-10pm on weekdays and 9am-5pm on Weekends.