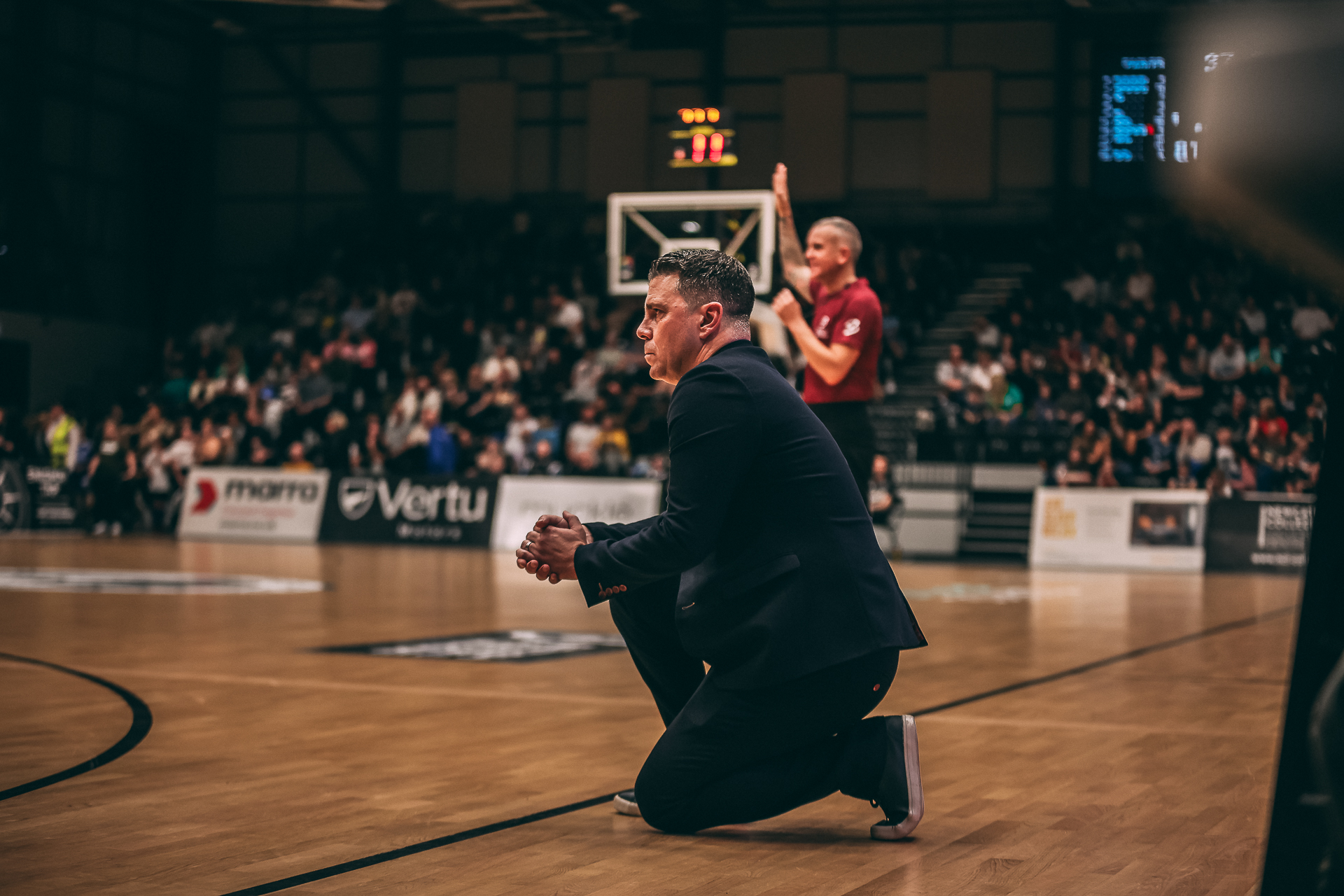 Riders Media - 18th October 2023
Coach's thoughts: Rob Paternostro on the season so far
Let me start by saying how much your support has meant to the team to start the season. The way you all have embraced our guys, and the new players we have, means a lot to them and myself, and it's something I've come to expect from our tremendous fanbase.
The season is in full swing, and I'm excited about the group we have. As a coach, you're always looking to improve each game, and I think that we are doing exactly that.
It's been nice to see the work we've done in practice translate over to the court. When I look at our team I feel like we have a high ceiling. We're nowhere near our best right now, and as the season goes on, that's what we're striving for.
Since the opening game, our communication on defence, our transition defence and our ball movement and spacing continue to improve. They're all work in progress, and now the guys have been together for a couple of months, they're starting to get a feel for what each other on the floor.
Our game against Plymouth was a pivotal test for us, and I think winning a close game after a loss was important for this team. We showed that not only do we improve game to game, but quarter to quarter.
That was an important step for us. To shrug off a below-par half on the defensive end and respond with better play in the second half showed real maturity and intelligence. And when you have a new group, winning a tight, tough game can certainly build confidence.
When you look at our roster, we have so many guys we can turn to that can make an impact on the game. Our depth is huge, and that becomes especially important with so many games in this league and a lot of two-game weekends.
I've been impressed with so many of our players. Jaren Holmes has done a really good job of making plays, and his physicality has been tough for defences. Braelen Bridges' ability to finish around the basket is really impressive. 
Kimbal Mackenzie, TJ Lall and Sam Idowu playing off the bench in this winning streak has been crucial for us. In our wins, those three have made a really good impact, and it's important to have those types of players on the bench.
Early in the season, we're a team that is fast and can play in the open floor. We're unpredictable and can win in different ways with different guys. We have a roster deep enough to where the other team can't figure out where we're going.
Being able to win in multiple ways is especially important when you look at the strength of the League across the board. Teams being allowed six imports have changed things. Each team has numerous dangerous players, and it doesn't look like the type of league where you can play poorly and expect to win.
You need to play well, or teams will get you. It looks like the League is going to be really competitive, even though it's hard to tell this early. Night in and night out, you need to play well to come away with wins.
That means we'll need all of our fans behind us every night. The margins are so tight this season, that the extra push from the stands is as important as ever. Thank you for your incredible support, and we hope to make this season an enjoyable one for you all.
Rob Paternostro
---
Want to see the Riders in action?