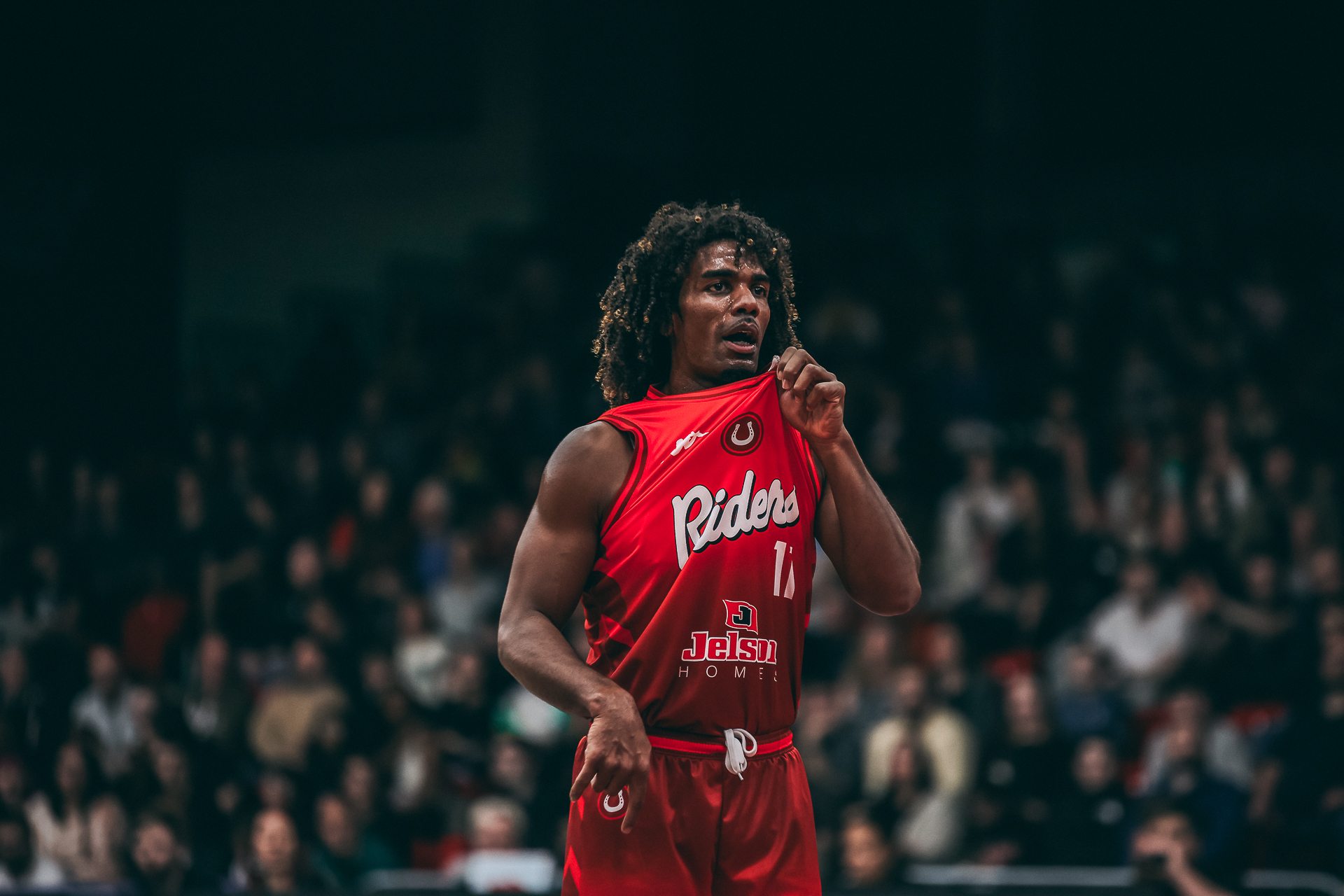 Riders Media - 28th October 2023
Championship Preview: Riders at Gladiators
Sunday evening will see the Riders complete their second game of British Basketball League Championship Round 7 as they head north to face the 4-2 Caledonia Gladiators.
This will be the first time Rob Paternostro's team head to Scotland this season, facing a Gladiators squad that boast a three-game winning streak, including a close victory over European competition.
Fixture Information
Leicester Riders at Caledonia Gladiators
Playsport, East Kilbride, Glasgow
Sunday, October 29, 6:00pm
Overcoming Adversity
The Riders currently sit fourth in the championship table, holding a 5-3 record following Thursday night's comeback victory over the visiting Surrey Scorchers.
Leicester's young squad took the game 94-86, fighting back from an early 23-point deficit to take the win and continue a winning streak over the Scorchers that stretches back 12 years.
'Mr. Reliable' Miryne Thomas once again put in a game-winning performance for the Riders, shooting 20 points and pulling in 11 rebounds for his second double-double in as many games.
The enigmatic Caleb Asberry put in an impressive shift, dropping 17 points on 60% shooting, including three deep balls and experienced guard Connor Washington used his minutes off the bench to great effect, draining two crucial threes that sparked the Riders' offence into life.
Thursday's comeback proved that Paternostro's squad can remain calm under pressure and respond positively when the situation calls for it.
Beating Surrey might seem par for the course, given the head-to-head record, but the Riders showed grit and a will to win, traits that will serve them well in Sunday's tilt against the in-form Gladiators.
A Solid Start for Caledonia
Gareth Murray's squad have started the season in promising form, backing up their winning record in the BBL by going undefeated in Europe.
Victories over Romanian outfit BC CSU Sibia and Anwil Wloclawek from Poland has seen the Gladiators make a flying start to their FIBA Europe Cup campaign.
Caledonia's two losses came on the road and the Riders will be hard-pressed to win in an arena that is becoming somewhat of a fortress.
The Gladiators are known for their proficiency in reaching missed shots, snagging an average of 38 rebounds per game which is good for second in the league.
This dominance on the boards is largely attributed to the play of the frontcourt duo, Trent Buttrick and club captain Fahro Alihodzic.
Both the American and British/Bosnian are averaging seven rebounds per game and sit inside the Top 10 rebounders in the BBL.
Former Rider Patrick Whelan has also been a positive influence from the wing, knocking down threes at a typically high rate, hitting on over 46% of his shots from beyond the arc.
The trend for Leicester this season shows that when they reach parity on the glass and from three-point range, they win.
Sunday may well continue that trend.
Key Matchup
The battle of the big men under the rim will be crucial in deciding the winner of this fixture, however for Sunday's key matchup, we'll be focusing on a pair of playmaking guards.
Riders' flashy passer Xavier Pinson will have to be on top form if he is to get the better of Caledonia's wily veteran, Ian DuBose.
Standing at 6'4", DuBose is a physically gifted guard that backs up his size and strength with efficient shooting and an eye for a pass.
The American, who has plied his trade in Germany and Denmark, is averaging a solid 15.5 points per game and 4.3 dishes per game, good for a Top 10 place in both categories.
Pinson, who is as automatic from deep range as any player in the BBL, has also demonstrated a nose for the rim and the ability to find an eye-catching pass.
The rookie point guard had another strong game on Thursday, using deft touches in the paint to score 13 points while laying on six assists in a team-centric display.
It will be exciting to see what wins between youth and experience come Sunday night.
---
Want to see the Riders in action?