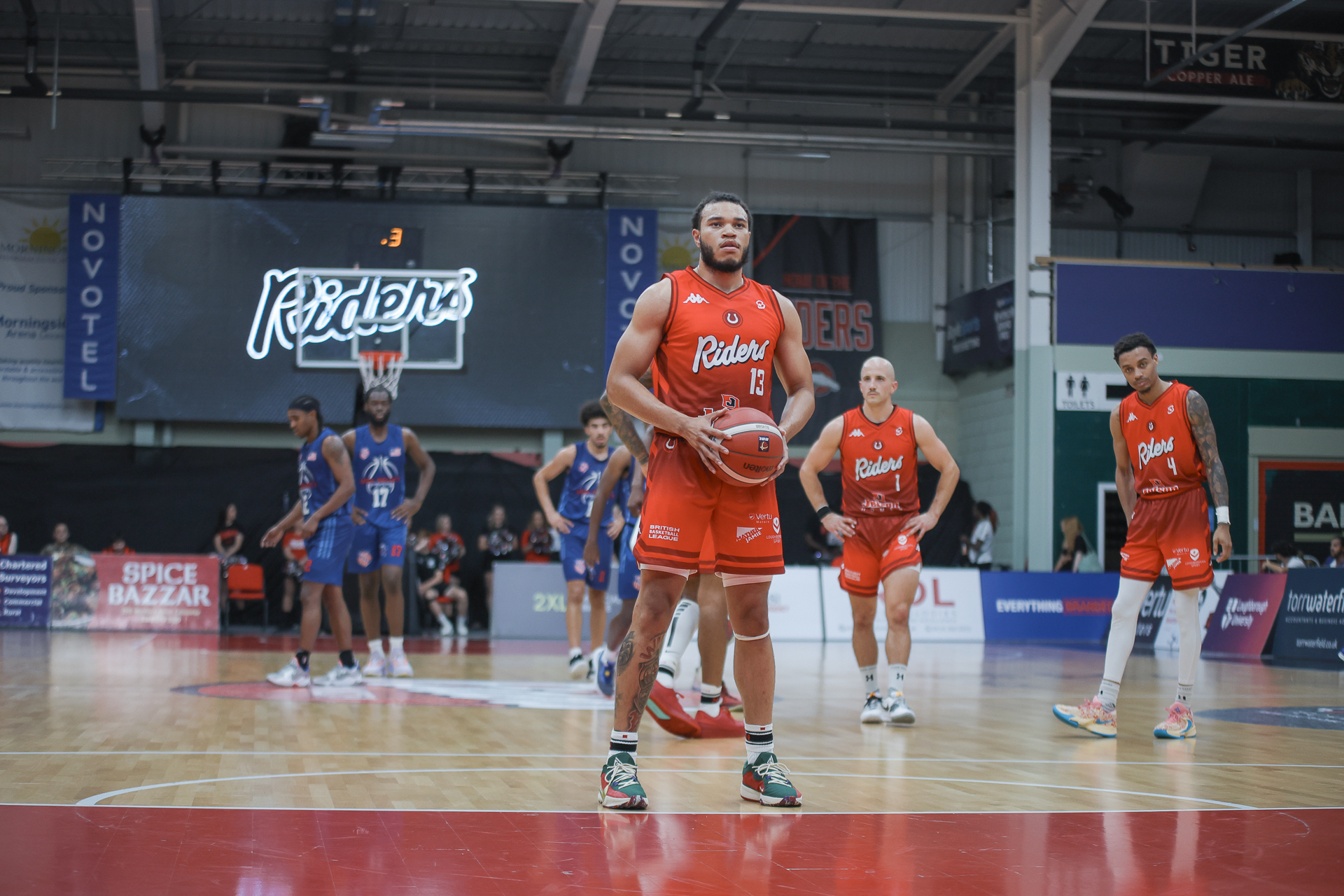 Riders Media - 11th September 2023
5 things we learned from pre-season
The Riders wrapped up their pre-season campaign on Friday with a win, as they prepare to get the 2023-24 season underway.
Following games against Loughborough University, Donar Groningen and USA Select, here is what we learned…
Strength in depth
The Riders quickly discovered that their roster goes 12 deep, as they got contributions up and down the roster throughout pre-season.
Take the final fixtures against USA Select, where all 11 players played double-digit minutes, with nine players scoring seven or more points.
It was the same story on their trip to Donar Groningen, where eight Leicester players scored 10 or more, and in their pre-season opener against Loughborough which featured eight scorers with at least eight points.
The depth opens up a number of different rotations to Head Coach Rob Paternostro, as he can expect significant contributions from everyone on the team.
It also allows players to keep fresh and healthy during a long British Basketball League season.
The Bowman Show
The depth comes, in part, thanks to the play of second-year Rider Blake Bowman, who has shown consistently impressive play during pre-season.
He scored double-digit points in every outing, leading the team in the fourth quarter against USA Select with nine points as he capped off a 15-point outing.
After the game, the East Midlands native stated that he has put in work to his deep shooting over the off-season. This showed, as Bowman took his defenders off the dribble and pulled up from range on Friday night.
But the electrifying Brit's high-flying antics are back for another season, as he got the Morningside Arena on its feet with emphatic slams.
View this post on Instagram
Bowman looks set for an exciting year.
Flying on the fastbreak
With a young, athletic roster this season, many would assume the Riders would be ready to run. They'd be right.
They dominated the box score in fastbreak scoring this pre-season. Leicester outscored their opponents 82-17 in transition during their campaign, capping off their pre-season by beating USA Select 34-3 on the run.
Running the break stems from defence, and 13.3 steals per game over the three fixtures allowed the Riders to get out and use their youthful athleticism.
With the depth on their roster, Leicester will look to get up and down the court all night long.
Miryne's monster performances
Rookie forward out of Kent State Myrine Thomas led the team in two of the Riders' pre-season games, showing explosive energy early in his Riders career.
Playing only 19 minutes in the game against USA Select, Thomas had as many points and added seven rebounds and four steals to the box score in the process.
Thomas also had 17 in his pre-season opener in Loughborough, thriving in front of Riders fans. He was quick out the gate on both occasions, setting the tone as the Riders jumped out to early leads.
In the Riders' first competitive game of the season on Friday, Thomas will look for another explosive start.
X gon' give it to ya
Returning to the court for the final pre-season game was Xavier Pinson, who got a run out in front of the Riders faithful.
He made an immediate impression, scoring 12 points and dishing three assists in just 19 minutes of action.
The Chicago-born rookie demonstrated elite point guard skills, using his shifty dribbling ability to get to the rim and finish in close.
Pinson averaged 13.3 points and 4.5 assists in his final college season in New Mexico and looks to carry that form into his first pro year.
---
Want to see the Riders get their season underway?