Riders Media - 11th August 2023
"I can't wait to be a part of the culture!"- Sam Ashby on her journey to the pros
Leicester Riders' newest WBBL addition has travelled to the other side of the world to compete in British basketball.
Australian Sam Ashby is a highly touted talent straight out of the University of the Pacific, but the leap into the unknown wasn't something that was always feasible for her.
"Until the age of 17, I didn't like staying away from home for even a night," said Ashby, recollecting how far she has come since she first moved away from her home city of Perth.
"I'd struggle to have sleepovers with friends! But college has helped me grow up," reflected the now 22-year-old.
Sam knew her talent could take her far as a mid-teen, making it onto Western Australian State under 16s at 15. She found herself competing against older age groups, preparing her for what was to come in college.
She was named Associated and Catholic Colleges MVP in 2017 and won three titles. Next came the difficult transition to America, where she tried her hand at the NCAA system.
Ashby landed in Stockton, California, ready to play for the University of the Pacific.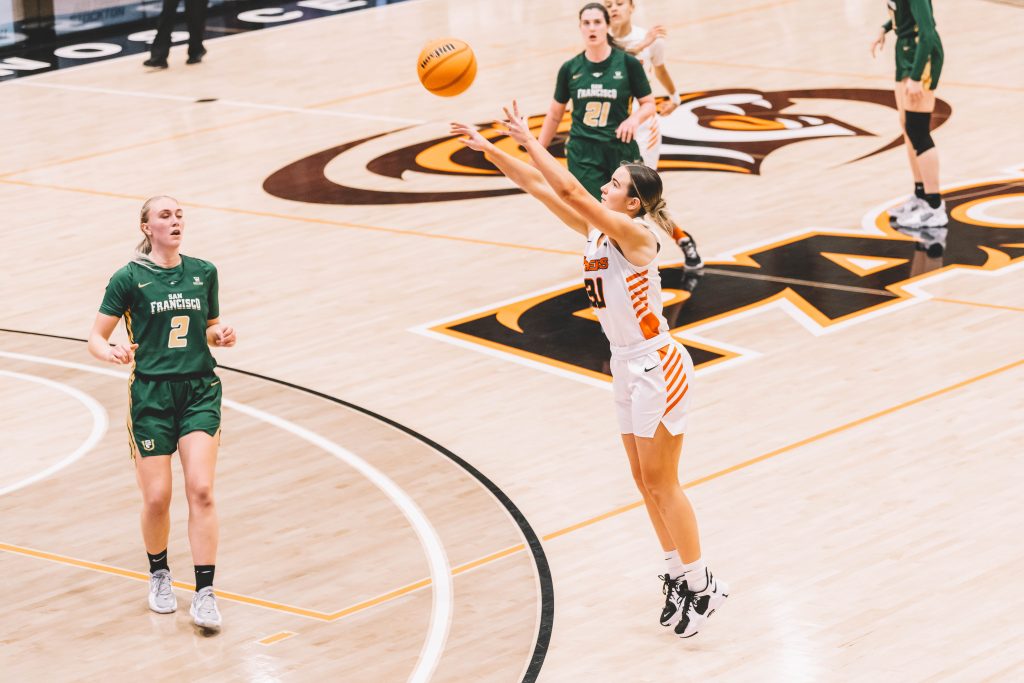 "Going to college was really scary for me. My thought process was that if I try it and I hate it, at least I'll know and can't regret it. If I didn't try, there would always have been the what if.
"I had a big culture shock. It was really tough mentally being away from home. Not having family there, or even being able to talk to them because of the time difference was challenging.
"But I arrived with no expectations and thought to make the most of it."
Ashby faced adversity on the court too. In her freshman year, she averaged three minutes a game and was forced to fight her way into the team.
"The first year was tough. I worked really hard, and I thought I deserved to play more than I did. I kept going for extra sessions and giving absolutely everything to show that I was meant to be there.
"My coach didn't like to play freshmen. His attitude was if you're young, you have to earn your place, so he played the older girls. I was taking them on in practice and doing well, but I couldn't get minutes.
"When I came back for my sophomore year, I'd done a lot of work in the gym. I came back bigger and stronger, and they recognised that I wanted this, and gave me the opportunity.
"I showed up, did my best, and was starting for the team as a sophomore, so I think I proved myself that year."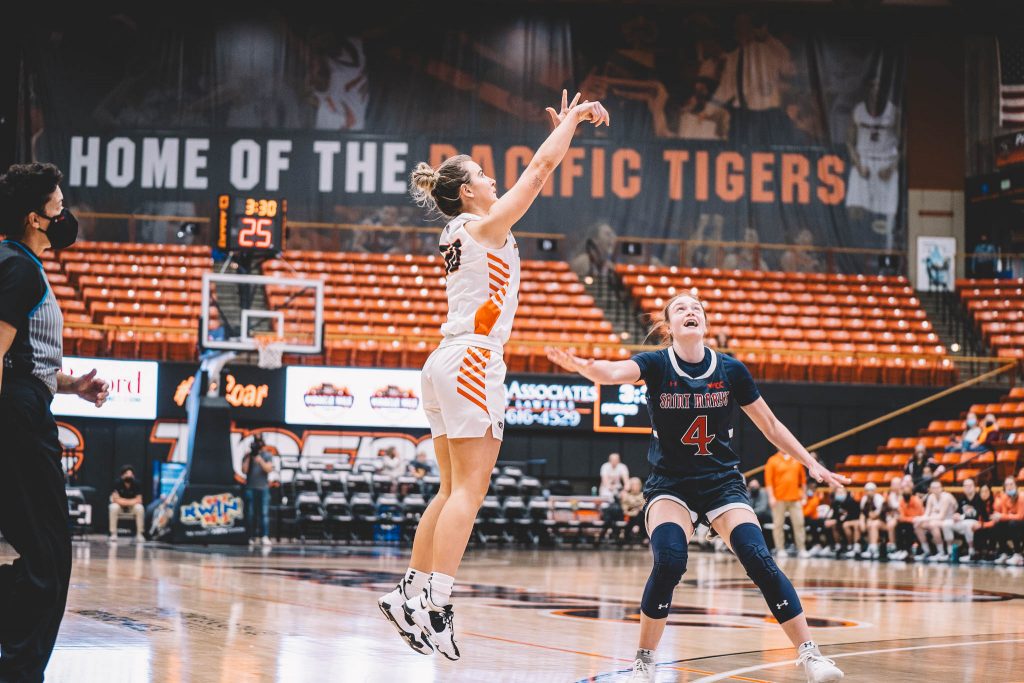 Prove herself she did. By her senior year, Ashby was an All-West Coast Conference Honorable Mention selection, starting all 32 games for the Tigers and averaging 10.9 points per game.
She still had to overcome mental battles, which affected her performance early into her college career.  
"I always had the basic skills, but being young and in the NCAA, I got really stressed out and suffered from performance anxiety. Decisions that I'd never make began creeping into my game. I learnt to relax, and play my own game instead of overthinking everything
"It took a lot of self-reflection and learning how to overcome that."
Sam leaves college a different person. Someone that has grown in confidence and independence, and is ready to take on the challenges of international basketball.
"It made me grow up. I went into college as a shy 18-year-old, but I've learned how to develop relationships and friendships and talk to strangers. The biggest thing I got out of college was confidence."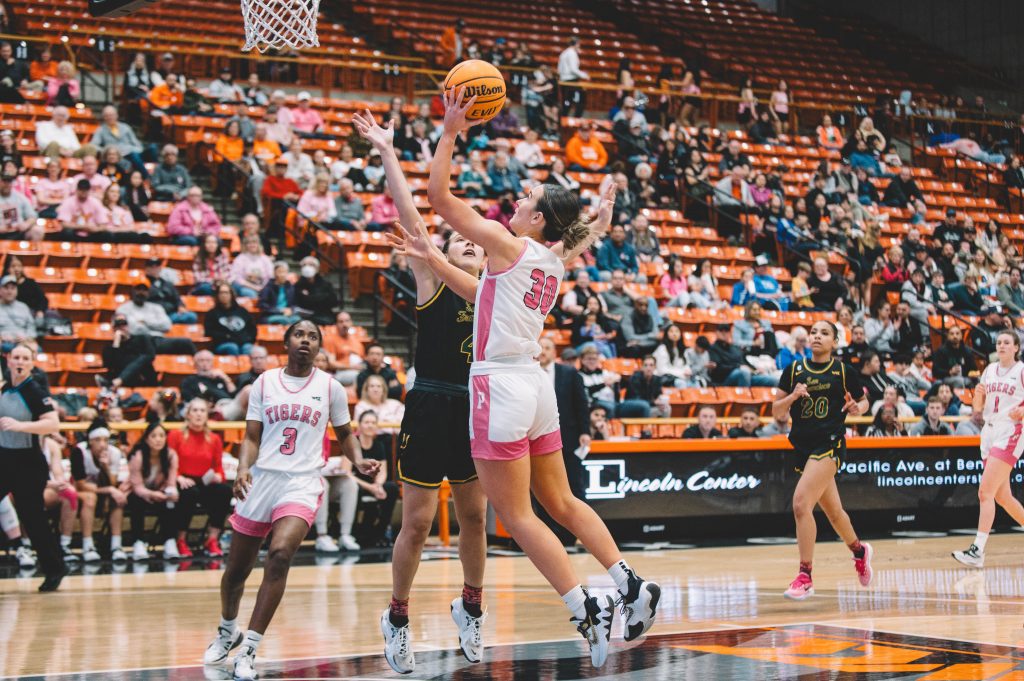 With her newfound confidence, Ashby is ready to take her talents to the UK, under Head Coach Ben Stanley's leadership.
"Ben was lovely. He told me about his coaching style, and I was really intrigued by it. He sounds like a coach that I want to play for: not a hothead but he knows what he's doing. Being relaxed, calm and smart is a great attribute as a coach."
She now brings the work ethic and drive which earned her a starting spot in college to the East Midlands, looking to help push the team forward.
"I bring hard work, leadership by example and giving everything I can to make myself and others better. I'm looking forward to playing against different players. I've never played in the UK before, so I can't wait to see how everyone plays."
For Ashby, it's bigger than just the game. She wants to use her platform to be a role model that she never had growing up.
"I would love to promote women's basketball. Its become so much bigger throughout the years, and throughout my college experience, seeing younger girls come in and seeing how they look up to me and other players is huge for me. 
"I never had that when I was younger. Women's sport wasn't even streamed at home, so I didn't have the opportunity to look up to female athletes. Now, I can have an effect on other people which is a really big deal, and we're really lucky that kids have female athletes to look up to."
Now, all that's left is to get started.
"I'm really excited to meet everyone and play in that atmosphere. I saw the photos from the finals last year, and it looked insane. I can't wait to be a part of that culture!"
---
Photo credit: Pacific Tigers