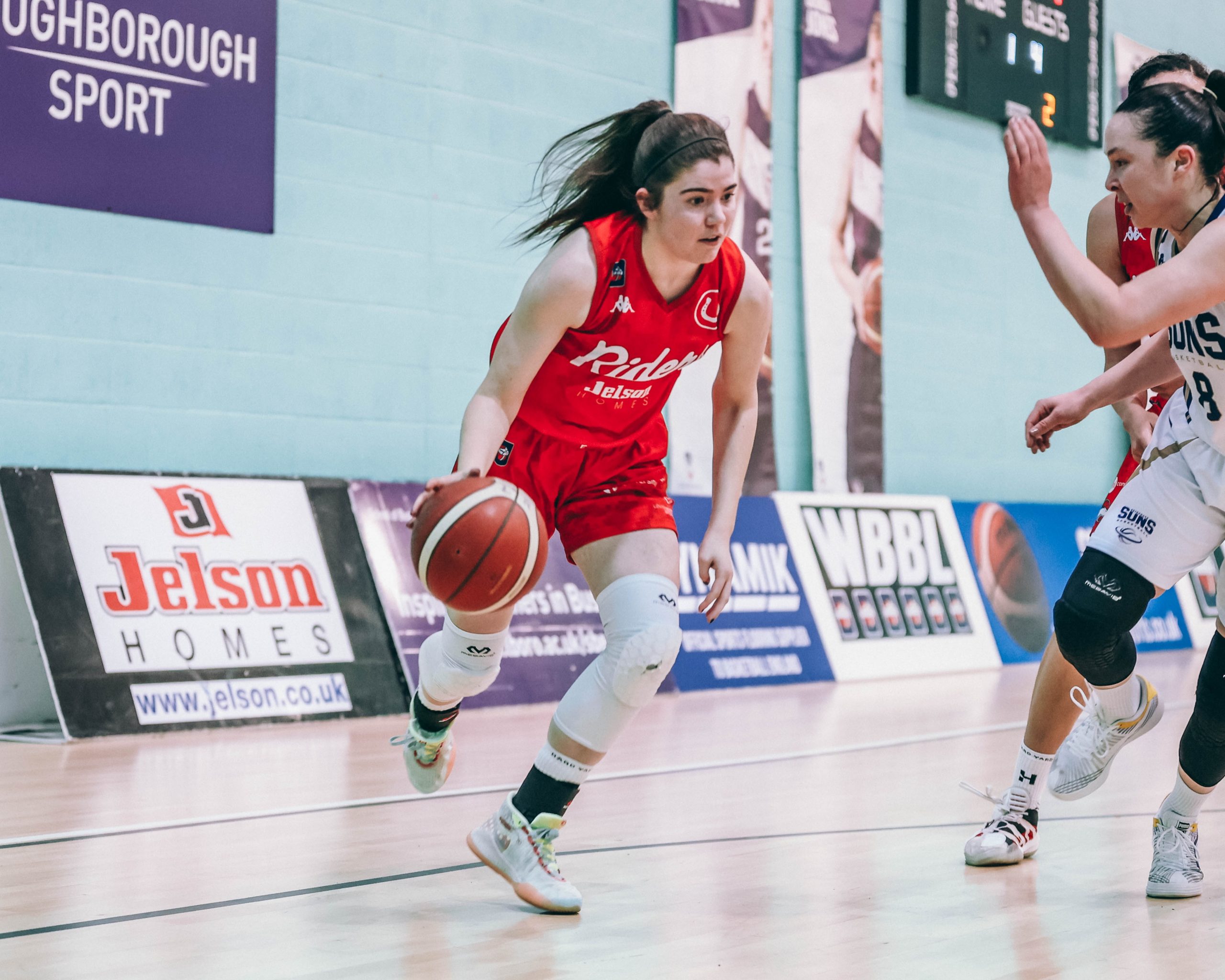 Riders Media - 7th March 2022
RIDERS 57-SUNS 74
Sunday's Trophy Semi Final saw the Leicester Riders take on the Sevenoak Suns in a gritty, defensive minded game that was decided by both teams ability to defend the other. It was well fought but the Rider's couldn't overcome the Suns and lost the game 74-57.
The Game began on equal footing. It was evident that the Suns were focusing their defensive efforts on slowly down Oceana Hamilton as she was quickly doubled whenever she received the ball in the post. The Suns came out fast using off ball screens along with their size advantage to attack the rim and gain a quick advantage.
The Riders managed to stay close and with a three to beat the first quarter buzzer by team captain Anna Lappenkuper the Riders found themselves only facing a 5 point deficit going into the second with a score of 18-13.
The second quarter again opened as a defensive battle, both teams being scoreless in the first 2 minutes of play, but once the Suns got one to fall the others followed as they went on a quick 9 point run to pull further ahead of the Riders. The Riders had no answer on offense and found themselves struggling to score
Their defense was great and their offensive movement was beautiful but unfortunately the shots just weren't falling for the riders as they fell behind 18, as the Suns led 39-21 going into halftime.
Coming out of halftime the Riders were looking to build momentum and begin to chip away at the lead but they were matched by the scoring of the Suns. The Suns perimeter shooting helped them to build their lead as they marched through the 3rd quarter.
The Riders were attacking inside and the Suns were attacking on the perimeter which allowed them to build their lead even more to 25 points going into the fourth.
The Riders girls never go out without a fight and began to storm back into this game in the fourth, quick back to back three's for Hannah Robb. The Riders took this spark of momentum and pushed the game all the way back to a 12 point deficit. They left it all out on the floor and after a Suns timeout they came back and began to execute once again on offense and retake the game.
Through a barrage of perimeter shooting from the Suns the Riders were put away. Losing the game 74-57. However the girls should keep their head high, it was a tough match and well fought. The Riders forced more turnovers, had more points off turnovers and more second chance points but the shots just weren't falling, but these girls always come back.
Watch the Riders in action on Sunday 4pm as they take on Oaklands Wolves. Buy Tickets Here
Match report written by Rob Field