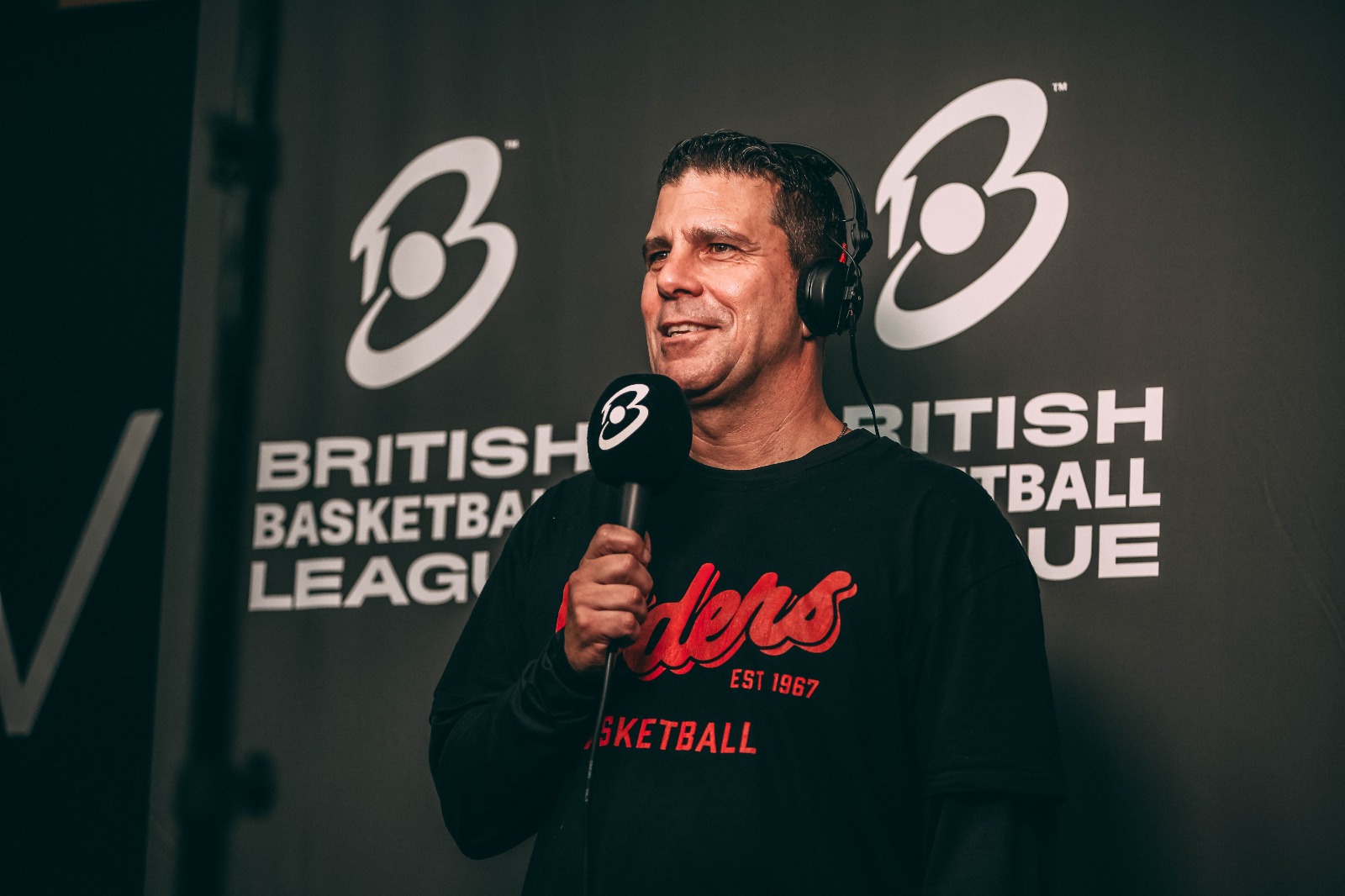 Riders Media - 23rd September 2023
Riders react to win against Patriots
Leicester Riders secured their first win of the season, beating the Plymouth City Patriots 88-81.
Here's what Head Coach Rob Paternostro and game MVP TJ Lall had to say postgame.
Coach Rob- "It wasn't perfect, but we showed a lot of character."
The Riders found themselves down nine going into halftime, having given up 35 points in the second quarter to their opponents.
They responded in the second half, and were able to overcome the deficit. 
"We had to play better defence in the second half and be a little tougher," said Paternostro.
"The challenge I set at halftime was for the guys to give it their all on the defensive side of the ball, and we held them to 29 in the second half.
"We did a really good job defensively, and that was important. When we're getting stops, we can run in transition, which is where we're strong."
The return of rookie guard Caleb Asberry from injury lit a spark in the Riders backcourt. His gritty performance led to six points and four rebounds in 13 minutes of action. 
"I thought Asberry gave us some really good minutes. He hasn't played in a while, and defensively he was really solid.
"Caleb adds a lot. He's quick, and he wins the ball. When the ball is loose, he has a talent for finding it. He can really shoot and make plays on the other end. He was in the lineup that turned the game around."
It was a gutsy win for the Riders, bouncing back from their defeat to the Cheshire Phoenix on opening night. It was important, in a lot of ways, to get a win on the board.
"It wasn't perfect, but we certainly showed a lot of character to be able to come back and get the win. We have to understand that we've only been together a few weeks. We have to have patience. We have a lot of bodies, and we need to get as healthy as we can.
"A game like tonight will give the team some confidence that they can win a game in the fourth quarter."
"That's what was impressive for me. It was a tough loss last week, and no one felt good going into practice. We had a good week of practice, but then we went into halftime down nine.
It was a challenge at halftime to come out and show some mental toughness to get the job done. We have a lot of work to do, but hopefully, we can keep getting better and better."
TJ Lall- "It was good to get our first win."
Canadian wing TJ Lall was named MVP after putting up 14 points, four rebounds and two blocks in a well rounded performance.
Lall showed to the Riders faithful his ability to do what is needed to secure a victory. He battled on the glass, contested shots and put the ball in the basket when it counted.
"It was a hard-fought game," said Lall. "We struggled on defence early, but in the second half, we turned it up, and good things happened for us. It was good to get our first win."
He got most of his points in the first half to keep the Riders in it, but made clutch free throws down the stretch with the game in the balance. 
Lall was bright throughout, but the team's intensity left room for improvement following the first half.
"Our energy wasn't where we wanted it to be. We needed to communicate better and rebound to close out possessions. It really helped us once we improved our standard in those areas."
"We really picked up the ball pressure near the end of the third quarter and forced some turnovers. That got us some easy transition points and we could see the game out from there."
---
Want to see the Riders in action?