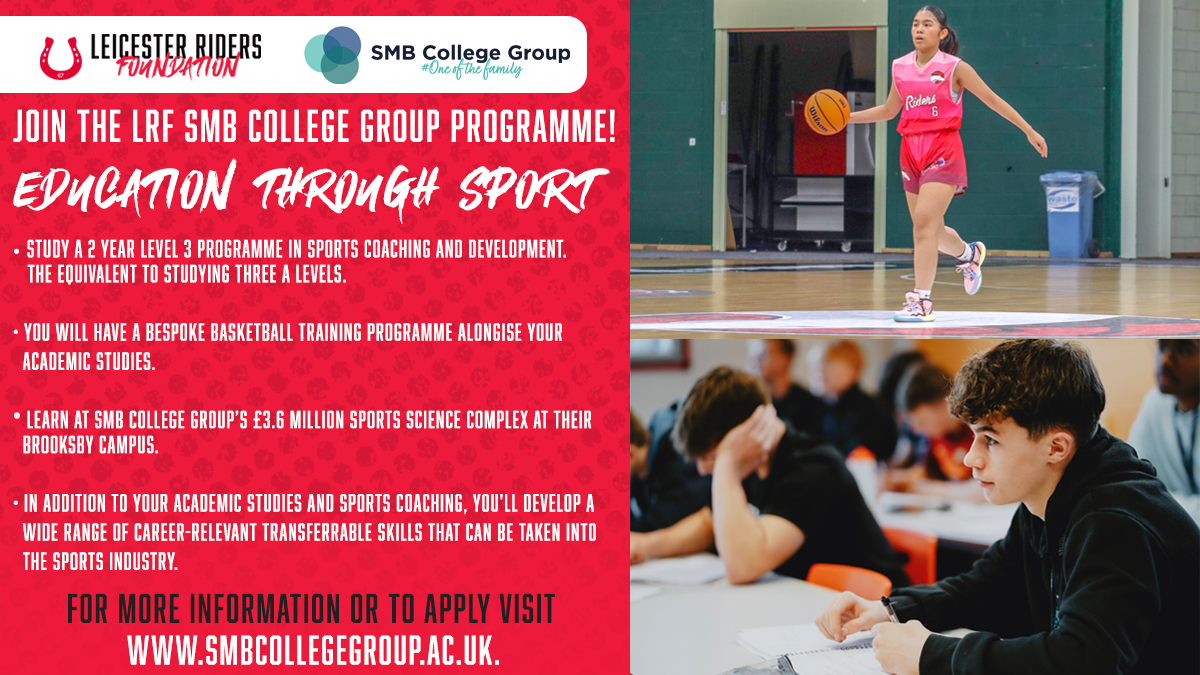 Riders Media - 4th January 2023
Forge Your Career in Sport with SMB College Group and Leicester Riders Foundation!
Leicester Riders Foundation are proud to be working alongside SMB College Group to launch a brand new Sport programme that allows young people to combine basketball with a Level 3 college course in Sport.
Based at the college's 850-acre Brooksby Campus in Leicestershire, the programme will give students the opportunity to develop vital career skills through sport whilst gaining their Level 3 qualification in Sports Coaching and Development, benefitting from a specialised timetable encompassing their academic studies, basketball coaching, strength and conditioning sessions, performance analysis and more.
Open to all students who wish to study Level 3 Sports Coaching, this programme aims to enable students to develop a wealth of transferrable skills to set them up for progression into a career within sport, or within a variety of other industries.
When speaking about this exciting new programme, Andy Graham, Director of Curriculum at SMB College Group's Brooksby Campus said 'Working with such an impressive and well-established organisation enables us to broaden the student experience, increasing the breadth of learning and sports that students can get involved with.
'Whilst students are now able to play basketball wrapped around a full time programme of study, this partnership has a particularly important focus on careers in elite sport and the transferable skills and advantages that this can give our students, no matter which industry they eventually choose to work in. Through working with Leicester Riders Foundation, we wanted to develop a course that will open the door to a career in sports for anyone, even if they have never picked up a basketball – and this programme does just that. We can't wait to enrol our first students in September!'
Laura Shepherd, General Manager at the Leicester Riders Foundation, added 'We are delighted that we are able to partner with SMB College Group to provide an alternative pathway for those to wish to excel in a career in sport.
'It is so important to provide opportunities, and to highlight the importance of all roles and opportunities that are available within sport. The skills and attributes that can be developed by those who work in sport and coaching is a unique set of transferable skills that are valuable in a variety of roles and open the door to a wide variety of careers and opportunities.'
Students will study at the college's £3.6million Sports Science complex at the Brooksby Campus, which includes a full-size sports hall, a strength and conditioning gym, an outdoor gym and sports science facilities with a range of performance analysis equipment.
The Leicester Riders Education Programme comes as a welcome addition to the SMB College Group's other sports partnerships, through which they offer rugby and football programmes with Leicester Tigers and Future Elite Sports, respectively.
Applications for September 2023 are now open! To find out more and register for a Brooksby Campus Open Day, visit the college website at www.smbcollegegroup.ac.uk.
For those interested in this programme, accommodation is available on-site at the Brooksby Campus, in addition to a range of college bus routes and great public transport links across the county.
SMB College Group is a Leicestershire-based Further and Higher Education college with three unique campuses – Stephenson, Melton and Brooksby. The college offers a variety of courses for students aged 16 and over, spanning a range of subjects from Sport to Agriculture to Construction to Performing Arts, and many more.